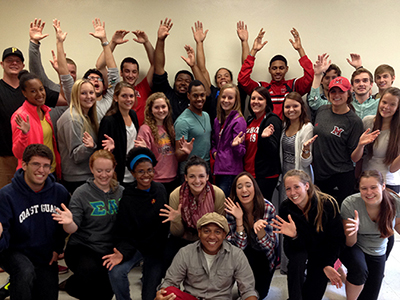 Introduction to Latin America (LAS 208) students prepare for the Global Rhythms World Music program.
The Latin American, Latino/a and Caribbean Studies (LAS) program provides students with a broad range of highly sought after liberal arts competencies and tools to succeed across a spectrum of career choices.
Recent students have gone to work for:
US government
state and local governments
nonprofit sector
community organizations
international organizations
businesses working in both the US and internationally
See also:
Career Planning Steps
When students declare an LAS major, we encourage them to complete a series of experiences that we think will help students to both explore possible careers and increase their attractiveness as future job candidates. To that end, we hope that all LAS majors will be able to complete at least 4 of the 5 steps below between the time of declaring a major and graduating from Miami.
Visit the Center for Career Exploration and Success in Hoyt Hall. During that visit, students should sign up for a listserv of job and internship opportunities that is closest to their career interest, as well as explore the variety of resources available through the Career Services.
Students should attend at least one workshop/panel offered by LAS, another interdisciplinary program, or related department focused on career or graduate/professional school opportunities after Miami. You will receive notices of upcoming workshops through the LAS majors and minors listserv.
Students should have at least one LAS experience in an area of study abroad/study away, internship, or independent study that can be used as an example of workplace skills and competencies that would strengthen your application for future employment.
Students should attend at least one career event held on campus each year. Opportunities range from Career Fair (as a full participant or observer), informational meetings about things such as Peace Corps or Teach for America, and campus talks by people working in a field that might be of interest.
As part of students' culmination course (required for the LAS major), students will complete an assignment which links learning outcomes in the LAS major to the skills sought by employers in their field of interest.
Students are encouraged to meet with LAS faculty for more information about any of the above experiences or just to brainstorm about how their interest in Latin American and Latino studies might be related to future employment opportunities.