Western Student Center: 39°84° West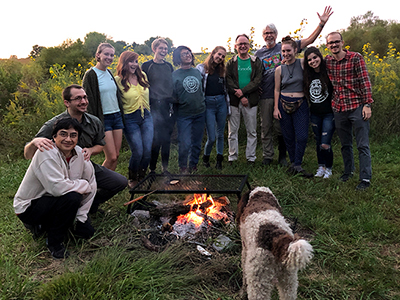 Some Western Folk (L to R): Xiuwu Liu (assistant professor), Zack Hill (program advisor & coordinator), Elizabeth Grace Huddleston (senior), Marissa Dimond (junior), Sarah Mariette (junior), Meryl Haque (Western Center student coordinator), Arcadia Davies (senior), Nik Money (director), Hays Cummins (professor), Katja Diekgers (senior), Deanna Manolio (alumna), and Alex Hahn (senior)
The Western Student Center, also known as 39°84° West, is located in Room 22 of the ground floor of Peabody Hall. As a feature of the Western Program (Individualized Studies major) at Miami, the center is a space for intellectual inquiry, sharing ideas, and free-spirited discussion.
Mirroring the mission of the Western Program, the center focuses on academic and personal success as well as fostering an inclusive, close-knit community. Operated by student employees familiar with the Western Program and Individualized Studies major, 39°84° West strives to create a social and productive space for students to relax, study, and make friends. 39°84° West provides a variety of resources to students that include:
comfortable, communal lounge area
study tables
refreshments – coffee, popcorn, tea
free printing for majors and minors
computer workstations
quiet study room
art and craft supplies for creative projects
small library for academic and recreational reading
The staff of 39°84° West take pride in fostering the development of this important community space. The Western Program (Individualized Studies major) is committed to co-curricular and informal inquiry events. Students are encouraged to develop events of all kinds through the Center. Examples of regular events include:
Astronomy Night
Community Dinners
Documentary Movie Night
Book Club
Student Opportunities
Student Employee – This position allows students in the Individualized Studies major or minor to take a leadership role in the Western Program. The position is ideal for students interested in event planning, fostering a vibrant community, and providing assistance to fellow students.
Access to event funding – Students can work with the Western Center Student Coordinator to explore creative approaches to engage fellow students.
Hours
Monday-Thursday: 9 am – 9 pm
Friday: 9 am – 2 pm
Saturday: Closed
Sunday: 2 - 8 pm
For additional information, contact the Western Center Student Coordinator:
(513) 529-1881
022 Peabody Hall