About Women's, Gender, and Sexuality Studies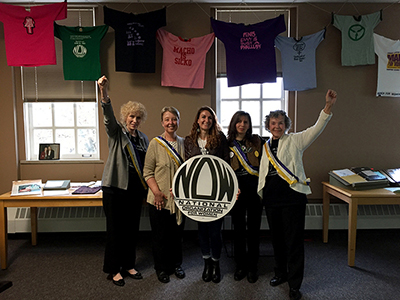 Miami faculty show their support for the National Organization for Women.
The Women's, Gender, & Sexuality Studies Program (WGS), in the Department of Global and Intercultural Studies at Miami University, is a dynamic, interdisciplinary program that investigates how our lives are affected by gender race, class, age, sexuality, religion, (dis)ability, gender identity, and nationality. WGS emphasizes the importance of understanding gender and sexuality as elements of wider social and political structures of power, knowledge, experience, culture, embodiedness, intimacy, and labor.
In WGS, students find an active and supportive community, close interaction with faculty, opportunities to take on leadership roles, and an academic program that allows them to cross the traditional disciplinary boundaries. With 5 core faculty members and around 45 affiliates, the Women's, Gender, and Sexuality Studies program at Miami University integrates expertise in virtually every field of human endeavor.