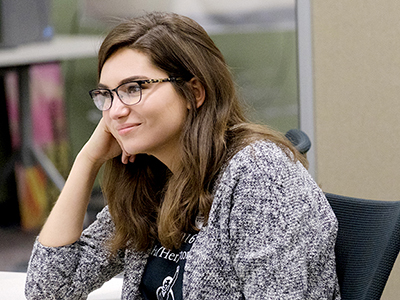 Student Jessi Wright listens to a speaker at the
His/Her/Hirstory Symposium.
The WGS curriculum is flexible and innovative, providing a strong liberal arts and cutting-edge interdisciplinary education that prepares our students for meaningful life and work in the 21st century. Majors take 5 core courses and 15 additional credits in WGS or WGS crosslisted courses. The flexibility of the major requirements encourages students to design a program to suit their needs and interests and makes it possible to pursue a minor or double major.
A participant in the American Association of Universities "Shared Futures: General Education for a Global Century" Initiative, the WGS Program emphasizes:
critical thinking
personal and intellectual development
accountable local and global citizenship
engaged learning
WGS students draw on interdisciplinary scholarship to analyze how cultural institutions, social structures, and systems of representation situate persons differentially according to their social position in complex networks of power, privilege, disenfranchisement, and marginalization. Working with faculty who are especially knowledgeable about intersectional gender and sexuality issues, students gain the ability to think through the personal, academic, and policy questions they confront regularly as they live in a culture shaped by the forces about which they are learning.
Major
The WGS major is both flexible and innovative program of study that includes a set of common core courses and a wide variety of WGS and crosslisted courses across several divisions, departments, and academic programs at all of our campuses.
Minor
Undergraduate students at Miami may take courses to fulfill the requirements for the WGS minor, which also fulfills the Miami Plan Thematic Sequence requirement.
Thematic Sequences
The Women's, Gender, and Sexuality Studies program offers 2 Miami Plan Thematic Sequences:
Gender in Global Context
Scholarly Studies of Gender & Sexuality
Graduate Certificate
The purpose of the Graduate Certificate in WGS is to enhance a disciplinary graduate degree with specialization in Women's, Gender, & Sexuality Studies. Using an interdisciplinary approach, students in this program explore the influence of gender and other social differences on the production and dissemination of knowledge