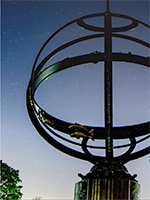 Almost 25% of first-year students entering Miami are unsure of their major and career plans. Students with undeclared majors have the opportunity and time to take courses and explore majors across CAS and beyond. Whether you are seeking your passion or wish to combine interests, you can pursue multiple paths while still meeting graduation requirements - and discover what is right for you!
Highlights and Opportunities
Take courses meeting Global Miami Plan Foundation requirements in any division or major; completing these courses will enable you to complete the basic requirements for your chosen major
Graduate at the same rate and at the same time as those who enter Miami with a declared major
Feel confident being among about 60% of all Miami students who change their major or add a second major
Design a unique course of study as an Individualized Studies major in the Western Program, drawing from the humanities, sciences, arts, social sciences, and professional programs, if you don't find the exact major that you want
Move into an optional Living Learning Community with other students who share your interests to explore your academic options or focus on creative projects
What You Can Do to Find Your Major
Enroll in exploratory courses in a variety of fields to see what interests you
Meet with your CAS academic advisor (146 Upham Hall) and departmental advisors in your interest areas
Take a specially tailored course around major/career exploration: UNV 101: I Am Miami or EDL 100: Career Development and the College Student
Visit the Center for Career Exploration and Success (45 Armstrong Student Center)
Read the General Bulletin sections that to majors that interest you
Learn more at
CAS Academic Advising
or contact us at
CASadvising@MiamiOH.edu
.