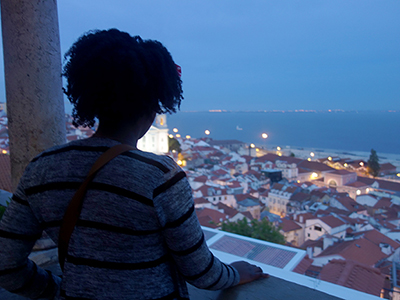 Amira Beasley enjoys an evening view from a balcony in Lisbon, Portugal
Miami consistently ranks among the top universities in the nation for the number of students studying abroad. No matter your major, you're welcome to join the more than 1,500 Miami students each year who earn academic credit through study abroad. Students need to fully grasp the global nature of today's economy, politics, and cultures. Living and learning abroad is a great way to do that.
Visit Miami's Education Abroad website for more information.
See also: "Inside" Study Away Programs.
"[A] noteworthy experience was visiting Cuba for MJF's one-week "Stories from Cuba" study abroad trip just this past June. It was incredible…I really wanted a once-in-a-lifetime kind of experience."
- Emily Williams (Class of 2018, Journalism and Marketing)
"Two summers ago, I went to Florence, Italy for a program led by professors Daniele Fioretti and Annie Blair called Writing, Media, and Culture. Those 6 weeks became the best experience of my life as I was forced into a completely new world."
- Adelaide Fries (Class of 2017, Public Administration)
"Studying abroad has been another great experience, and I've been lucky to do it twice so far: first to Spain in spring of 2015, and then in Argentina in summer of 2016. Both of these trips, which were heavily immersed in speaking Spanish, have changed my life in so many different ways."
- Amira Beasley (Class of 2016, International Studies and Latin American, Latino/a, & Caribbean Studies)
"Miami is particularly well known for study abroad, which is a requirement for the International Studies major."
- Bob Carmichael (Class of 2016, International Studies & Political Science)