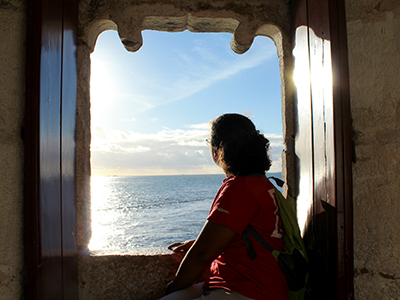 Ashley Mickens enjoying the view from Belém Tower in Lisbon, Portugal, one of her favorite spots in Europe
Miami consistently ranks among the top universities in the nation for the number of students studying abroad. No matter your major, you're welcome to join the more than 1,500 Miami students each year who earn academic credit through study abroad. Students need to fully grasp the global nature of today's economy, politics, and cultures. Living and learning abroad is a great way to do that.
Visit Miami's Education Abroad website for more information.
See also: "Inside" Study Away Programs.
"Last fall, I had the chance to study abroad in Luxembourg and visited a total of 12 countries. I lived with a host family…By living with a family I could learn more intimately about current European events and the history that influenced them."
- Ashley Mickens (Class of 2020, Environmental Earth Science)
"After my first semester, in January 2016, my friends and I went on a medical mission trip together to Peru with MedLife, and after that experience I felt a lot more comfortable returning to campus for the spring. Knowing I'd created great memories with my friends made me feel really comfortable and excited to come back."
- Katherine Rodriguez (Class of 2019, Biology)
"Two amazing experiences I've had at Miami were studying abroad in Cuba and Luxembourg, and they both led to my Undergraduate Summer Scholars research project with Daisy Hernandez on Cuban Americans and how they use art, writing, and other forms of expression to explore what American citizenship means to them individually — rather than as a governmental policy."
- Phoebe Myers (Class of 2019, Individualized Studies)
"Through Miami I've had 3 different study experiences overseas: first in Wales, then in Cuba, and now in Ecuador. All of these experiences have had a tremendous influence on my future plans. My studies are based on the nature of the international system and relations between states, and thus I have found it vital to get out of the US to deepen my understanding while in other countries."
- Emily Tatum (Class of 2019, International Studies & Political Science)