Tyler Sinclair (Class of 2012)
project director, The Winston Group (a polling and strategy firm), Washington, DC
Political Science and Black World Studies majors (BA, Miami, 2012)
MA Political Science, Miami, 2013 (expected)
from Middletown, OH
Why Miami?
"I chose Miami for several reasons. I had always heard it was a great school with great students, but being from nearby Middletown, Ohio I thought I wanted to get out of the state. I made my decision during my sophomore year in high school when I came to Miami to visit a few friends. I knew the second I got on campus that I loved it. After Miami staff and faculty showed me around and told me about campus and their classes, I knew it was a done deal and I never looked anywhere else.

"As a student, I was impressed by both the beautiful uniqueness of campus and Oxford and the impactful mentorship and teaching I received from many professors inside and outside of the classroom. I always knew that I loved politics but never knew how to translate that passion into something meaningful. My first year was really spent exploring what you can do with a degree in political science and getting involved in things like Associated Student Government (ASG) or Director of Institutional Relations Randi Thomas's Governmental Relations Network and applying theories and concepts into real world situations. Therefore, my studies were not something that changed over time in terms of the field, but in terms of interest and passion that grew exponentially after that first year."
Best Experiences at Miami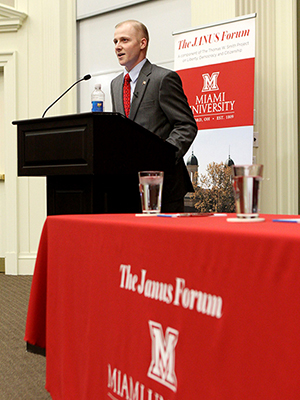 Tyler Sinclair speaking at the Janus Forum
"I had a variety of incredible experiences at Miami. I was elected as the Secretary for Academics Affairs of ASG and worked to push forward new ideas for academic advising and the Miami 2020 Plan. I also chaired and helped begin the new Janus Forum on campus. The first forum was a great success, and I hope it continues to grow and excite students to have meaningful, honest, and respectful dialogue on contentious issues.
"I was also able to intern twice for Speaker of the House John Boehner. I was an intern in his DC office the summer of 2010 when he was Minority Leader and then served as a finance intern with his joint fundraising committee, Boehner for Speaker.
"These were all excellent opportunities that I would never have been able to have without Miami connections or support. In addition, as a brother of Zeta Beta Tau fraternity I was our Academics Chair and made many lifelong friendships."
Influential People at Miami
"I feel very fortunate that I was able to make a connection with almost all of my Miami professors and was able to get in touch with them for almost any type of question. However, the standouts would be Professors Patrick Haney, Phillip Russo, and Bryan Marshall, all in the Department of Political Science. They were very impactful on my thoughts and academic development both inside and outside of the classroom. I would often go to their office hours just to sit and talk about what was going on in the world and how that related to things being studied in class.
"Dr. Russo pushes his students inside and outside of the classroom and has a very clear passion for teaching. He can inspire students to take a true interest in public administration and theories of how groups or organizations operate or learning how to use quantitative data. He doesn't just make it interesting; he makes you passionate about it!"
Working in Washington, DC
"I've recently started working at a small polling and strategy firm called The Winston Group in Washington, DC. Working as a Project Director here the past few months has taught me many things, and I can tell it will help me grow intellectually and professionally. Much of my work consists of research and analysis of various issues using quantitative methods I learned at Miami. Every day is a different type of mental challenge, and you always need to be on top of your game.
"My job interview involved talking about various 'ah-ha' moments I had at Miami. I told them that one of my most impactful memories was when I learned that numbers can actually say things if you know how to look at them. I talked about how it was possible to quantify so many things that I had never even considered before. When I was asked for a specific example, I told them about a scenario in Dr. Russo's Poli Sci 306 Applied Research Methods class about measuring the variance of different types of weapons systems with how accurate they are. Before this, I had the mindset that military contracts were awarded according to patronage or whatever, but Dr. Russo showed us that we can measure the validity of the claims of weapon precision and can further expand that to take into account the cost of these weapons versus accuracy and consistency. This was my moment where I knew I had a lot to learn and really started caring more about 'data' and 'quantitative' things. I think my interviewers appreciated that I understood the nuances of data, polling techniques, critiquing the wording of questions, and so on—they knew that I 'got' it.
"Miami professors have done and continue to do a lot more for their students than they think, and their teaching and guidance have meant the world to a lot of different people—including me!"
Advice to Students
"To any potential or current Miami students that are looking to get into politics, there are plenty of things to say. While you are at Miami, make sure you get to know as many people as you can and get comfortable selling yourself and your idea. You never know when you might need to lean on an old friend or when they might need your help with something. Get involved on campus, but keep your grades up. Many times we think that having multiple extracurricular activities on our resume is important; it is in some ways, but so are your grades. Focus on one or two things you can really get involved in and make a difference—then see how you can translate that experience to life after college.
"Of course, if you want to work in Washington, DC, you should do an internship. Along with meeting people at Miami, knowing people in DC will be very important in your job search. I relied on the people I met while interning to point me in the right direction, give me leads, put in good words, and help keep my head up. But I would never have known these people if I did not do those internships. Those connections will be key to starting you off on the right foot after you graduate.
"Once you do graduate, the best advice I can give is to move out here. It takes some faith and courage to move without a job lined up, but DC is not a typical city. From my personal experience and that of the people I know, it can be difficult to even get a foot in the door in many places if you are not already living in this town. Many firms will want to interview you and have you start within a few days, so living in DC is crucial to getting that first job.
"Also, don't forget to continue meeting people! DC is very fluid; the person you speak to at a local happy hour may be extremely important, and in 6 months that person could become a very important and good person to know. Meet people, stay in touch, and always be genuine with them. That's the best advice I can give about how to get going in this town!"
[September 2013]