Diversity, Equity, and Inclusion
Our Commitment
The College of Arts & Science (CAS) is committed to providing a high-quality learning and workplace environment that is intentionally diverse and equitable, built on the Inclusive Excellence Framework, and affirms, engages, and values differences.
Defining Diversity in the College of Arts and Science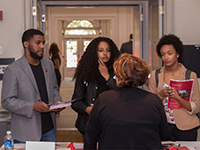 We view diversity holistically, understanding that the definition is constantly evolving. Our definition of diversity includes but is not limited to race, ethnicity, color, nationality, sex, sexual orientation, gender identity and expression, class, religion, disability, age, military status, visa status, economic status, geographic location, and language/linguistic ability. Diverse and well-reasoned ideas, approaches, and experiences are also essential parts of inclusion and equity.

Guiding Principles and Values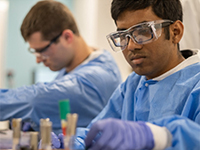 Miami University is committed to and fully embraces the philosophy and belief that a diverse academic community is among an institution's greatest strengths. As decades of research and experience have shown, every unit and individual on campus benefits from diversity when there is an environment where people from a wide variety of backgrounds learn from one another, share ideas, and work collaboratively to ask and solve questions.
This is especially important given Miami's commitment to excellence in undergraduate teaching and learning. A diverse and inclusive campus enhances the living, learning, and working environment for every student, staff, and faculty member. Together, these benefits help Miami achieve its special mission as a public institution in Ohio, educating students across the state and preparing them to be leaders in a variety of fields who are ready for the demands of the 21st century workforce. We therefore aspire to attract and retain a broadly diverse group of faculty, staff, and students.
Our Role with Equity, Diversity, Inclusion, and Social Justice
CAS faculty are nationally and world-renowned researchers with top scholarly achievements in the fields of diversity, critical race, and social justice. CAS commits to being a leader in engaging faculty, staff, students, and the broader university community on the importance of diversity, equity, inclusion, and social justice.
We are committed to:
Cultivating an inclusive learning environment where intersections of social identities feel welcomed, valued, and a sense of belonging
Engaging in continuous learning and fostering inclusive leadership through utilization of a diverse curriculum and peer-reviewed, academically validated assessments that strengthen our ability to lead with cultural intelligence in a multicultural, global world
Building community and deepening understanding through engaging in the dialogue and discussion to influence understanding of each other's experiences and cultivate individual and collective agency to effect social change
Enhancing student success through the promotion of excellence, accountability, and new innovative retention initiatives
Serving as a focal point at Miami for cutting-edge research, critical pedagogy, and curricular offerings in the fields of diversity, critical race, and social justice
Supporting equity, inclusivity, and pipeline programs to maximize access to learning for historically underrepresented and marginalized populations
Standing in solidarity with our Black, Indigenous and People of Color (BIPOC) communities and serving as advocates and allies in the fight for racial and social justice
Strengthening and enhancing internal and external collaborations and partnerships with scholars and leaders in the field of diversity, equity, inclusion, and social justice