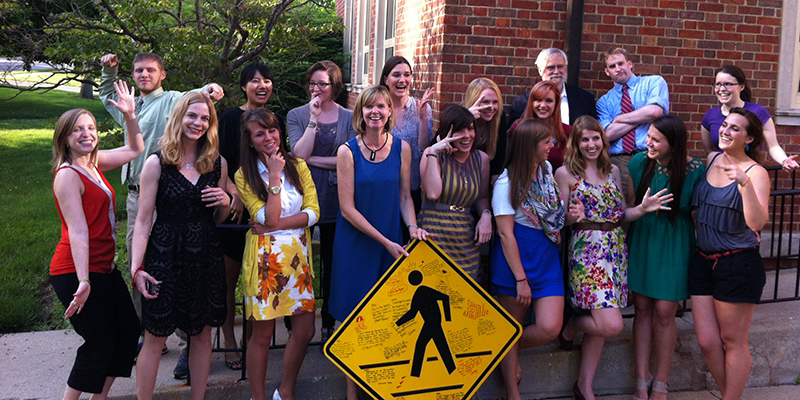 As part of the larger Cincinnati Chapter of the American Institute of Graphic Arts (the national organization for graphic designers), this student group focuses on the professional and creative aspects of the field of graphic (communication) design. The group has organized events on the Miami campus, as well as arranged transportation to attend speaker and networking events in Cincinnati. The goal of the student chapters of AIGA is to foster the growth and development of future design professionals.
Students may join the Art and Architecture History Association, an organization for undergraduate majors and other students interested in Art and Architecture History. The AAHA organizes trips to museums, galleries, and conferences, sponsors guest speakers, and publishes a newsletter Effusions.
Effusions is the student-run journal of the Department of Art at Miami University. Each issue features 2D and 3D art, humanities papers, creative writing samples, photographs, music scores and clips, videos, and more.
Faculty Adviser: Annie Dell'Aria
Follow Effusions on Facebook
Effusions on Instagram (@effusions_mu)
Officially affiliated with the National Art Education Association, this student organization, which is comprised primarily of Art Education majors, is oriented toward the goal of enhancing a student's professional identity as an art teacher for grades kindergarten through 12. Members of this group sponsor local activities such as art auctions, art shows, lectures by nationally-recognized leaders in the field of art education, and field trips to Ohio and National Art Education Association conferences. The goal of this organization is to develop a sense of professionalism within our future art teachers.
This student organization is open to any student interested in the visual art world, the contemporary art world in particular, and the production of visual art. Although comprised primarily of studio art majors, majors in other areas have assumed active roles in this organization. The Visual Arts Club supports a program of enrichment that extends art learning beyond the studio and classroom. Students in this organization have regular meetings during the school year, sponsor visiting artists and guest lecturers/critics to campus, sponsor a student art exhibition, and take field trips to major art centers such as New York and Chicago. This community of students uses this organization to perpetuate the professional goal of being a practicing artist.
Miami University Department of Art on Facebook