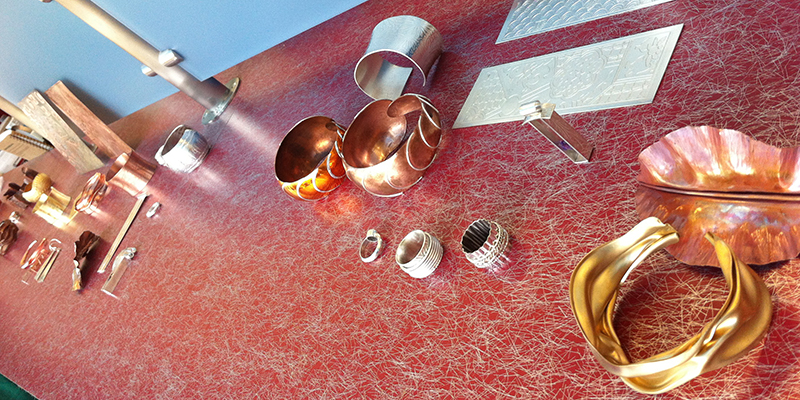 Miami University's Art Center offers students, faculty, staff and community members a variety of opportunities to engage in creative activities. The Art Center's location in Phillips Hall, 420 S. Oak Street in Oxford, consists of a ceramics/pottery studio, a digital photo lab, woodshop, and metals/jewelry/glass studio.
These studios are used for our beginning level sprint courses, plus they are also available for leisure time activities. We welcome you to look over this site, call or stop by the Art Center, sign up for a class, or become a member.
All Art Center sprints are beginning level, one-and-a-half credit hour art classes open to all students. If you plan to register, please follow standard university registration procedures. Classes meet once a week for six weeks, plus an exam week, and students are expected to spend time outside of class working in their respective studios. Besides being very popular, Art Center sprints are the perfect way to begin your exploration of the Arts.
---
Course Descriptions
Beginning Glass | ART 140
Basic course to provide foundation exercises and instruction in various glass techniques such as kilnforming and some hot glass processes, ranging from fusing and beadmaking to casting. Lab and material fee.
Beginning Sewing 1 | ART 145
Introductory course to learn machine sewing skills. Students will work with projects designed to provide useable and transferable pattern making and sewing skills. Will include proper use of machine techniques including various threading and stitching processes.
Beginning Sewing 2 | ART 146
Intermediate course to learn machine sewing skills. 
Beginning Art Photography | ART 147
This course is an introduction to the basic principles of traditional art photography, including a working understanding of the camera, aperture and shutter controls. The class also covers image printing techniques  and artistic lighting and composition. Upon completing the course students develop the ability to create and print high quality photographic images that convey their unique experience and relationship to world around them. Lab and material fee. Taught only at the Hamilton campus.
Beginning Digital Photography | ART 149
This course is an introduction to the basic principles of digital photography. Students will learn the basics of photographing digitally including camera controls, image file and format type. The class will also introduce basic image correction using image editing software such as Adobe photoshop or Photoshop Elements and printing methods using high quality digital inkjet printers. Lab and material fee.
Beginning Ceramics | ART 160
Students will learn wheel throwing and handbuilding techniques, gain an understanding of the stages of clay, carry pieces to the final stages through decoration with slips and/or glazes and firing. Lab and material fee.
Beginning Metalsmithing and Jewelry Design | ART 165
Students will be introduced to basic techniques of metal cutting, soldering, polishing, roller printing, riveting, detailing and finishing. Lab and material fee.
Basic Woodworking | ART 170
Introduction to working wood with hand and power tools. Emphasis on proper and safe use of tools. Small projects, usually a boxlike piece will be built. Design, lumber selection and finishing will also be covered. Lab and material fee.
Beginning Drawing | ART 155
Basic drawing instruction for non-art majors. Still-life will be the theme used to explore line, value, media, and composition. Lab and material fee.
Please visit the Art Center for more information.