Presser Hall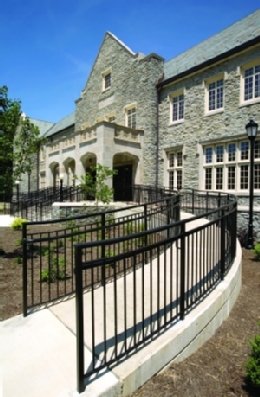 Presser Hall is named for the renowned music publisher Theodore Presser and for the foundation that bears his name.  The Presser Foundation provided vital support for the construction of the building, which opened in 1931.

In 2008 Presser Hall was expanded and renovated thoroughly.  Today it contains classrooms, rehearsal rooms, practice rooms, faculty studios and offices, libraries for band, choral, and orchestral music, and the Department of Music Office.

Presser Hall also contains several rooms with special purposes and equipment, including
the Electronic Music Studio, supporting classes in electronic and computer music, composition, recording, and music for moving image. Industry-standard hardware and software are refreshed each year. Support equipment includes a fully-stocked electronics workbench for projects ranging from circuit building/bending to interactive instrument construction.
the Music Technology Classroom, supporting a range of classes from electronic and computer music, to notation, recording, conducting, music education, and composition.
the Virtual Rehearsal Room (VROOM), where students practice and rehearse in front of a "virtual audience" (via video) that simulates the movement, sounds, and interruptions that may be found at a live concert.  The VROOM allows the student to choose from nine different virtual acoustical spaces and includes recording capability.