The Past is Present: Metalpoint Drawings in the 21st Century
(McKie Gallery) For the past 6 years, Dennis Angel has produced metal point drawings on paper, a meticulous process popular in 15th and 16th century Europe. This exhibition will include preparatory drawings paired with the finished metal point drawings, and several of Angel's still-life installations.
August 25-December 12, 2015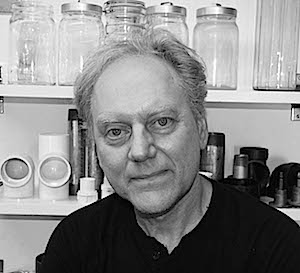 ---
About the Exhibition
Bringing art from the past into the present is a risky endeavor. Can an artist successfully reintroduce a historic drawing method into a contemporary work of art without simply replicating the past? What about the use of a medium that is largely unexplored and relatively unknown to today's audiences? Contemporary draughtsman and painter Dennis Angel took a gamble, and the results have paid off. His hyper-realistic still lifes are in fact an innovative melding of three worlds: 14th-16th century metal point drawing, Dutch 17th century still lifes, and modern PVC, glass, eggs, metal pipes and cinder blocks.
To heighten the viewing experience, visitors to The Past is Present: Metalpoint Drawings by Dennis Angel will see 15 pairings of metalpoint drawing and the corresponding preparatory drawing. In several examples, Angel's still life arrangements will be recreated to offer a complete look at how the artist developed his compositions and faithfully rendered the assemblages in metalpoint.
Join us this fall when Dennis Angel comes to Oxford from Las Vegas, Nevada, as part of the Contemporary Art Forum. Angel will speak about his work and provide a glimpse into the world of metalpoint drawing. He will also speak with several classes in the Department of Art and will share his experiences as an artist looking to the past in order to move forward in the present.
---
Exhibition Program
Thursday, November 5 – Lecture: Echoes from the Past: An Ongoing Dialogue with Art History ~
Dennis Angel, Artist.
(Art Museum)
5:30 – 6:45 p.m.

Co-sponsored by the Contemporary Art Forum.

.