Miami University Assistant Professor of Art Featured at Pyramid Hill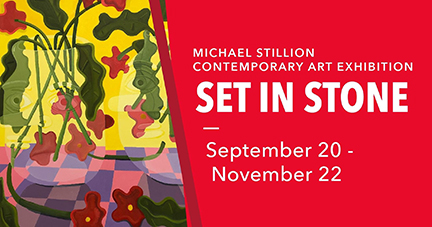 Nov 05, 2020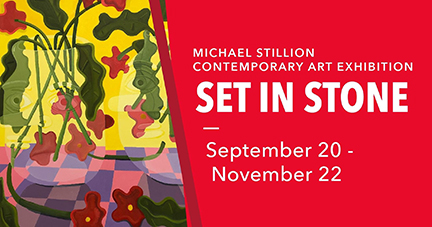 Pyramid Hill Sculpture Park & Museum in Hamilton, OH is currently featuring an exhibition by College of Creative Arts Assistant Teaching Professor Michael Stillion. The show features a variety of works by Stillion including the two bookend series; Situation, completed in 2017 and Set in Stone, completed in 2020. Both series blend still-life and landscape with inanimate figures and, when combined, highlight the artist's practice over a four year span. 
Bright colors and loose marks delineate Situation, while Set in Stone is monotone and tightly painted. With influences including early Italian Renaissance paintings, current events and memories, Stillion straddles a line between humorous and heavy with his paintings. ​
"What inspires me in the studio is wide ranging," explains Stillion, "cartoons, a worn drive thru sign in my neighborhood, cigarettes my grandma smoked, Lizzo and a Van Eyck grisaille painting titled The Annunciation. While these inspirations may seem incongruous, their combined effect has been my creation of a vocabulary of symbols and compositions."
In addition to teaching drawing and painting at Miami University, Michael Stillion has twice been awarded an Ohio Arts Council Individual Excellence Award, as well as a Joan Mitchell full fellowship to the Vermont Studio Center and a full year fellowship to the Roswell Artist in Residence. His work has also been exhibited in venues such as the Columbus Museum of Art, Contemporary Arts Center in Cincinnati, Roswell Museum of Art, Marshall University, Art Chicago and SpringBreak Art Show, New York. His work has been featured in publications such as Art Maze Magazine and New American Paintings. He is currently represented by Smith & Co.
Pyramid Hill Sculpture Park & Museum is located in Hamilton, Ohio and features over 80 modern and contemporary sculptures on 300 acres of rolling hills, lakes and hiking trails. The park also features The Ancient Sculpture Museum with Greek, Roman, Etruscan, Syrian and Egyptian sculpture dating to 1550 B.C. Set in Stone by Michael Stillion is on display through November 22. Please visit pyramidhill.org for current operating hours as times are subject to change due to Covid-19. 
A reception for the artist will be held on November 14 from 2-4 p.m. in the Ancient Sculpture Museum.