Cohort 4 was established during the 2014-2015 academic year. Scroll down to meet the members of our group.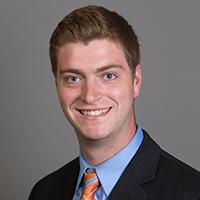 Eric Birkholz
Mechanical Engineering, Biomedical Engineering
I am a Mechanical and Biomedical engineering double major from Wayzata, MN. I chose engineering because I enjoy helping people and improving their lives as well as being creative and designing. I joined the Lockheed Martin Leadership Society because I hope to become a better leader in the engineering field as well as other parts of my life. I want to become a better person and engineer as well. Currently on campus I am an executive member of Pi Kappa Phi, and previously held a chair position. After graduating college, I plan on looking for a job in the engineering field that allows me to impact peoples' lives the most. I want to have a large impact on many peoples' lives including my coworkers and the community in which I work.
Matt Boubin
Electrical Engineering
My name is Matthew Boubin, and I am majoring in Electrical Engineering and Computer Engineering at Miami University. I chose to be an engineering major after experimenting with other majors that didn't't feel comfortable to me. Once in engineering, it was clear to me that I had found my place at Miami University. Engineering has allowed me to explore my curiosity in a way that no other major could offer me. I have a strong interest in the technical aspects of engineering, I also believe that leadership experience is essential to success in any profession. This is, in part, why I have chosen to be a part of the Lockheed Martin Leadership Institute. This program has pushed me out of my comfort zone and allowed me to grow in areas that I wouldn't't have been able to develop otherwise. On campus, I am also involved in the social fraternity Lambda Chi Alpha and our campus IEEE and HKN chapters. Thus far, I have had experience in autonomy at Wright Patterson Air Force Base, Information Technology at GE Aviation, and Computer Engineering Research within Miami's College of Engineering and Computing. Throughout my studies I developed a strong passion for nutrition, and I am particularly interested in urban agriculture, vertical farming, and aeroponics. I aspire to use my understanding of engineering to have an impact on this field in my future career.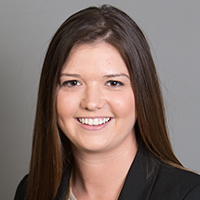 Amanda Burke
Biomedical Engineering
Growing up in Copley, Ohio as the daughter of two chemical engineers, I have been exposed to engineering my whole life. Biomedical Engineering was a natural choice for me combining my love of the math and sciences with an education that will allow me to be involved in the health care industry. In the future, I hope to give back to the community through my work.
I am excited to be a part of the Lockheed Martin Leadership Institute. As a member of cohort four, I hope to strengthen my skills in communication and team-work. I am also working on strengthening skills as a member of the Society of Women Engineers, a sister of Phi Mu Fraternity, and as the Vice President of Projects for Engineers without Borders.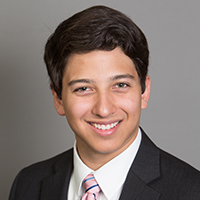 Sebastian Diaz-Rodriguez
Chemical Engineering
I was born in Monterrey, Mexico but moved to the United States of America at a young age, ending up in Chardon, Ohio, which has become my hometown. I am majoring in Chemical Engineering with a Physics and Paper Science Minor. Engineering is a discipline that takes information from all branches of science and math and applies this information into practical and commercial use for the real world. Wanting to understand how the world works currently and how it will in the future is how I got into engineering. My drive for engineering introduced me to the possibilities I have at Miami such as the Lockheed Martin Leadership Institute. The Leadership Institute's main goal is to prepare my cohort and me for life after college. The hope I have for what the Leadership Institute can do for me is help me build on my experiences and strengthen my best abilities when it comes to work ethic while improving on my weaknesses. Outside of schoolwork I am a proud member of Engineers Without Borders and Tau Beta Pi Engineering Honor Society. When I think about my future I hope to be in an industry and company that accepts my attributes and allows me to work at the highest of my ability. Whether that is in paper, pharmaceuticals, or something completely different I do not know yet but I am extremely excited to build my own path to success.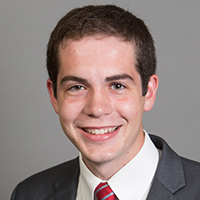 Brandon Free
Mechanical Engineering, Engineering Physics
I am a Mechanical Engineering & Engineering Physics Major at Miami University who originates from New Philadelphia, OH. Ever since middle school, I loved to solve problems and build things so I hoped I could make a career out of that. Once I learned what engineering was, I realized it was a natural fit for me. Throughout high school, I took every chance I could to prepare myself to study engineering and even took pre-engineering classes as part of a new program called Project Lead the Way. As I progressed into my later years at high school and into college, I realized how much I valued my mechanical skill and my ability to apply concepts to applications. This reassured my choice for engineering and led me to select my majors and career path. After I graduate in May 2017 I plan on pursuing a career as a Mechanical or Aerospace Engineer.
The Lockheed Martin Leadership Institute is an excellent program that will prepare me for my career as an engineer. Specifically I hope that I will learn the practical skills needed to have a successful career like project management and organization. At Miami, I am also involved with Engineers Without Borders, a service organization that partners with developing communities to solve engineering related problems. This has proved to be a truly unique experience that has allowed me to merge engineering, leadership, and service into one activity.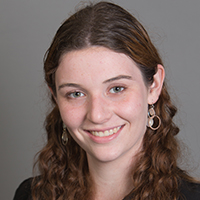 Chloe Gessner
Manufacturing Engineering
I am from Dayton Ohio, and I am a sophomore Manufacturing Engineering and Engineering Management double major. I am also pursuing a minor in French. I've always enjoyed problem solving and teamwork, as well as math and science, so a major in engineering was a natural choice for me. I picked manufacturing engineering originally because I thought that process engineering was a better fit. After interning, I realized that I also enjoy working in the organized chaos of the factory floor, with the heavy machinery and the people who operate it. I hope to someday work with either Quality engineering or Lean, and both require an innate understanding of how to properly outline solutions and then produce change. The Lockheed Martin Leadership Institute is the perfect method to learn the soft skills that are often left out of a technical engineering curriculum. I hope to learn how to lead through actions, and how to influence those around me in a positive manner, as well as become an effective member of a team. On campus, I am the Public Relations Chair of the College of Engineering and Computing Student Advisory Council, a member of the Alpha Epsilon Phi sorority, and a member of the Society of Women Engineers and The National Society of Leadership and Success (Sigma Alpha Pi).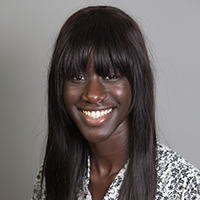 Ndeye Guiesse
Biomedical Engineering
I am from Cincinnati, OH but I am originally from Senegal, West Africa. I moved to the United States when I was seven years old. Engineering became an interest of mine after me senior year of high school. I knew that I always wanted to be a doctor and after doing a project on Biomedical Engineering, I knew that orthopedics would be the perfect route for me. Lockheed Martin takes all of the skills that I have acquired and connects them efficiently to help me market my brand as a leader. I hope to gain improved networking skills and I believe that Lockheed is the perfect outlet to do so. Lockheed Martin Leadership Institute pushes me to my maximum potential, I never feel like I am doing "busy work." As Professor Morman likes to say: "This is the rest of your life."
On campus, I am the president of the National Society of Black Engineers, member of the Phi Delta Epsilon Premedical fraternity, member of the African Students' Union, and a Calculus tutor. All of these organizations have helped heighten my teamwork, leadership, and communication skills. With the right opportunities, dedication, and skill sets I hope to pursue a career as an orthopedic surgeon as well as give back to my community through philanthropy.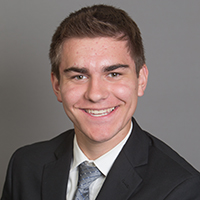 Chris Hill
Chemical Engineering
I am from Dublin, a suburb of Columbus, Ohio. I am currently studying Chemical Engineering at Miami University with a concentration in paper engineering and mechanical engineering. I chose engineering initially due to my passion for math and science—particularly chemistry; however, the more I learn about the various opportunities available for engineers the more excited I am to continue developing my technical and leadership skills.
I hope to learn more about my personal leadership style and improve my communication skills through the Lockheed Martin Leadership Institute. These skills would assist me in my other on campus activities as well as my professional pursuits. I am involved in AIChE, Engineers Without Borders, and TAPPI. I hope to use the skills I am learning at Miami, in and out of class, to find a career which allows me to use my analytical and problem solving skills to solve real world problems while developing leadership and communication skills allowing me to further my career.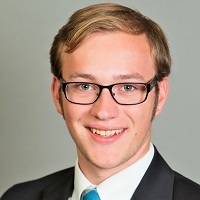 MacKenzie Hull
Mechanical Engineering
I was born in Elyria, Ohio near Cleveland and have lived there my whole life. I am a Mechanical Engineering major. I chose engineering due to a love of the subject matter in physics courses and work I was doing in calculus courses, but was more interested in design than in the lab work that a physicist might do. I mostly want to do something that will have a positive impact I can clearly identify and that I will be skilled in. I have enjoyed my involvement with the Lockheed Martin Leadership Institute and strive to continue strengthening the leadership characteristics I have along with building on those I struggle with. I have met with successful leaders in engineering and other engineering students and gained meaningful insights from all of them.
I am a Resident Assistant for my second year, this time in Morris Hall. During this past summer, I interned at Swagelok in their Tooling Engineering department. This was a great opportunity that allowed me to grow by giving me a lot of autonomy on the projects that I worked on. In the future, I plan on getting involved in a variety of industries that allow me to increase the breadth of my experiences, eventually reaching a leadership role that allows me to have a lot of creative input. The opportunities provided to me through this Leadership Institute and Miami University are vast and I want to graduate with an open mind, willing to jump into any prospective career that interests me.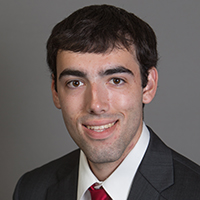 Evan Lynch
Electrical Engineering
My biggest goal in life has always been to make a difference in the lives of others. I think this is what drew me to engineering. I chose Electrical Engineering as my major because I am passionate about math and how it is used to understand the world. This passion began during my physics class at Loveland High School, in Loveland, Ohio.
The Lockheed Martin Leadership Institute has given me the opportunity to grow as an individual, as well as a leader. By studying my personal leadership styles, as well as by building my communication skills, I have grown a lot through this program. Apart from my studies, I am Vice President of the CEC Student Advisory Council, Treasurer of the Miami University Drone Racing Team, a member of the Percussion Ensemble, and a member of Cru. I hope to use the skills I am developing at Miami University to find build a future where I can use my strengths to make a difference in the world.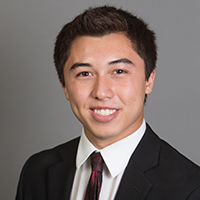 Loy McGuire
Mechanical Engineering, Manufacturing Engineering
My name is Loy McGuire, I'm studying Mechanical and Manufacturing Engineering as well as Renewable Energy here at Miami University. My hometown is Huntington, West Virginia. I've always found math and science interesting and fun, and I love to create, organize, and build things, so I decided engineering was the best path for me to choose in order to have a career that I would enjoy working in. In the Lockheed Martin Leadership Institute I hope to develop and improve my skills in leadership, to put myself into places that will challenge and strengthen my character, and to be introduced to new opportunities and networking situations. On campus I'm involved in the College of Engineering and Computing Student Council, Gymnastics Club, the professional engineering fraternity Theta Tau, and the social fraternity Chi Psi. During my time at Miami I would like to promote and improve the engineering program as much as I can. I have started a team to compete in the Cessna/Raytheon build/design/fly competition, I created the Miami University Drone Racing Club, and I have several more projects I plan on bringing about. In the future I hope to be on the forefront of developing sustainable energy and creating new methods for commercial energy production, or to have a career in the design and building processes associated with aeronautical and aerospace engineering.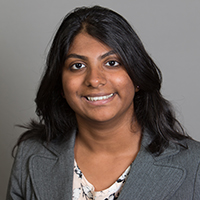 Dharini Parthasarathy
Electrical Engineering
I was born in Abu Dhabi, which is the capital of the United Arab Emirates, and I have lived there most of my life. However, I am a citizen of India and, in fact, did my High School education there. Studying in India presented a wide and amazing array of opportunities to me, one of which was the chance to apply to universities in the States. I chose Miami University because of the excellent education it offers, but above that, I chose Miami University because of the excellent experience it gives its students.
I am pursuing a major in Electrical Engineering. Math and Science are two subjects I have always loved; they are subjects that interest and impress me. But, I wanted to study more than just Math and Science, and thus, I chose Engineering—a combination of both and also much more. The Lockheed Martin Leadership Institute helps me in my pursuit of 'much more'. Through the Leadership Institute, I hope to gain skills and experiences that can translate into my future career—technical skills, but also interpersonal skills such as self-awareness and group-awareness that will aid me in more than just my career.
I am also a member (and SNT Coordinator) of Sigma Alpha Pi, which is the National Society of Leadership and Success as well as the Miami Ambassadors for Creating Change, and Alpha Epsilon Phi (a sorority). I participate in the Miami University chapter of Toastmasters as well. Lastly, I work in the Dean's Office as a Student Aide.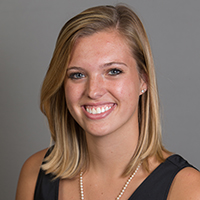 Logan Raukar
Mechanical Engineering
I'm from Sylvan Lake, Michigan (a suburb of Detroit). I am currently studying Mechanical Engineering here at Miami University. I decided to pursue engineering for the opportunity to create things that can have a beneficial impact on the world. In addition, there are a wide variety of job opportunities and career paths that can come from engineering. Through the Lockheed Martin Leadership Institute I hope to learn more about myself and how I can better myself. I also hope to learn to work better in teams. This incredible program will give me the tools I need to lead myself and others successfully. The Lockheed Martin Leadership Institute also allows me to practice teamwork and communication skills which will assist me throughout my future career. I am also an active member of the Gamma Nu chapter of Kappa Delta sorority, Society of Women Engineers, and KidsUganda. Through these organizations and the philanthropy opportunities they offer, I am able to help those in need throughout my community and around the world.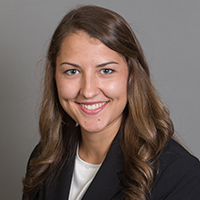 Korey Smith
Biomedical Engineering
I am from Pittsburgh, Pennsylvania and am studying Biomedical Engineering (concentration in Bioinformatics and Computational Biology) with minors in Mechanical Engineering and Spanish. I am fascinated by the human body, and the ability to create new technology to improve people's lives through medical devices excites me.
As a highly motivated engineering student, it is easy for me to get caught up in the lie that grades are the most important aspect of college for engineers. The Lockheed Martin Leadership Institute is helping me to realize the importance of involvement and proficiency in much more than classwork. Through workshops, speakers, and other events, the Leadership Institute is encouraging me to strengthen my soft skills and look introspectively to grow into a more well-rounded, adept leader. I am very excited for the years to come and the many more lessons that I will learn from my experience in the Leadership Institute.
I am involved in a wide variety of other activities which include being the Secretary and Communications Committee Chair for the University Academic Scholars Program, participating in the Honors Program, leading youth ministry in Cincinnati through Young Life, being a member of the Society of Women Engineers and Genetics Clubs, and playing on an intramural broomball team. While these activities are all very different, they are all valuable opportunities to help me grow in my leadership, teamwork, and time management skills.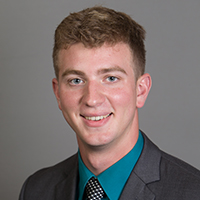 David Ternik
Mechanical Engineering
Now in my third year as a Miami Redhawk, I continue to absorb the lessons of the Lockheed Martin Leadership Institute. I am also a student employee at the university's B.E.S.T. Library, where I specialize in 3D modeling and 3D printing. On the weekends I passionately add my voice as color commentary for the Redhawk Hockey team on WMSR student radio. I study Mechanical Engineering and have completed a Physics minor. However, from industry experience and the programming of Lockheed Martin I have learned that technical skills are not enough to truly make a difference.
Ever since completing Project Lead the Way, a four-year high school engineering curriculum, I have known that engineering compliments my skills. I pride myself on being able to make critical decisions, work autonomously and in teams, and perform my best in the face of challenges. The world before me seems unlimited in opportunity, but I have an exceptional interest in 3D printing, CAD design, and alternative energy sources. With the help of my professors, peers, and the Lockheed Martin Leadership Institute I aim to mature as a leader as I grow both intellectually and personally. Above all, I strive to make my dent in the world.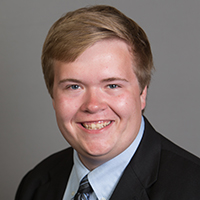 Samuel Werley
Computer Engineering
I am a computer engineering major from Pittsburgh, PA. I chose engineering because I love problem solving and have always wanted to create useful things for the world. I hope to use the Lockheed Martin Leadership Institute to further develop my practical problem solving skills as well as the necessary skills to succeed as a leader in the business world. I am also a dedicated member of the Miami University Sailing Team and the historian of my fraternity, Zeta Beta Tau. In the future, I hope to work as an engineer in a leadership position of a tech company designing cutting edge technology.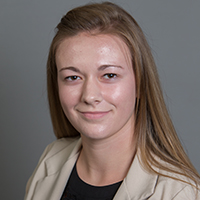 Ashley Youngwirth
Electrical Engineering
I am an electrical engineering major pursuing minors in mathematics, Arabic, and Russian; and I am from Chicago, Illinois. From early on I have always favored math and the sciences over the humanity type courses and enjoyed problem solving, so engineering seemed like an ideal fit. I am not entirely sure what I want to do after graduating from Miami University, so I am keeping my mind open to all possibilities. Another advantage of going into engineering is that because it is such a versatile degree, it can be applied across multiple fields, which can only benefit me. As a member of the Lockheed Martin Leadership Institute, I hope to further strengthen and develop various skills to help me become an effective leader as well as, gain some professional experience. Outside of the Institute, I am involved in the Society of Women Engineers, College Republicans, and Pistol club.