Cohort 5 was established during the 2015-2016 academic year. Scroll down to meet the members of our group.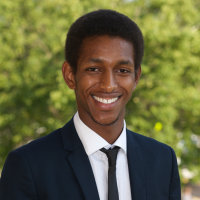 Solen Abasaba
Chemical Engineering
I was born in the US but moved to Ethiopia when I was five and lived in the capital Addis Ababa for the following 10 years. My parents' work, building water wells and schools in rural areas, took us back. Being able to see finished projects and the vision behind the organization helped me appreciate and value education. As a child I was very curious about the world around me and how things worked and so given that I have always enjoyed math and science, I chose engineering with the hopes of going into water treatment and purification.
Through the Lockheed Martin Leadership Institute, I hope to gain skills and experiences that will help me achieve my goals in life and develop as a leader helping me gain improved communication, leadership, and organizational skills. In addition to Lockheed, I am a member of the National Society of Black Engineers and the Louis Stokes Alliance for Minority Participation. Both are organizations that have also opened up many doors of opportunity and helped in my development as a leader. I am confident that with all that I learn through my experiences in and out of the classroom, paired with dedication and hard work, I will be in a position that sets me up for success in the future.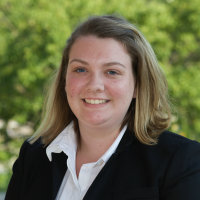 Emma Belanger
Software Engineering
I am from Cincinnati, Ohio and am majoring in Software Engineering at Miami. I decided to pursue engineering and technology because of an interesting engineering class I took in high school. I learned about the creativity involved in math and science and was immediately interested in focusing on technology.
I hope to gain personal and group leadership techniques from the Lockheed Martin Leadership Institute. The institute allows me to have real-world experience working in teams to accomplish a goal. This experience strengthens my communication and organizational skills.
Outside of engineering and the Lockheed Martin Leadership Institute, I'm actively involved in Alpha Phi Omega. I do 20+ hours of community service a semester, doing projects involved in campus, community, philanthropy, and scouting activities. I'm also involved in ACM where I work on programming projects and go to workshops about different programs and languages.
With my experiences I hope to see myself in a company that focuses on technology. I would like not only to work on projects that bring design and technology to the world, but I would like to lead these projects as well.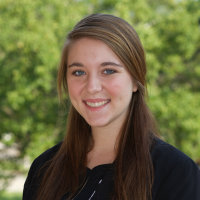 Melanie Boehmer
Bioengineering
I am a Bioengineer student at Miami University from Hebron, Kentucky right outside of Cincinnati, Ohio. I currently have a concentration in biomedical engineering. I chose engineering because when thing of my academic interests in the past I always knew that I showed the highest potential in math and science. When investigating further I became very interested in research and biotechnology, which is some of the things I hope to get into in my career after college.
I chose to apply to the Lockheed Martin Leadership Institute because I want to develop my personal skills such as public speaking and interpersonal communication. Since being in the institute I have started to become very aware that it is important to know your personality very well, because leadership is something different in everyone. I look forward to the future in the institute to learn more about myself and about how to use that knowledge to work with others in the most effective ways. This program is the transition from school to a job.
On campus I am involved in the National society of Leadership and Success where I am currently just a member. I am also involved in the National Society of Collegiate Scholars. I am also a part of the University Honors Program. I am working towards obtaining as many skills as possible inside and outside of the classroom to get me to a better future.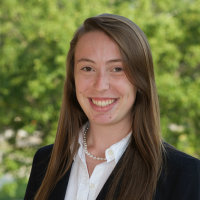 Kristin Campbell
Chemical Engineering
I am from Springfield, Ohio and I am studying Chemical Engineering with a concentration in biochemistry. I chose engineering because of my love for math and chemistry that I found in high school, but I have found a greater love for it while starting my studies at Miami University. The more topics I cover in my classes and the more I learn about the amazing variety of career opportunities open for chemical engineers, the more passionate I become about the field.
I am currently involved in the Society of Women Engineers, ΑΦΩ (a service fraternity), the American Institute of Chemical Engineers, The AIChE ChemE Car team, Community Leadership Team as the 2nd Year Honors LLC Rep as well as General Assembly Ambassador, and the RHA Community Service Committee. Hopefully these activities coupled with the Lockheed Martin Leadership Institute will give me the incredible leadership skills that will take me from an entry-level research and development job to my goal career of being a project manager at a company such as P&G.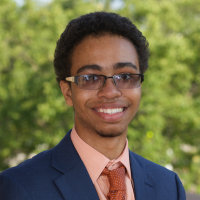 Chase Connor
Chemical Engineering
I was born in Columbus, Ohio and was raised in Westerville, Ohio. Throughout my education I have always had a strong passion for the sciences. I love many subjects such as Chemistry, Biology, and Physics. Yet I was inspired by a past Chemistry teacher to look into the field of Chemical Engineering. The vast amount of possibilities and opportunities available for me to be able to assist others in the world with an engineering appealed to me. I knew that this path was one coincided with my passion to help others.
The Lockheed Martin Institute will help me hone the skills within myself that will assist me for the rest of my life. To truly leave a mark on the world and to help one another one must learn to lead. With the leadership skills learned from the Lockheed Martin Institute and the skills from a Chemical Engineering curriculum I will achieve many things in the future.
I am currently the secretary of the National Society of Black Engineers on campus. I hope to gain experience in this position as a leader and learn from experienced engineers with the contacts I have made through the program. I hope to learn much more when it comes bother leadership and engineering to truly make a positive impact on both the environment and other people.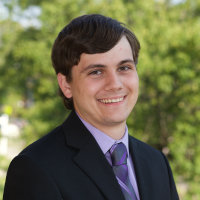 Matt DePero
Computer Science
I am from the hometown of Wadsworth in northeast Ohio and am majoring in Computer Science. I found my passion for programming while in high school and have been following it ever since. What started with simple web design has grown into a career path that leave me both confident and excited about the direction I'm going with my future.
Especially in the field of engineering, soft skills such as professionalism and communication often get left behind to the immense about of technical knowledge associated with the field. While I understand the value and need for this type of knowledge, I recognize the importance for skills in teamwork, interpersonal cooperation, and business acumen. I'm excited to not only learn these types of skills from the best in the business, but to do so alongside an incredible group of people in cohort 5.
Outside my academics I am involved with Toastmasters International, ACM (Association for Computing Machinery), Kode2Learn (A service project with local school districts), and student councils for the college and the computer science department. Through coursework, real world experience, a problem solving mindset, and high work ethic, I aspire to be a leader in my field and hope to leave a lasting impact on the industry.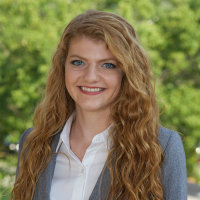 Aspen Dowden
Chemical Engineering
Growing up in the small town of Circleville, Ohio where community is valued above all else, public service quickly became one of my core values and I chose to give back to the community that had given so much to me to any way that I could. When considering my future career path, I knew that in order to be fulfilled as a person, I needed the element of public service. Because of my strengths in math and science, I knew engineering could be my personal way of giving back.
While my undergraduate experience here at Miami offers a wealth of knowledge pertaining to the practice of engineering, the career path I seek demands interpersonal skills absent from the traditional-style classroom setting. The Lockheed Martin Leadership Institute helps to bridge the disconnect between the two by providing guidance and support for the development of both communication and leadership skills.
At Miami, I work as a tour guide to further connect with people as well as contribute to my university. As a brother of Theta Tau, a professional engineering fraternity, I am able to develop professionally while giving back to the community of Oxford, through our national philanthropy Habitat for Humanity. My involvement in the aforementioned organizations as well as the University Honors Program and the Club of Design, allow me to build my skills for, explore my interests in, and prove my dedication toward a career in engineering as a public service.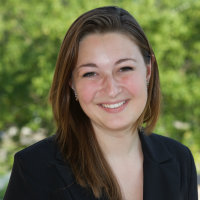 Rachel Duffy
Mechanical Engineering
My name is Rachel Duffy and I grew up in Bellbrook, Ohio, a suburb of Dayton. I am studying Mechanical Engineering and Interactive Media Studies. I chose my major because it encompasses both the technical aspects of engineering which I am strong in, as well as design and creativity. My hope as an engineer is to use both my design and technical skills to create an end product that people will enjoy. I am passionate about working with CAD to develop models and prototypes of objects that will eventually be brought to life.
Throughout Lockheed Martin Leadership Institute, I hope to grow as a leader by improving my areas of weakness. By taking the Myers Briggs personality test, I learned that I am an ENFJ personality type which means I have a genuine interest in people and seeing them succeed. This is a good trait to have as a leader because when leading, I have the ability to put myself in other people's shoes to see how my decisions affect others. This helps me decide how to approach problems based off of what I foresee the outcome to be.
On campus, I am a mentor for younger engineers as a part of the Engineering Scholars program, involved with Society of Women Engineers, and Wilks Leadership LLC. I am glad to be a part of these organizations because they help me hone my leadership skills.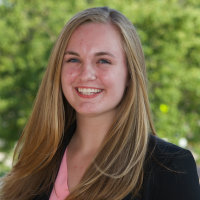 Emily Hanson
Bioengineering
I am a bioengineering major from Illinois. At Miami I am involved in the Honors Program, Habitat for Humanity, Alpha Omicron Pi Fraternity, Miami's study abroad program in Luxembourg, and a research independent study. One of the reasons I chose to major in engineering is because I have always liked math and science. I decided to study bioengineering because I am interested in health related fields. In particular, I am very interested in learning more about artificial organs and tissue engineering. I would like a career where I am helping people and making a difference and I know that with a bioengineering major I will be able to achieve that.
I am excited to be a part of the Lockheed Martin Leadership Institute. It is a perfect complement to my classes, providing opportunities to grow skills that will be crucial after graduation. Being in Cohort 5 will allow me to continue developing my teamwork skills, learn from my peers, and build relationships with others in my field. I know that with the help of the Leadership Institute I will further develop both the "hard skills" and the "soft skills" that are important for a career.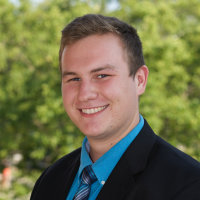 John Hobbs
Mechanical Engineering
I am from Oregonia, Ohio, a town that is so small that it doesn't even have a four way stop. I am currently working towards a Mechanical Engineering degree with a Computer Science minor. I chose mechanical engineering as my major because I was involved in F.I.R.S.T. Robotics in high school and got a taste what it was like to work on an engineering project. From F.I.R.S.T. Robotics I gained a passion for robots and their many different applications, but also have a passion for designing medical devices to aid healthcare professionals and this is due to growing up with a severely medically fragile sister my whole life.
From the Lockheed Martin Leadership institute I hope to fine tune my leadership skills and learn how to better work in teams to effectively accomplish a goal. On campus, I am involved in the Tau Delta chapter of Theta Tau, a Professional Engineering fraternity; Scholar Leaders LLC, Kode2Learn, American Society of Mechanical Engineers, and the Quadcopter Racing team. I hope to capitalize on all these experiences at Miami University to expand my leadership skills and use them to aid me with whatever the future has in store for me.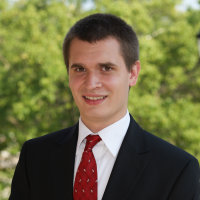 Mark Hutchinson
Computer Science
I am from Batavia, a suburb of Cincinnati, Ohio. I am currently studying Computer Engineering at Miami University. I initially chose engineering due to a passion for working on and with computers. The more I get to take classes related to my major the more I enjoy working in this field. This continues to excite me and I look forward to developing my technical and leadership skills.
Through the Lockheed Martin Leadership Institute I hope to learn more about my personal leadership style and improve my communication skills. Learning these leadership and communication skills would greatly help me in the other activities I am involved in on campus, including Engineers Without Borders, and the various recreationally sports teams I am on. I am hoping to use the leadership and communication skills I gain in Lockheed to find a career in the mobile technology field, that allows me to use my analytical and problem solving skills to solve real world problems. I would enjoy being the leader of a small team on this job, which would allow me to further develop my leadership skills.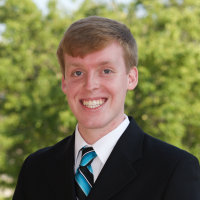 Stephen Knitter
Chemical Engineering
I live in Schaumburg, Illinois – a northwest suburb of Chicago. I am a Chemical Engineering Major and I plan on pursuing a focus in environmental engineering. I am passionate about energy and the environment and I would love to learn more about getting into the field. The choice to pursue engineering was an easy one – I love defining and solving problems, as well as finding new and efficient ways to innovate the old ways of doing things. The potential in renewable energy is exciting to me and through engineering I want to be able to participate in utilizing the different possibilities there are for energy. Learning how to brand myself and develop as a professional leader in the engineering field is my goal through my involvement in the Lockheed Martin Leadership Institute. Gaining real world experience in college is a huge step in the right direction, and this is the way to do it. All of these attributes would help in my other activities that I am a part of on campus. Currently I am a member of the Miami University Student Foundation and Alpha Kappa Psi Professional Business Fraternity; I also work as a banquet server at Carillon Catering.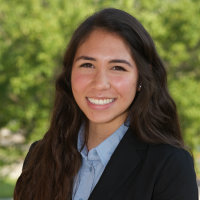 Emily Pantuso
Computer Science
Raised both bilingual and multicultural in Japanese, I aspire to become a global leader and innovator in technology. I was first introduced to computing in high school when I took an IT course where I learned to program and develop websites. This experience motivated me to pursue Computer Science as a major along with an Interactive Media Studies co-major. I am also minoring in Chinese and plan to use this skill along with my background in Japanese to work internationally.
The Lockheed Martin Leadership Institute will help me to learn more about myself and how I, personally, can become the best leader I can be. I believe this experience will improve my communication skills and team working skills and prepare me for my career.
At Miami University, I am involved in a variety of organizations. Currently the corresponding secretary of Theta Tau, the professional engineering fraternity, I maintain relations with alumni and neighboring chapters. I am also the club leader of Bogan Elementary for Kode 2 Learn, a weekly club where college students teach elementary school students how to code using Processing and Scratch. Also an active member of Association for Computing Machinery, Society of Women Engineers, and China American Business Organization, I enjoy staying involved on campus.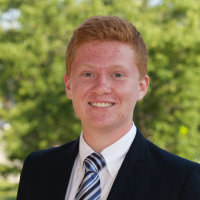 Dan Pfeil
Mechanical Engineering
I am from Mason Ohio, a suburb north of Cincinnati. I am currently studying Mechanical Engineering. I have always been drawn towards building things ever since I was young, and felt that this was a great way to turn my passion into a career. What really helped to solidify this decision was a two projects that I did in my AP physics class senior year of high school. One was designing and building a rollercoaster that meet a certain set of requirements, and the other was designing and building a Rube Goldberg machine that accomplished a certain task. Going through the process of designing and creating these machines was very interesting and I definitely enjoyed getting a task and having to figure out how to complete this task in the best way I could. I hope to take this degree and use my knowledge to help not only myself, my family, and my company; but anyone that I am able to. I am interested in working in designing machines and devices that will be able to save lives and help people who couldn't live without them. I hope to get out of this institute the ability to lead a group, but also the ability to be a contributing member of a group even if I am not leading it. I also hope to become educated on how to fully use my own skill set to help myself and others succeed. I am also involved in Undergraduate research on campus through the Microbiology department at Miami. I am heavily involved in intramurals as well, playing soccer, football, and hockey. Lastly I am involved in Miami University Student Foundation on campus in which we strive to help the past, present, and future students of Miami.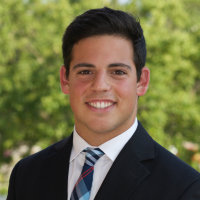 Harrison Roth
Computer Science
I am studying Computer Science at Miami University. I decided to study Computer Science due to my passion for math, problem solving, and technology. I am constantly intrigued by innovation and development in my field. While in school, I plan to work in many different areas of computer science in order to broaden my knowledge base and ensure that I have all of the skills that I could need down the road. I hope, in the future, to work for a company that constantly pushes boundaries and forges new paths. I aspire to work in cyber security, which I see as a growing need around the world with the global increase in technology.
I hope that the Leadership Institute will help me progress as a leader and person, giving me skills that will be invaluable in the future. The Leadership Institute should prepare me for life outside of school, and ensure that I will have the necessary knowledge to take any opportunity that may arise.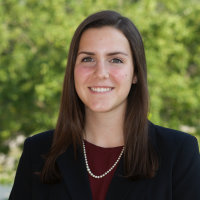 Marcia Rudolph
Mechanical Engineering
Ever since I started school, math and science were always my favorite subjects. Though I have always known where my interests lie, I had no idea what I wanted to major in until a family friend suggest the field of engineering to my when I was a junior in high school. At that point I decided to give it a try and went to a Women in Engineering week-long summer camp at Ohio State University, and fell in love.
Soon after I found engineering, I discovered my passion for space and decided to combine them and focus on the area of aerospace engineering. Though I enjoy hands on projects that use all aspects of engineering, in the future I see myself running an aerospace company. With this aspiration in mind, I feel that the Lockheed Martin Leadership Institute will give me a great foundation with real world and leadership experience to reach my career goals.
On campus, I am involved in Theta Tau which is a professional engineering fraternity, Society of Women Engineers, and Outdoor Adventure Club. From these activities I wish to make an impact on Miami's campus along with the area of engineering.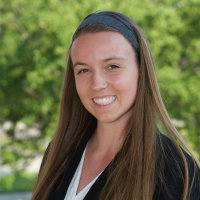 Amanda Ryerse
Electrical Engineering
Growing up in a military family, I have spent plenty of time in military hospitals. I am always amazed at how many veterans have lost limbs. Despite only having one arm or leg, these men and women have the motivation to keep moving on with their lives, despite the obstacles that life has thrown them. They never give up. I have always wanted to find a way to give back to them. It wasn't until my senior year of high school when I realized that as an engineer, I could use my knowledge and skills to solve not only this problem but others as well. Eventually, I would love to be designing improved prosthetic limbs for amputees that give them a better range of motion.
The Lockheed Martin Leadership Institute will help me learn about my personal leadership style and how to work effectively with others who differ in their philosophy. Additionally, I hope to develop my leadership skills, specifically, communication, using the guidance and resources of the institute, in order to apply them to the other organizations I am involved with on campus. Additionally, I am a member of Phi Sigma Pi National Honor Fraternity and the Miami Women's Lacrosse Team. All of these organizations have enabled me to develop my communication and team building skills, as well as bring a high level of enthusiasm to each one. Because of this, I am confident, I will be successful in solving real-world problems using my engineering knowledge.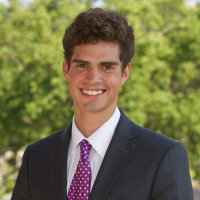 Zane Shreve
Electrical Engineering
I am from a small town called Redkey, located in east-central Indiana just minutes from the Ohio border. From a young age, I have always been curious and interested in how things work. This interest was focused when I took engineering courses in high school that prompted me to pursue engineering at Miami. My decision to major in electrical engineering is a result of the joy I find in building electric guitar amplifiers and effects units, a hobby I took up during high school. Since deciding on EE, I have been very interested to learn of the many professional opportunities that it provides; my biggest interests are in the air/space industries and audio electronics.
The Lockheed Martin Leadership Institute has helped me to take those personal career goals and find ways to improve my communication and leadership skills and further my professional development to make them happen. Being surrounded by such talented and influential people in the Leadership Institute pushes me to pursue excellence in my own leadership journey. Aside from the Leadership Institute, I am also a member of the University Academic Scholars Program. I am a member of the Miami Track and Field team as well; I compete in the decathlon. I also currently act as a Resident Assistant on campus. Each of these activities contribute to who I am and the type of leader I am trying to become.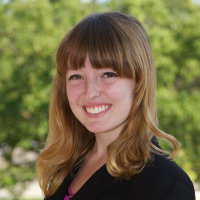 Paige Smith
Bioengineering
I am from Saline, Michigan, a small town outside of Ann Arbor. I am a bioengineering major. When I came into Miami I was an undecided major, but it soon became clear to me that engineering was where my passion is, and I love the complexity and diversity in the bioengineering field. I want to use my math and science skills to improve the quality of people's lives. My main interests in bioengineering are tissue engineering and prosthetics.
I joined Lockheed Martin in order to develop my leadership skills, which I feel are neglected in my other studies. I want to improve my communication and team-working skills most because I believe that working effectively with others is important, particularly in engineering. I also wanted to expand my professional network.
Outside of class, I am involved with the Society of Women Engineers. I want to encourage other women and girls to consider engineering as a career option, because I think that people are reluctant to enter fields where they are not represented. I also work at King Café part time.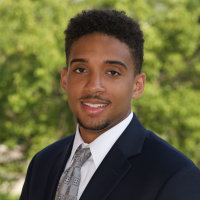 Christopher Smitherman II
Mechanical Engineering
After taking an Introduction to Engineering course during my senior year of high school, I became very interested in engineering as a possible career choice. The class did several projects, but my favorite was designing a model roller coaster under given constraints. After many hours of working with my team to create a fun, innovative, original, and feasible coaster, I realized I had a true passion for engineering.
Through participation in the Leadership Institute, I hope to understand more about my personal leadership style and thereby increase the use of my leadership skills. I anticipate that such skills will assist me in many circumstances, for example, in my on-campus activities, my professional endeavors, as well as social situations. With quality leadership skills, I would like to pursue a career with one of the top defense contractors in the United States, such as Lockheed Martin. I look forward to implementing my technical skills as an engineer in order to improve and innovate new technologies that will be used to keep the country safe. Although engineering is my academic focus, I am involved in the Miami Boxing Club and Project High Flight. I am also employed as a Resident Assistant with the University.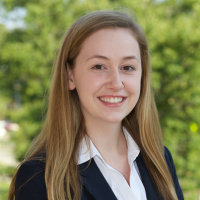 Samantha Stretar
Bioengineering
I am a biomedical engineering and premedical studies major from Minnetonka, MN. I decided to pursue engineering because I wanted to combine my creativity with my interest in learning how things work. To me, engineering is more than being good at math and science, it is about finding innovative solutions to the most pertinent problems that affect society today. Biomedical engineering has been the perfect fit to combine my interest in medicine and engineering as I pursue a future career in the healthcare industry. I am driven to help improve the health and wellbeing of people around the world.
I saw the Leadership Institute as a unique opportunity to develop professionally while earning my undergraduate degree. I hope to learn how to become an effective motivator and leader during my time in the Institute. On campus, I am also involved in Opening Minds through Art (OMA) where I participate in art therapy with dementia patients. I also am currently participating in undergraduate research where I work with oncolytic viruses in the treatment of pancreatic cancer.