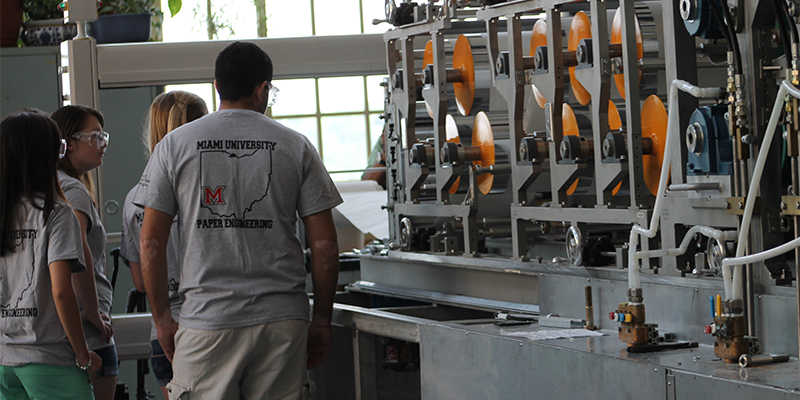 DEPARTMENT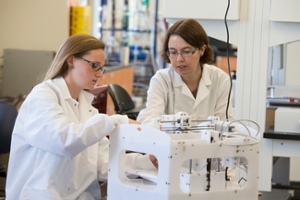 Established in 1957, The Chemical, Paper and Biomedical Engineering Department (CPB) currently has 14 full-time faculty, administrative and technical support staff, ~400 undergraduate majors, and 20 MS graduate students. The department offers ABET accredited, undergraduate majors in chemical engineering and bioengineering, and concentrations in an interdisciplinary major in engineering management. The department supports many opportunities for undergraduate research, student co-op/internship, and study abroad. The department currently offers an MS in Chemical Engineering and is actively enhancing its graduate programs. The graduate program offers advanced courses and has both thesis and non-thesis options for degree completion.  There are additional opportunities to be involved in and advise MS and PhD student research through the interdisciplinary Cell, Molecular & Structural Biology graduate program and the Ecology, Evolution & Environmental Biology graduate program.
Departmental facilities include modern research laboratories, a highly instrumented pilot paper machine, a unit operations laboratory, analytical equipment, cell culture facilities, optics and microscopy, biomedical and biochemical laboratories, a materials testing laboratory, and other laboratories containing bench scale process equipment. State of the art analytical testing equipment is also available at Miami University through the Department of Chemistry and Biochemistry. Miami University also houses several state-of-the-art facilities including the Center for Bioinformatics and Functional Genomics, Laboratory Animal Resources, and the Center for Applied Microscopy and Imaging. State-of-the-art high-performance computing resources are available through the Ohio Supercomputer Center.
The Miami University Paper Science and Engineering Foundation is a non-profit organization housed at Miami University that solicits and coordinates industry support for scholarships, equipment, and curricular advice related to paper engineering. It operates independently of the department and is led by an executive director.
More information on the Department of Chemical, Paper and Biomedical Engineering.
COLLEGE

The CPB department is one of four departments administratively located in the College of Engineering and Computing (CEC), one of six academic divisions at the university. The enrollment in the college is approximately 2100 students in Fall 2018.  The college also includes majors in Computer Engineering, Computer Science, Electrical Engineering, Engineering Management, General Engineering, Mechanical Engineering, Manufacturing Engineering, and Software Engineering. Miami's undergraduate engineering program is ranked 30 in the category of "Best Undergraduate Engineering Programs whose highest degree is a bachelor's or master's," according to the U.S. News & World Report 2019 edition of America's Best Colleges.
More information on the College of Engineering and Computing.
UNIVERSITY
Nationally recognized as one of the country's most outstanding undergraduate institutions, Miami University is a public university located in Oxford, Ohio (35 miles north of Cincinnati), with regional locations in Hamilton, Middletown, and West Chester, Ohio, and the John E. Dolibois European Center in Luxembourg. Miami combines a wide range of strong academic programs with the personal attention ordinarily found only at much smaller institutions. A liberal education core complements the more specialized studies of the majors. Along with an impressive number of opportunities to gain practical, hands-on and immersive experiences, Miami is distinguished by a faculty who enjoy teaching and mentoring students. Recognized as a "Public Ivy" by Richard Moll in his 1985 book about America's flagship universities, Miami has long been recognized by such publications as U.S. News & World Report for an unusually strong commitment to undergraduate teaching (#3 nationally in 2019 and #2 public institution). This commitment to teaching is demonstrated in the University's record of exceptional retention and graduation rates. Miami also is ranked second among public doctoral universities in the country for study abroad participation by undergraduate students (42%). Chartered in 1809, Miami is the seventh-oldest university in the nation. Current enrollment includes over 17,000 undergraduates and over 2,500 graduate students on the Oxford campus, which is lauded for its exceptional beauty. The charming, historic uptown area of Oxford is adjacent to the campus. Miami offers bachelor's degrees in 120 areas of study and master's degrees in more than 60 areas; the University also offers a number of doctoral degrees.
More information on Miami University.