2022 Student Speaker: Rachel Duke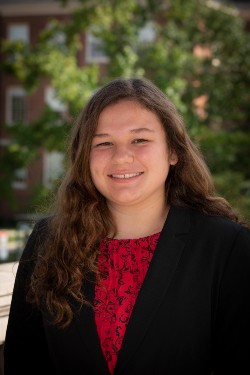 Rachel Duke is graduating magna cum laude with her bachelor's and master's degrees in biomedical engineering. She has also earned a certificate in leadership through the Lockheed Martin Leadership Institute.
As a graduate student, Rachel worked as a graduate assistant to several professors in the CPB department. Her thesis research, under the advisory of Dr. Justin Saul and Dr. Jason Berberich, has developed a mathematical model to demonstrate the effects of a cellular based hormone therapy designed to target symptoms of ovarian failure and menopause.
In her time at Miami, Rachel has been involved in the Lockheed Martin Leadership Institute's cohort 9, where she also became the teaching assistant for cohort 10. She has participated in the Seeing Differently transformational leadership program led by Louise Morman, acted on the CEC diversity, equity and inclusion committee and served on the CPB undergraduate advisory council.
Rachel is the co-founder and treasurer of the Society for Biological Engineers club on campus, and she is also a member of the Undergraduate Academic Scholars Program and the Tau Beta Pi honors engineering fraternity.
After graduation, Rachel will begin her career at Epic in Madison, Wisconsin as a Technical Solutions Engineer. She hopes to join the oncology team where she can use her personal experiences and passions to improve medical software and long-term care for cancer patients and survivors.
Rachel would like to thank her advisors, professors, friends and family who helped her achieve her goals along the way.