Society of Women Engineers hosts Girl Scout Day 2018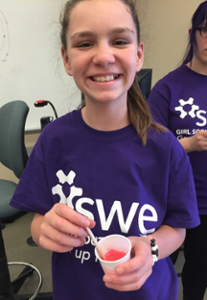 Apr 18, 2018
"It's hard to know where to begin in our sharing of appreciation for your great efforts this past weekend to engage the Girl Scouts of Western Ohio. They were giddy in the car all the way back to Loveland talking about topics they have never discussed before. New ideas and hopes and visions for future breakthroughs and even college discussions. Being 4th graders, that's a pretty awesome impact. Who knew it would only take one perfectly planned day to light the fire inside for future interest in STEM."
~Girl Scout troop leader about Girl Scout Day 2018
The Society of Women Engineers Miami University continues to spark girls' interest in science during their annual Girl Scout Day on Saturday, April 7, 2018.
This year, approximately sixty girl scouts in 4th and 5th grade from around western Ohio came to Miami's campus to learn about different fields of engineering and how women scientists have shaped the world.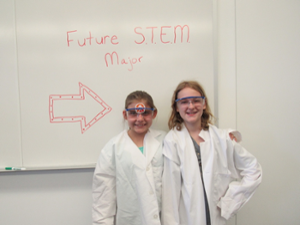 Girls explore science at Miami University Society
of Women Engineers' annual Girl Scout Day
Research shows that in elementary school boys and girls have approximately equal interest in science, but as they grow, various factors lead young women into pursuing more traditional, female dominated roles. In college, only about 20% of engineering students are women, and only about 14% of engineers are women.
Fortunately, Miami has a substantial population of female engineers and computer scientists dedicated to helping bridge the gender gap.
One such group is the Society of Women Engineers, who have been hosting their annual Girl Scout Day for over ten years. They aim to show young girls that engineering is fun, and, if they want to, they can be an engineer someday.
The activities on Saturday included:
Creating bracelets with beading in binary code
Designing roller coaster prototypes
Making paper hand sheets
Creating slime
Creating prosthetic hands out of paper
Each station represented a division of engineering, computer science, or creative thinking, and at the end of the day the girls completed enough activities to earn a badge.
By Paige Smith