02.13.2020
Farmer School of Business, Room 1022
---
In Attendance:
Laura Desmond - Chair
Gail King - Vice Chair
Emma Lester - Secretary
CPAC Members: Cheryl Birkenhauer, Fabienne Bohon, Dana Miller Carlsen, Amy Corrington, Emily Dreisbach, Penny Mannix, Alicia Miller, Lauran Franklin (HR Representative)
Absent:
Jennifer Hicks, Rich Kiefer
Melissa Allen - Ex-Officio, Pat Powers (UPAC Representative)
The meeting started with a group picture: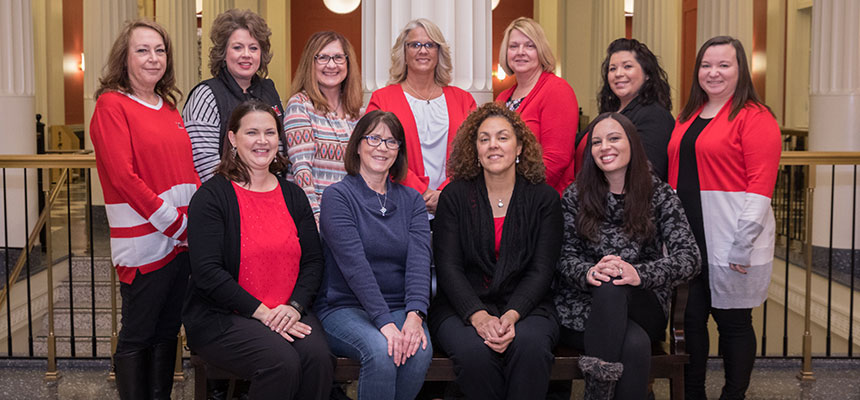 Questions for Dawn Fahner:
(Note: Questions were provided to Dawn ahead of time and she didn't necessarily answer them in order.)
Q: What is the justification of letting a person go that is one year away from retirement from Miami?
A: Dawn: This was a position elimination and not a person elimination, I can promise you that.
Q: How can the university justify letting 2 people go from the Registrar's office that have over 50 years of experience?
A: Dawn: We looked at positions only, not who was in those positions when making our determinations.
Q: Why was there no transparency in the job cuts?
A: Dawn: Unfortunately it happened so fast and we wanted to avoid what has happened in the past, we wanted to be there and tell each person (along with their manager) that their position was being eliminated. This way we could give them time to process and then provide resources to each person that wished to have our help.
Q: How was it decided who would be cut and who wouldn't?
A: Dawn: Everyone knows about the amount of money each area within the university was told they must save within the next 5 years; in December when the Board of Trustees met they decided that they wanted the money saved this year and not over a period of 5 years. That is when it was decided that there had to be some eliminations. We went over departments that needed to be cut and then positions (NOT PEOPLE) within that department that could be dispersed within that specific department. She and/or Theresa Murphy met with each person whose position was being eliminated and Dawn/Theresa were the ones to tell them. See question 3 above.
Q: Why does the upper administration continue to ignore the issue of classified staff morale and continue to dump "stuff" down on us without any prior notification?
A:
Q: As a public university all records are public, therefore everyone deserves to know the answers to question
A: Dawn: I agree
Q: Do you foresee any more job eliminations within the next 5 years? a. If so, will "bumping" be part of these eliminations as it has in the past?
A: Dawn: As of now I have not been told that there will be anymore job eliminations (and I will be the first to know). I cannot say that there won't ever be any more eliminations because I don't even know.
Q: Has 'bumping' been offered to classified staff who lost their jobs during this last round of eliminations?
A: Dawn: Bumping was offered and there are 2 people who decide to use their rights to "bump". Everyone involved in this situation has been notified so there is not a need to worry that you will be bumped from this.
Q: Is the tuition waiver in jeopardy?
A: As far as Dawn knows, this is not in jeopardy.
Q: Will there be a freeze on yearly pay raises this year?
A: Dawn said that she will do everything she can to make sure that we continue to get raises; however, it all depends on student enrollment (which will be finalized in May). Dawn said that enrollment is currently down all over the country.

Additional Notes:
Current Employee Position Elimination Policy (Dawn said this will be updated to reference areas). https://miamioh.edu/policy-library/employees/unclassified-administrative-staff/position-elimination.html
HR Update - Lauran Franklin:
Continue to email studentemployment@miamioh.edu with questions regarding student employment.
Everyone should have received their Anthem cards, please check the cards as some people have reported Incorrect spelling of their names or misprints all together.
There is not any drug testing unless new employee or suspension
Becky Wilp manages the SATSS listserv
Subcommittee Information - Please remember to update the Google Folder!!
Benefits - Amy Corrington: Meeting to take place next Thursday
University Senate - Penny Mannix: Dawn covered most of the topics we went over at our most recent meeting
Classified Staff Compensation - Rich: Not present
Council on Diversity & Inclusion - Cheryl Birkenhauer: We have not had any meetings yet.
Events - Emily Dreisbach: Strengthfinders, we still have 35 codes left.
Fiscal Priorities - Alicia Miller: President Crawford attended and talked about what he would share with the board and how the year savings plan was condensed to one.
Parking and Transportation - Fab Bohon: Fab spoke to Captain Spillman and he is waiting on student representation. She asked him to let her know ASAP when a meeting has been set up.
CPAC/UPAC Swap - Laura Desmond: Dawn attended the UPAC mtng & basically went over everything that she did here. STEM Building we be built in 2023
Strengths Finder Workshop
Emily: Turnout wasn't as great as we had hoped, we still have codes, a new session is set up for March
Dana: The regional campus' really felt left out. The fact that the video wasn't able to be used and they had to rely on a speaker to hear any information felt as if they weren't important. In the future CPAC has made a promise to make sure this does not happen again. There was a communication problem with the library where we thought this was going to Be capable and it was not. We sincerely apologize.
CPAC General Topics
CPAC Logo- Waiting on University Communications still at this point
CPAC Swag items - Alicia to go through the closet
CPAC Conference - Date is set for Tuesday, May 19th from 8:00 AM to 12:00 PM at Shriver JDOL Rooms Breakfast will be paid for by the President's office.
10:00 am Adjourn – Next meeting April 9 420 McGuffey
Next Meeting - April 9th, 8:30 - 10:00 AM, 420 McGuffey - Cheryl will be hosting