Arts, Communication, Media and Design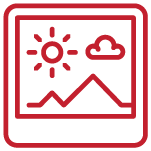 Description
The Arts, Communication, Media & Design Cluster focuses on careers that allow you to use creativity, expression, and imagination. This cluster explores avenues for utilizing interests within the arts, writing, design and similar creative fields in a variety of environments and industries. In this cluster/career path, you will spend time developing opportunities to showcase your work and projects, build portfolios, study and rehearse roles, and collaborate with various organizations and individuals.
Possible Job Titles
Account Manager
Actor
Architect
Art Director
Artist
Assistant Editor
Brand Manager
Copy Editor
Copy Writer
Digital Account Manager
Digital Media Specialist
Fashion Designer
Game Designer
Graphic Designer
Interior Designer
Journalist (spelling corrected)
Linguist
Marketing Coordinator
Marketing Strategist
Media Buyer
Musician
Paid Search Manager
Public Relations Manager
Writer
Curator
User Experience Design
SEO Manager
Social Media Manager
Digital Media Buyer
Lighting Designer
Influencer
Museum Director
Polish up your resume and don't miss the opportunity to attend this select career fair for Architecture and Design students. The Fair provides an opportunity for prestigious design and architecture firms to meet talented Miami students.