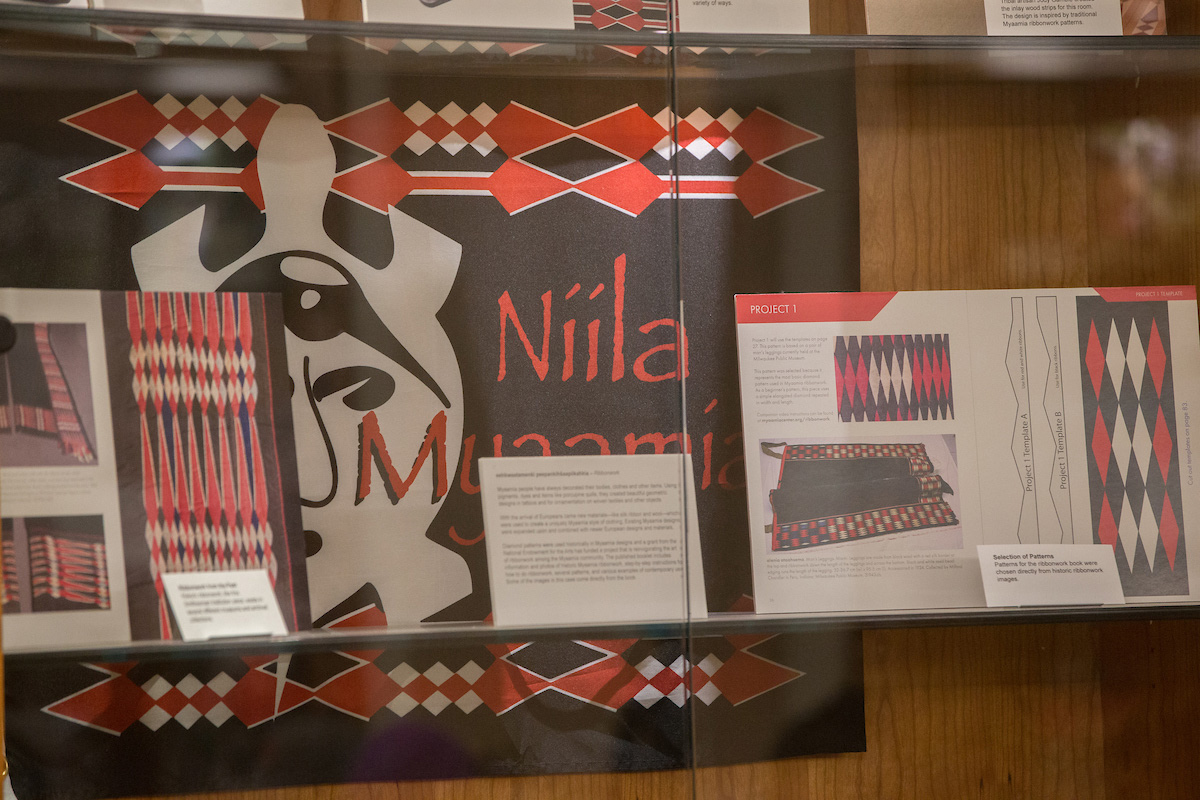 Projects and Initiatives
2022-2023 Projects and Initiatives
Myaamia Docuseries
Miami Online, in close collaboration with the Myaamia Center, is creating a multi-part documentary style series that tells the story of the Myaamia people and the relationship between the Miami Tribe of Oklahoma and Miami University. The docuseries will premiere in Fall of 2022 and will be available online to help educate the Miami University community as well as the general public. The docuseries will provide an overview of Myaamia history, but will primarily focus on the Miami Tribe as a contemporary Tribal Nation that is working hard to revitalize their language and culture.
Neepwaantiinki Podcast
The Neepwaantiinki 'Learning from Each Other:' Stories from Myaamia Revitalization Podcast discusses the almost 50-year relationship between the Miami Tribe of Oklahoma and Miami University, explores how the Tribe and university learn from each other, and explains how this relationship impacts the revitalization of Myaamia language and culture. Join hosts Kara Strass, Kristina Fox, and George Ironstrack as they explore their work at the Myaamia Center and their Tribal Nation's revitalization efforts.
Indigenizing the Curriculum Workshop
"Indigenizing the Curriculum" is a year-long community of learning for Miami University faculty and is facilitated by Myaamia Center staff and faculty affiliates. It is clear that many faculty, staff and students lack basic knowledge of American Indian history, culture, contemporary presence, and important scholarly conversations. Further, the story of the unique collaboration and partnership between MU and MTO is relatively unknown. The mission of "Indigenizing the Curriculum" is to explore and identify ways that Indigenous, Native American, and Myaamia subject matter and/or content can be incorporated into courses in various departments and colleges across Miami University's campus(es). It creates and amplifies teaching and learning resources that can be utilized across multiple disciplines. This effort toward capacity building will serve to develop empathy, present multiple perspectives, and increase appreciation for diverse cultural values. This year's pilot program is sponsored by the College of Education, Health, and Society and features nine faculty participants.
Native Nation, American College: Indigenous Education and the Interwoven Odysseys of Partners in Learning
Drawing from archival sources, interviews, and community engagement in both tribal and university communities, the book describes and analyzes the complicated history of a unique partnership. There is no relationship equivalent to that between the Miami Tribe of Oklahoma (ethnonym Myaamia) and Miami University of Ohio in the United States. Recent Diversity, Equity and Inclusion efforts across the nation's campuses and beyond demand (and yearn for) honest and accessible accounts of examples linking underserved communities to educational institutions. The Myaamia Center, the current linchpin of the now-stable partnership between the tribe and the university, is one. This book introduces a university and a tribal nation in tandem, humanizing and dispelling stereotypes about each. It details deeply rooted problems stemming from a colonial past while explaining how individuals from both Miamis—the tribe and university—went about solving them in the past half century.