About
Meet the Chair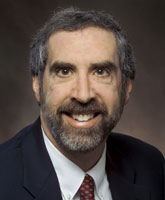 Marc Rubin
PwC Professor and Chair
rubinma@miamioh.edu
Considering a career in public accounting, the financial industry, government, the corporate sector, consulting or the non-profit arena? Pursuing a degree in accountancy will help you understand organizations and how information can be a powerful tool to increase efficiency and effectiveness and to drive change.
Our bachelor's and master's programs consistently rank in the Top 25 in the nation. That's one of the reasons we are a target recruiting school for the Big Four and other professional services firms as well as a number of corporations, financial institutions, and government organizations.
Department of Accountancy Mission Statement
The mission of the Department of Accountancy is to prepare students to excel as high-integrity business leaders and accounting professionals and to enable faculty members to be outstanding instructors whose scholarship informs their teaching and who positively impact the professional and Miami community.
Goals
Student Recruitment
To attract students who have the potential for and interest in becoming business and accounting professionals
Student Development
To provide students with a rigorous, cutting-edge education including state-of-the-art courses and co-curricular experiences that prepare them to be effective, high-integrity business professionals
Student Placement
To place students in challenging and rewarding business careers that will utilize their accounting degree
Student/Faculty Relationship
To foster long-term relationships with students so they continually engage with the department and the university as they progress through their careers
Faculty Recruitment
To attract outstanding, high-integrity faculty members who will excel both in the classroom and as accounting scholars
Faculty Development
To develop faculty members to become outstanding teachers and scholars by providing them the necessary resources and guidance
Faculty Scholarship
To produce scholarly output that relates to the production and uses of accounting information, the accounting profession, and the teaching of accounting
Faculty Service
To have faculty members engage with key stakeholders in order to enhance the profession, academy, university, and community
Bachelor's Degree Program Objectives
The objectives of the bachelor's degree program in accountancy are (1) to provide students with a general understanding of multiple areas of accounting, (2) to provide students the knowledge and skills needed to prepare them for graduate business and accounting programs, and (3) to prepare students for entry-level accounting positions that require only an undergraduate degree.
Master's Degree Program Objectives
The objectives of the master's degree program in accountancy are (1) to allow students to obtain a more in-depth understanding of selected areas of accounting and business and (2) to provide them with the knowledge and skills needed to prepare them for entry-level accounting positions that require more than a bachelor's degree.