BUS 102 Faculty Spotlight
BUS 102 The Foundations of Business Communications
Highlight the importance of both strong written and verbal skills in the business world. From writing resumes and cover letters to writing individual research reports and collaborating with teams in creating presentations, 102 seeks to provide a well-rounded opportunity for stepping out into a robust and ever-changing business landscape. The course emphasizes the importance of both the individual and team in both writing and presenting strategies with a sound understanding of rhetoric at the center of everything.
Students often enjoy this class for its practical applications. Especially during Career Fair & Spring Ice, BUS102 will prepare students with a strong resume and email etiquette and an understanding of cover letters and interviews that will propel them throughout their time at Miami. Many students will attribute their learnings from the course to successful interviews, internship, and job opportunities!
Our Faculty
Gina Dutro - BUS 102 Team Lead –  Room 3068
Pam Chisum – Room 3067
Julie Alexander – Room 3069
Jake Matig - Room 3069
Justin McGlothin – Room 3071
Enrique Paz – Room 3071
Kerrie Carsey - Room 3067
BUS 101
This foundational course is part of the 8-credit hour, First Year Integrated Core that encourages students to make the transition from student to business professional. Students will develop 6 key skills that are central to both BUS101 and the FYIC as a whole: critical thinking, creativity, computational thinking, collaboration, communication, and ethical thinking.
The course introduces the foundational concepts of business and allows students to hone in on a variety of skills such as personal responsibility, ethical decision-making, building successful habits and achieving goals, and team collaboration.
Students in BUS101 have opportunities to use new tools such as an Artificial Intelligence powered learning community, dive into relevant topics in the industry such as defining the "Next Big Thing" across a variety of sectors, and develop effective teams using a variety of resources unique to the Farmer School of Business experience!
The First Year Integrated Core is very lucky to have such dedicated faculty members teaching BUS101 and they are all able to translate their real-world, business experience to students in the classroom in a truly meaningful way. Feel free to stop by and continue the conversations with these faculty members at any time!
---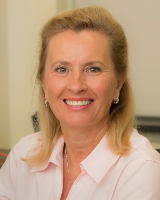 Nobody understands the Miami experience like a Miami Alumni. And for Miami Alumni, Professor Gina Dutro (M.B.A. in Business Administration in Management from Braniff Graduate School of Management, University of Dallas), that Miami experience has come full circle at Farmer School of Business. Bringing her 20+ years of business experience in executive management and marketing into the classroom, she is focused on teaching the next generation of leaders in the business world the skills to thrive in today's world.
As part of FSB's First-Year Integrated Core Program as the Curriculum Lead and one of the instructors of BUS 102: Foundations of Business Communication, her goal is that her students get the best foundation for their future and learn to integrate what they learn in college
throughout their professional careers. "I wish I could turn the clock back 25 years and be a student in the Farmer School of Business and specifically the current FYIC program! Tons of fun, tons of hard work, tons of new relationships….all leading to an exciting life-long adventure in business. Senior year at Miami will come more quickly than students realize. If a student wants to have several professional opportunities as a senior, then the FYIC is the first major step in developing business acumen that will lead to that goal. Students who work hard in the FYIC program will find that they are uniquely positioned later as competitive candidates for internships and/or professional job opportunities. I deliver excellence in the classroom through dynamic pedagogy and am very passionate about teaching undergraduate students in addition to my past experience with executive corporate programs in industry. I have experience in designing and delivering curricula around core business themes including management, marketing, sales, business communication and organizational behavior."
Professor Dutro strives to prepare her students for the rest of their time at Miami and their future professional careers stating that "Based on my career, I understand what organizations expect from college graduates and know that students with excellent written and verbal communication skills will find success in business. This is why I am passionate about BUS 102! BUS 102 provides students the opportunity to develop the communication and collaboration skills necessary for business success. I have a very practical focus in my class and see the ultimate goal for each student as having professional employment 'choice' as a senior. The BUS 102 projects push students to view themselves as business professionals now and will positively impact each student's future trajectory of business opportunity. For example, many students secure exciting summer internships, even as a freshman, through the cover letter and panel interview project. It is exciting to see students broaden their horizon and embrace the many opportunities that are available, if a student will invest the time required to pursue."
Professor Dutro has helped create the curriculum for the BUS 102 and has contributed to the textbook for the course Foundations of Business Communication: Rhetoric for Business Professionals. She says what really sets Miami University and FSB apart from other universities is that "The curriculum continually adapts to current business needs and expectations with the goal of making FSB students the best candidates for any business opportunity. Many universities have programs that haven't really changed in years and I continually see Miami invest the resources to ensure we are a leader in business curriculum that makes a difference. The combination of research faculty and industry-experienced faculty is the optimal foundation for curriculum development and teaching. This model is progressive and students are the beneficiary of the diverse backgrounds found in FSB faculty."   
Professor Dutor's experience is multi-faceted. Her research interests are situated in today's job search process and challenges, her career goals and interests of millennial students, and her academic institution policy relating to sustainability of long term financial stability, Professor Dutro's past experience have given her a vast repertoire to draw on. "My career [has] included a variety of senior level management and marketing leadership roles with a focus on new business development and client engagement. Prior to joining Miami University, I managed Fortune 500 clients in the Ohio and Kentucky region for Gartner, Inc., a premier global research and advisory firm in the technology industry.  Senior account managers are responsible for all client engagement with C-level executives, communication and new business development. My combined business and education career accelerated with a Board of Director appointment to build a North American corporate education services division in the 1990s. This business experienced a high rate of growth and focused on delivering custom education services to large clients across the U.S., Canada and Europe. Serving as Regional Director of this business unit for 10+ years, I continued to be a lead instructor for large key accounts during this senior management tenure. I had the privilege of impacting a true start-up organization as I was the 11th employee and developed and managed several divisions until the company was acquired when it had 550+ employees. What a great journey of business!"
A firm believer that students take advantage of the opportunities that being a student at Miami offers Professor Dutro says, "Getting involved on campus is key! There are many FSB student organizations that give students the opportunity to meet with business leaders, develop project skills and expand their professional network. Employers want to see that students are intellectually curious and willing to commit to a particular organization. Working with an industry leader, Fifth Third Bank is very exciting and is a tremendous opportunity for both students and faculty. Prior to joining FSB, I managed the Fifth Third Bank account for Gartner, Inc., so am particularly thrilled about this year's client challenge opportunity! Additionally the integration of the four FYIC courses will make a major impact on each student and I'm excited to see the progress of each and every FSB student in the FYIC program."
Professor Dutro's favorite moments at Miami involve her students. "Working with domestic and international students is exciting and working with students diligently on a particular internship opportunity and then receiving the exciting news that the student landed the opportunity! I'll never forget finding out that one of my international students had been a translator in the Olympics and yet didn't realize how that could be a tremendous benefit when applying for business opportunities. Helping students find their strengths and develop confidence is fantastic! The excitement, smile, and yes, maybe a few tears even, is the best."
Overall Gina is thrilled that she gets to help others reach their Miami dream. "To make an impact with a student on their future is a privilege. As a Miami alumni, I smile each day as I drive by my freshman dorm as I approach the Farmer School of Business!"
---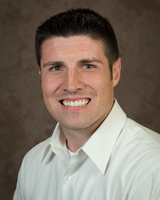 Dr. Drew Marsherall's goal is to see his students grow, inspire a passion for learning and help them reach their full potential. As the Team Lead for BUS 101: Foundations of Business, he is on the frontline for making an impact with the first years at the Farmer School of Business. Dr. Drew says that students "can expect BUS 101 to be very interactive! You will be pushed to grow personally and build a foundation for success at FSB. There are several team projects in this course that gives you an opportunity to connect with other first year FSB students. The FYIC is a great opportunity for you to connect with your classmates and have a great start to your FSB experience. Come prepared to contribute to your classes and be challenged in your learning!"
Dr. Drew, who has a background in Business and Communications, is a graduate of St. John Fisher College (Go Cardinals!) with a doctorate in Executive Leadership and has worked in higher education for ten years. "I started out as an academic advisor and worked as a student success director while I completed graduate school, and I started teaching full time in 2013. My wife and I also run a small social media consulting business. I am particularly interested in helping students make the most of their potential, and I love researching effective teaching methods that promote classroom engagement."
Dr. Drew believes that "The people" of Miami make our university standout amongst other universities. "I've worked at a few different schools, and I am so impressed with the effort students put into their studies here. I am also humbled to work alongside such talented faculty members." Additionally, "The FYIC is a very unique program and this is not something you can experience at other universities. You are learning skills and working on projects that many students don't get to do until they are in their third or fourth year."
Recounting his favorite moments at Miami, Dr. Drew mentions two different times with one common denominator, his students. "Last fall, a team from one of my sections won the first client challenge. Presenting to a corporate client and over 600 students is a very daunting task for first year students. I felt so proud sitting in the audience and watching them on stage. It was incredibly fulfilling to see them rewarded for all their hard work." Another of his favorite memories was when "I had a student last year who was struggling with her presentation skills at the start of the semester. She came to my office hours for extra coaching and she worked really hard all semester to improve. At her final presentation, she did an awesome job presenting in front of her peers. She showed tremendous growth throughout the semester."
In addition to seeking help from faculty, "Opportunities seem to be everywhere for students on this campus." Dr. Drew encourages students to get involved around campus. "Find a business organization, a club, or a team to get involved in. It makes all the difference in your college experience. Take advantage of the opportunity and make the most of your time at Miami."
---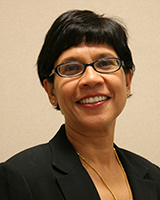 Dr. Barnali Gupta, Associate Dean for Curriculum and Professor of Economics in the Farmer School of Business, is excited about "the high quality of the Class of 2021." As we move into the second year of the First-Year Integrated Core (FYIC), she is looking forward to "the depth of shared experiences and talents [of our students that] will enrich FSB classrooms." 
Dr. Gupta says, "The FYIC is an unique opportunity for the undergraduate business student to develop basic skills that employers demand, regardless of major. It is not a discipline-specific curriculum; it is a skills-based curriculum." In the four courses that comprise the FYIC (BUS 101: Foundations of Business; BUS 102: Foundations of Business Communication; ESP 103: Creativity, Innovation, and Entrepreneurial Thinking; and BUS 104: Introduction to Computational Thinking for Business), students will be challenged to think critically, creatively, and ethically, learn coding and computational thinking, and work within a diverse team. Students have the opportunity to "take these skills and scaffold them on their discipline-specific knowledge from their major." This is exciting for students because they learn critical skills in their first year and work to build on those skills during their time in Farmer. 
There are many new pieces to the FYIC "in only the second year of the program," Dr. Gupta explains. This academic year, BUS 101 is offered over 9 weeks, and BUS 102, ESP 103, and BUS 104 are full semester courses. This schedule is a revision from last year, when three of the four courses were sprint courses. BUS 104 will also be taught in smaller class sizes, with the same instructor for lecture and course lab. "Making all the pieces fit together seamlessly takes the attention and talents of many faculty and staff in the Farmer School." A dedicated program director, Dr. Becky Morrison, with her team of course leads, have been actively engaged all summer in planning an integrated experience across the four courses in the FYIC. "From curriculum development to mapping assignments across the courses, this is truly a team effort." With twenty faculty members in the FYIC, each brings to the program diverse backgrounds and experiences. Our first-year students will spend the first ten weeks learning core skills sets and the final four weeks working with a real client, using real data, to complete a client challenge. 
The FYIC is particularly important because "this program enables a Farmer graduate to credibly signal the acquisition of these skills that employers demand." In fact, students from the first cohort of the program have already started to see results. In program surveys and emails, students report that prospective employers are incredibly impressed by the work they were doing as first-year students and even noted that the skills from the program helped them land a summer internship. The program has even received national attention (Forbes, 2017). "We are truly excited to have this program for our students." 
Farmer School of Business
800 East High Street
Suite 2053
Oxford, OH 45056