H.S. students discover their potential business future at camp
25 students take part this year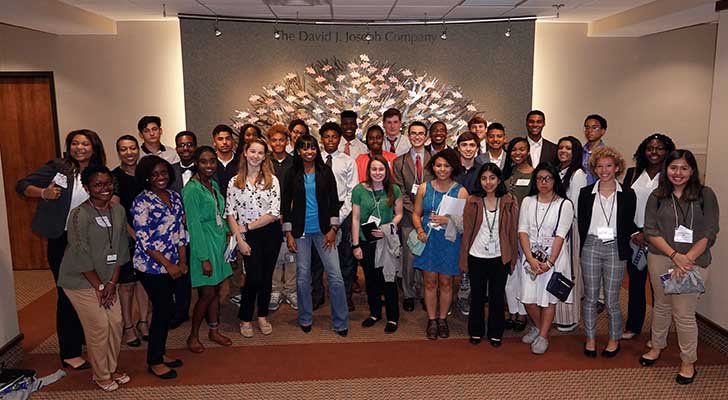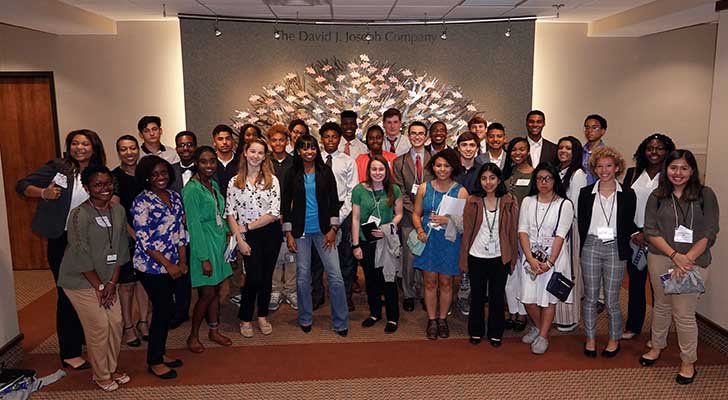 Discover U students at David J. Joseph headquarters in Cincinnati
Photo: Jay Murdock
25 students take part this year
Jun 24, 2019
From Richard T. Farmer's office, to a Procter and Gamble boardroom, to the Cincinnati Bengals locker room, a group of high school students learned about the ways their future could take shape at the Discover U in Business Camp at the Farmer School of Business. It was the fifth year for the camp, which targets students from historically underrepresented populations or those who have a commitment to promoting a deeper understanding of and appreciation for diversity. More than 200 students applied this year for the 25 slots available at the camp, which is free for participants thanks to corporate support.
"I think it's important that they have that exposure at this age. It's really hard to know what you want, but this is an opportunity where they can maybe see it a little bit, get a little peek inside the window there and then see themselves coming here and exploring even further where they could be in terms of their career," Director of Student Organizations & Diversity Michelle Thomas said.
"I'm here because I have an interest in science and medicine, biology, stuff like that, but I also have an interest in business," Hawken School senior Jordyn Singleton said. "I really like clothing and marketing and figuring out how to market to other people, but I didn't know if that's something I really want to do."
The main part of the camp started as students boarded a bus early Friday to visit several Cincinnati companies. The first stop was at Cintas' headquarters in Mason, where the students learned about Cintas and its business divisions, participated in group innovation exercises, and toured the complex.
"I would like them to take away a lot about Cintas' culture, how we are inclusive, how we have all different types of folks that work for us, all different backgrounds, all different interests," Cintas campus talent acquisition manager Kara Armstrong explained. "You bring your genuine authentic self to the table and you need to find a company that matches that and has the same values as you do. So they're young and this is the time to do it because it goes by fast and then you're in college and you're trying to find that right fit. So I think that doing it early like this and exploring these companies is really beneficial."
From Mason, the bus traveled to Cincinnati to visit David J. Joseph Company, the camp's sponsor and one of the largest recycling and scrap metal management companies in the nation. The students were told about the business, shown some promotional videos, then asked to come up with an idea for their own informational video about the company and record it.
"I think this sort of camp opens their eyes to what's out there, different companies, professionalism and seeing that there's a lot of different companies out there that maybe they didn't think of," DJJ recruiting manager Dawn Andreadis said. "I hope that they see that this is a company where people care, that we have a great culture, that we don't do this because we want to hire anybody out of it, but because we really care about our relationship with Miami and the young people that are going out into the world."
A short bus ride brought the group to P&G's headquarters, where the students met with Farmer School students interning at the company this summer to learn about their experiences, found out more about the company's history, its products, and its messaging, then were tasked with brainstorming new ways that the company could showcase its #LoveTheChange campaign for Pampers diapers.
"I think the biggest thing for us is sharing our knowledge, sharing the experiences that we have, sharing the importance of Procter and Gamble and what we can do for our community, " commercial finance manager John Schieman noted. "We have tons of people and tons of opportunities to build knowledge and build experiences, especially for young people so that they can grow as they go into college and take these experiences, become better college students, and eventually come into the workforce and hopefully work for Procter and Gamble, be an active part of our community and our company."
The trip finished up with a visit to the Cincinnati Bengals' Paul Brown Stadium, where the students toured the locker room and walked out on the field before hearing advice from a ticket sales manager about how sports and business merge, as well as the kinds of jobs wth the Bengals for business students, followed by a dinner in West Chester with a Farmer School alum who talked about his path in the business world.
Harvey High School senior Ricardo Moreno said the visits helped him see a possible path for his future. "I liked the marketing side of the businesses. The people who took us on the tours gave me a good look at how their companies and their manufacturing works," he said. "I also wanted to see the Miami campus and see what the Farmer School of Business was all about."
"I've learned a lot of real life experiences. I've heard about people's stories about their college experiences and the things that they've done, how to really get the most out of everything you do," Lakota West senior Jessica Tachie noted. "I also learned about confidence, that you should be confident in everything you do."
In Singleton's case, the experience broadened her mind somewhat more than she expected. "I actually have more questions than answers now," she laughed. "But I think it was a really good experience to see how different organizations worked, because they were all different sizes, so to see how their processes work was educational as well."
Janee' Dunigan is a sophomore human capital management major at the Farmer School and was a chaperone for the camp this year. But two years ago, she was one of the high school students attending the camp, and one of the 90 percent of camp participants who end up applying to Miami. "I fell in love with Miami and I think that's what sealed the deal that I needed to come here for my education," she recalled. "I was able to see companies that have an interest in young students and found my interest in them as well. So I definitely met, basically, my future. That's what I was looking for."