The César Chávez Day Celebration Program
Painting of César Chávez by Esther Claros-Berlioz, PhD - Miami University International Alumna, Class of 2019. Winning painting of the CAWC's "Latinidades in Ohio" art contest, 2016.
---
A proclamation on César Chávez Day, 2023
MARCH 30, 2023 | The White House, Presidential Actions
PART OF THE ACROSS THE DIVIDE CONFERENCE
Leading Through Innovation and Creativity
for Transformative Inclusion
Thursday, March 30, 2023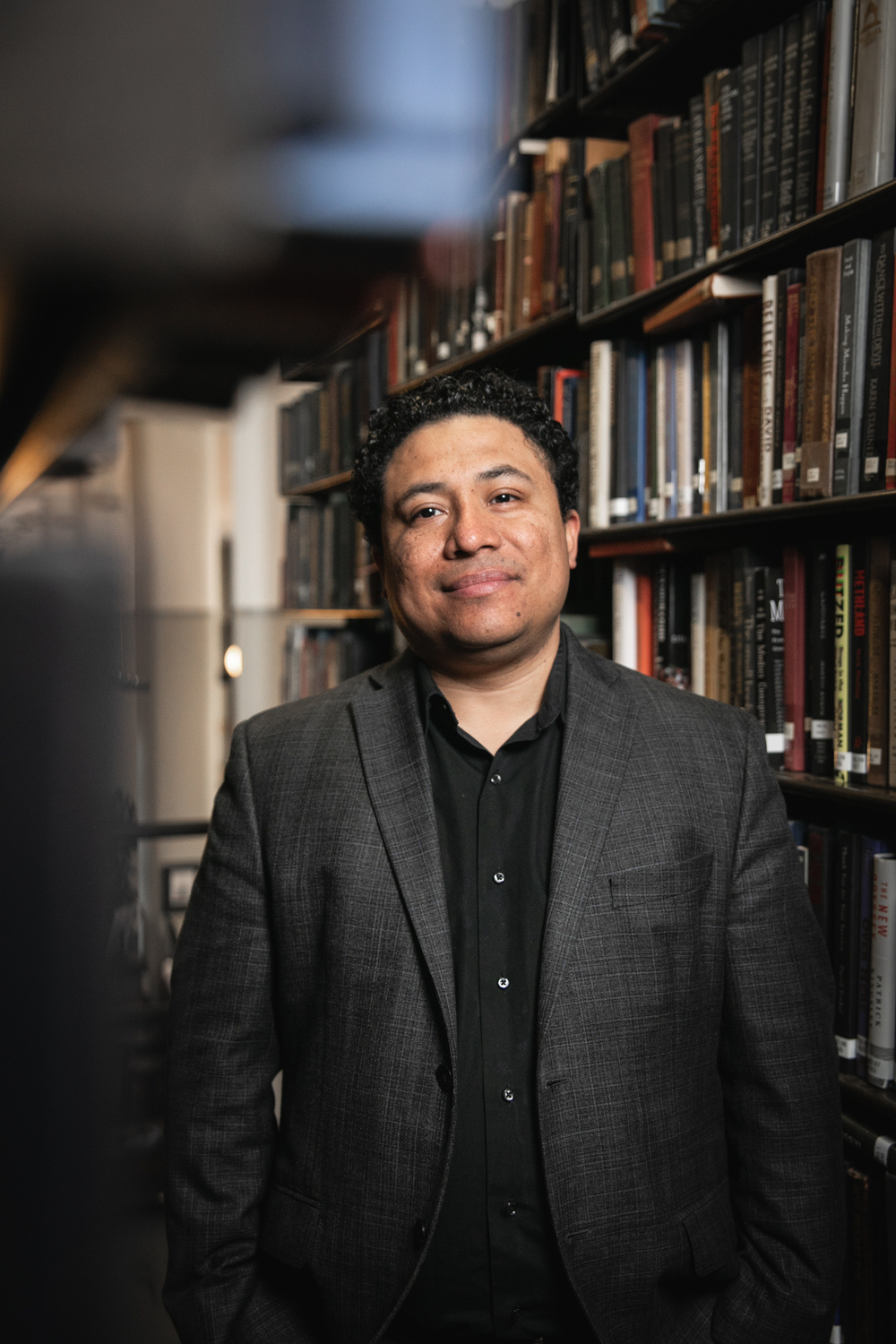 Words are also migrants: poetry as a translation of silence
Manuel Iris. Photography by Angie Lipscomb
A creative writing workshop led by Manuel Iris
3 - 4 p.m. | Shideler Hall, 032
250 S. Patterson Ave., Oxford, OH 45056
In this workshop, participants will discuss writing as a form of translating the silences of the human experience into words. The poet is a migrant of the human experience, a translator of silences. Keeping the dignity of the stories we share and hear is part of the poetic work. Migration, translation, and creativity are the central themes of this workshop.
I am from here: a dialogue on migration, humanity, and poetics
Lecture and Poetry Reading by Manuel Iris
5-6 p.m. | Lecture and Poetry Reading
6 p.m. | Book signing
McGuffey Hall 322
210 E. Spring St., Oxford, OH 45056
During this presentation, Manuel Iris will talk about his writing process and the development of his identity as a migrant poet in the US. He will read poems, in English and Spanish, to illustrate the link between life and poetics. After the presentation, he will engage in a conversation with the audience.
About the guest speaker
Manuel Iris, Miembro del Sistema Nacional de Creadores de México. Cincinnati Poet Laureate Emeritus (2018-2020).
To learn more about Manuel Iris visit:
Announcing CHPL's 2023 Writer-in-Residence: Manuel Iris
Student reflection
A Translation of Silence: The 2023 César Chávez Day Celebration
---
For more information, and opportunities for collaboration:
Contact Jacqueline Rioja Velarde, Chair of the César Chávez Day Celebration Program planning committee.
As a child of migrant workers who struggled just to get by, César Chávez knew the importance of having an economy that works for everyone and devoted his life to ensuring our Nation upheld the values upon which it was founded. On his birthday, we celebrate a man who reminded us that we all share a common humanity, each of us having our own value and contributing to the same destiny, and we carry forward his legacy by echoing his peaceful and eloquent calls for a more just and equal society.

~ United States of America, 2016 Presidential Proclamation, César Chávez Day