Introduction to HSK
HSK (Hanyu Shuiping Kaoshi) is a standardized international Chinese language proficiency test for non-native Chinese speakers for the purposes of academic pursuit as well as daily and working environment Chinese application. The new HSK test was launched by Hanban in an effort to better serve Chinese language learners. The Chinese test score can be used as a pass for going to study in China. It is a must-have qualification for applying for scholarships and summer camp. The test can be used not only to measure the effectiveness of the Chinese training program, but to assess the appropriate level for Chinese study curriculum. It is also great resume addition. Examinees with high scores may be awarded with the "Chinese Test Scholarship".
The new HSK consists of two independent parts: written test and oral test. The written test comprises of six levels from HSK-Level 1 to HSK-Level 6; while the oral test can be divided into three levels of HSK (Basic), HSK (Elementary-Intermediate) and HSK (Advanced). The candidates' on-site performance will be recorded. All HSK certificates are issued by the National Commission of Chinese Proficiency Test, which is under the Chinese Ministry of Education.
For more help, view HSK Test Guidance for Students
Miami University is authorized by China's Ministry of Education to offer standardized Chinese language tests, including Chinese Proficiency Tests (HSK). HSK tests are held each year at Confucius Institute Miami University, for test dates please visit Confucius Institute announcement page.
For more information, please visit: www.chinesetest.cn or contact Yuanyuan Liu, liuy110@MiamiOH.edu.
Kids Summer Camp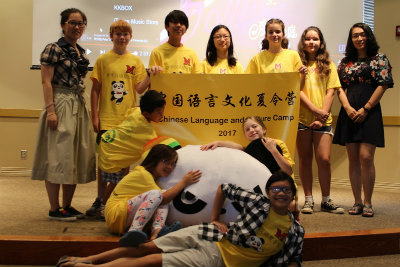 Kids Summer Camp is a Chinese language and culture camp. During a week of immersion, participants will learn basic Chinese vocabulary, phrases, and character writing as well as cultural activities like kung fu, paper cutting, Chinese mask making, and more! Delicious Chinese food will also be provided! The week-long camp will take place at the end of July each year and participants will be separated into two age groups: K-5th grade and 6th-8th grade (including rising freshmen). Enrollment is limited, so please register early! To learn about faculty, staff, and second child discounts, please call the CIMU office at 513-529-8668.
Chinese Language Classes
Staying true to our commitment to bring diversity to Miami and meet the demands of learning basic Chinese conversation, the Confucius Institute at Miami University is proud to offer non-credit, Conversational Chinese classes on Spring and Fall semesters. These classes are divided into two levels. Level One is for beginners and Level Two is for people who have background in Chinese.
Students will learn basic Chinese language and stories of Chinese characters as well as Chinese culture and traditions. This 10- week course is offered to all interested Miami University employees.
For more information, view workshop sessions or contact Yuanyuan Liu at 513-529-8665.
Practice Your Chinese at Miami's Chinese Corner
Miami students are welcome to join the Chinese Corner on MT 4:00 pm -5:00pm in Room 126 McGuffey Hall.

For more information, contact Yuanyuan Liu at 513-529-8665
E-Learning Resources
Here are some helpful links for you to visit and learn Chinese.