Threshold Concepts
Threshold concepts are the core knowledge and disciplinary capabilities that students must successfully transition through to make progress in their majors. These disciplinary concepts are defined collaboratively when experts from fields come together to name what they know, and—like disciplinary knowledge—these concepts are ever-changing.
Some examples of threshold concepts include:
"Opportunity cost" from the field of Economics (Davies & Mangan, 2007)
"Change through space and time" from the fields of Earth and Environmental Science (Ryan, 2014)
"All writers have more to learn" from the field of Writing Studies (Adler-Kassner & Wardle, 2015)
At the Howe Center for Writing Excellence, threshold concepts (TCs) are used to support instruction and peer consultant professional development. Faculty Writing Fellows use TCs from their disciplines and the field of Writing Studies to assess and design instruction in their majors. Additionally, HWC student consultants are trained in TCs in Writing Studies to better understand the experiences and learning of peer writers.
Research on TCs began as part of a 15-department professional development project led by Dr. Erik Meyer and Dr. Ray Land at the University of Durham, UK from 2001-2005. Meyer and Land found that individual disciplines have unique ways of thinking and knowing and, therefore, unique challenges for teaching their students. From this original study, researchers across the globe have studied the TC of their own disciplines and implications for student learning.
From research on threshold concepts, we know that they are:
Transformative. TCs significantly shift how students perceive the required work process and product of their discipline/s and how they must perform as a member within that field. Access to these ways of knowing and doing occurs over time and thorough engaged participation.
Integrative. TCs reveal the interconnectedness of the discipline when students connect together ideas from between and among what they had previously believed to be unrelated aspects of their studies.
Troublesome. TCs provoke "rupture[s] in knowing" in which students untangle intellectual uncertainties (Schwartzman, 2010, p. 38).
Bounded. TCS reflect ways of knowing within specific disciplines; however, these are the threshold concepts that meaningfully inform how we teach across the disciplines, such as those from writing studies.
Irreversible. TCs change how students think and approach problems, to the extent that it is difficult to revert back to a previous way of understanding.
Additionally, when students wrestle with threshold concepts, they pass through differing stages of liminality based upon their experiences and learning.
If you would like to learn more about and contribute to research on threshold concepts, please join us for the 7th Biennial Threshold Concepts Conference, hosted by Miami University in Summer 2018.
Figure 1. A relational view of the features of threshold concepts.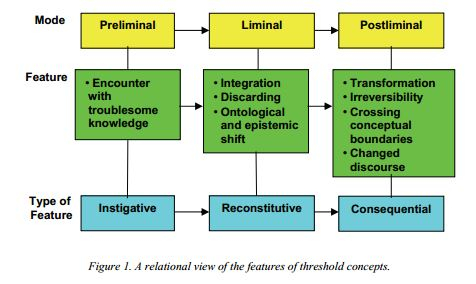 Source: (Land, Meyer, & Baillie, 2010, p. xii)
The graph above depicts 6 boxes: 3 to a row and 3 to a column. The boxes in each row have horizontal arrows pointing to the following box in the same row. The boxes in each column are connected by a vertical line with no arrow.

The top row is yellow and labeled as "Mode." From left to right, the boxes are as follows: Preliminal, Liminal, and Postliminal.
The middle row is green and labeled as "Feature." From left to right, Box 1 states "encounter with troublesome knowledge." Box 2 lists the following:
integration
discarding
ontological and epistemic shift.
Box 3 lists the following:
transformation
irreversibility
crossing conceptual boundaries
changed discourse
The bottom row is blue and labeled as "Type of Feature." From left to right, the boxes are as follows: Instigative, Reconstitutive, and Consequential.
Further Reading
Adler-Kassner, L., & Wardle, E. (Eds.). (2015). Naming what we know: Threshold concepts of writing studies. University Press of Colorado.
Anderson, C., & Day, K. (2005, November). Subject overview report: History. Report from the Enhancing Teaching-Learning Environments in Undergraduate Courses Project. University of Edinburgh.
Davies, P., & Mangan, J. (2007). Threshold concepts and the integration of understanding in economics. Studies In Higher Education, 32(6), 711-726.
Donald, J. (2001). Learning to think: Disciplinary perspectives. Jossey-Bass.
Elon University's Center for Engaged Learning. Threshold concepts: Student and faculty perspectives.
Entwistle, N., McCune, V., & Hounsell, J. (2002). Approaches to studying and perceptions of university teaching: Learning environments: concepts, measures and preliminary findings. ETL Project Occasional Report.
Flanagan, M. (2017). Threshold concepts: Undergraduate teaching, postgraduate training, professional development and school education: A short introduction and bibliography. University College of London.
Land, R., Meyer, J. H., & Flanagan, M. T. (Eds.). (2016). Threshold concepts in practice. Springer.
Land, R., Meyer, J. H. F., & Smith, J. (Eds.). (2008). Threshold concepts within the disciplines. Sense Publishers.
Meyer, J., & Land, R. (2003). Threshold concepts and troublesome knowledge: Linkages to ways of thinking and practising within the disciplines. Occasional Report 4: Enhancing Teaching-Learning Environments in Undergraduate Courses Project.
Meyer, J. H. F., & Land, R. (2006). Threshold concepts and troublesome knowledge: Issues of liminality. In J. H. F. Meyer & R. Land (Eds.), Overcoming barriers to student understanding (pp. 19-32). Routledge.
Meyer, J. H. F., Land R., & Baillie, C. (2010). Threshold concepts and transformational learning. Sense Publishers.
O'Mahony, C., Buchanan, A., O'Rourke, M., & Higgs, B. (Eds.). (2014). Threshold concepts: From personal practice to communities of practice: Proceedings of the National Academy's Sixth Annual Conference and the Fourth Biennial Threshold Concepts Conference.
Ryan, A. M. (2014). Seeing deeply in space and through time: Interdisciplinarity meets threshold concepts in Earth and Environmental Science.
Schwartzman, L. (2010). Transcending disciplinary boundaries: A proposed theoretical foundation for threshold concepts. In R. Land, J. Meyer, & C. Baillie (Eds.), Threshold concepts and transformational learning (pp. 21-44). Sense Publishers