Incoming and Outgoing Mail
Incoming Mail
US mail is delivered by Oxford Post Office, processed by our staff, and then sorted and delivered by department and location no later than 1:00 p.m. daily. 
To help us get to you more quickly, please provide your office/department name and mail stop code (MSC) to all correspondents when having business related mail sent to Miami University.
Incoming Address Label Example with Mail Stop Code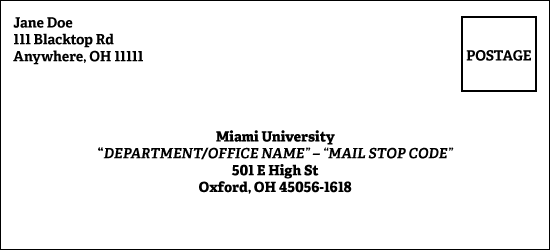 Outgoing Mail
We collect, verify, and prepare all outbound mail originating from departments for pickup and processing by carriers. Outbound mail may be placed in collection receptacles to be picked up during mail delivery or dropped at the Mail and Package Center customer service window.
Help us ensure your mail and packages get to where they need to be with the following guidelines:
Mail should be separated and bundled at each department location prior to pickup.
Preferred categories of separation include:

Outgoing U.S. mail with postage already affixed/pre-stamped.
Letter-sized mail that requires postage be added.
Other mail that is larger than letter-sized requiring postage.
International mail, including to Canada and Mexico.
FedEx and UPS packages with proper labels attached.

International mail should be separated from other bundles and noted as such. Typically a post-it note or "Airmail" stamp on the bundle is used. International mail that weighs more than 13 ounces must also have an online customs form completed and attached to the mailpiece.
Express mail should be placed on top of outgoing U.S. letter mail with the appropriate shipping form taped to the face of the mailpiece to alert the Mail Services carrier that an express mail is present and requires special handling.
The mailing of personal correspondence or materials without prepaid postage affixed through campus mail is prohibited. Personal mailings can be processed, during regular business hours, through the USPS window located in Shriver Center. As a courtesy, our mail carriers will pick up personal outgoing US mail that has been pre-stamped for delivery to the Oxford Post Office.
Mail requiring postage must have an account barcode slip attached for a chargeback. Please securely attach the slip to ensure accurate accounting. A barcode should be attached to each bundle, tub, box, etc. that is to be mailed. Scroll further for how to create a barcode for your account.
Create Barcode for Postage Charges
In an effort to improve mail processing time, accounting accuracy and eliminate manual entry error, all departments are required to have barcode slips with the banner index code for outgoing mail.
Each barcode slip should include banner index code for the account to be charged for postage.
If you use an activity code, you must also have a separate barcode slip for the activity code as well – please see example below.
Both index code and activity code barcode slips are to be bundled or clipped to the outgoing mail.
You do not need to place a slip on each piece of mail – you may put one slip on top for all pieces to be charged.
If your mail does not have a barcode slip, Mail Center staff will be instructed to return it to your office.
Instructions for creating the index code and/or activity code are listed below. For accounts that use the activity code on a regular basis, we would suggest placing both on the same sheet, for example:

Instructions for creating a barcode for your banner index code and/or activity code:
Open a blank Word document and have it ready to copy your barcode into.
Use the barcode generator.
In the box that says "CREATE FREE:" select from the drop down list - Code 128 (Standard).

In the next box, enter your 4 or 6 alpha/numeric banner index code.
Click on CREATE BARCODE.
Click on DOWNLOAD.
At the bottom of your computer screen click on file (barcode.png).
Right click on barcode and select "copy".

Go to Word document, right click, and select paste.
Use the word document as your master sheet for barcodes.
Outgoing Address Label Example with Mail Stop Code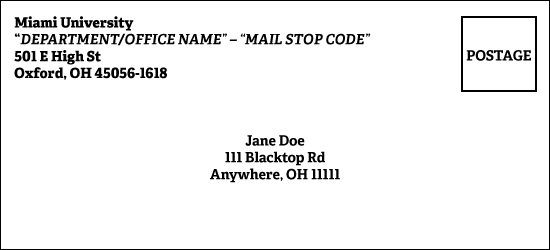 Please ensure the addressing format meets USPS requirements to avoid problems. Errors with postal sorting machines occur when the return address and destination address are too low, causing zip codes to conflict.
Outgoing mail that requires meter postage cannot display pre-printed mail permits on the mail piece per US postal regulations. Only one form of postage payment, the meter imprint, may be displayed.
Helpful Tips
Use the Zip Code Lookup to find the correct zip code.
Check the size and shape of the mailpiece to obtain lowest possible mailing rates. Guide to size requirements and physical standards.
For mailings with more than 5 pages- fold in half and place in a 6 X 9 envelope - save an average of .49 cents.
Do not use envelopes with a clasp; there is an extra surcharge required by the USPS for processing.
Double side your inserts to keep the weight down on your mail piece.
Rate shop for best pricing from all carriers using eShipGlobal. Using the service level required (overnight, 2nd day, ground) and the address, the site will rate shop all carriers to give you the delivery options and pricing. For more information, go to Departmental Shipments.
Screen your mail list for unnecessary names, duplicates and incomplete addresses.
Do not over insure. Only the actual cost to replace the item will be paid, not the declared value.
Use postcards for short messages or announcements. The cost is a third less than using an envelope.
Use certified mail, instead of registered, whenever possible. It costs less and provides a receipt of mailing, along with verification of delivery, to the sender.
Combine mailings going to the same address (i.e. other universities or companies) into a larger envelope for distribution at the central mail location.
Use NonProfit/Standard Mail instead of first class for significant savings when mailing pieces meet certain criteria and are not time sensitive. Call our mailing partner, United Mail at 513-242-5100, for more information and estimate of costs.