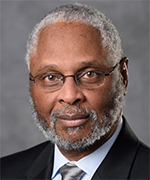 (PhD, Michigan State University)
Dr. Harold Neighbors is the CS Mott Endowed Professor of Public Health for the Michigan State University College of Human Medicine Division of Public Health.
"I am a senior, tenured professor trained as an applied social psychologist with a methodological background in survey research. I began my research career by studying the help-seeking behavior of Black Americans using data from the first ever nationally representative sample of a 'minority' group, the National Survey of Black Americans. I also developed a strong interest the measurement of psychopathology in treatment settings (i.e., psychiatric diagnosis) and in the general population (i.e., psychiatric epidemiologic case-finding).
"I spent the bulk of my career publishing on racial disparities in mental health with an emphasis on documenting the underutilization of mental health services among Black Americans. Later, I expanded my research to include the mental health implications of how Black Americans coped with the stress of race-based barriers to upward socioeconomic mobility (goal-striving stress).
"More recently, I wanted my work to have a more direct impact on population health as I grew tired of publishing additional articles that [only] to provide an empirical description of the relatively poorer health status of Black Americans. In order to heal my case of 'description fatigue,' I left the University of Michigan to take advantage of an exciting opportunity to help build a new Division of Public Health within Michigan State University College of Human Medicine's Flint campus. The central purpose of this move was to use a community-based participatory research model to investigate whether university research could have a noticeable impact on community population health. The 'jury is still out.'"