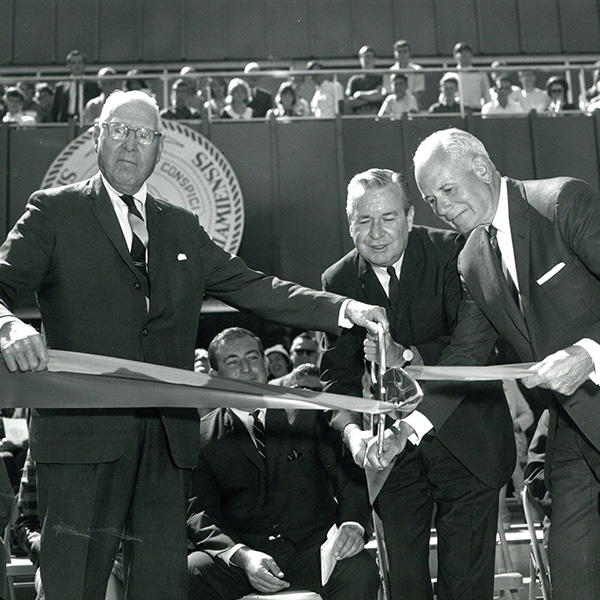 Reaching out with opportunities
In the fall of 1946, with returning GIs pursuing college degrees through the GI Bill of Rights, Miami University began offering classes in Hamilton and Middletown to meet the needs of people living in those communities who could not leave jobs or families to attend college. Over the following 20 years Miami expanded its outreach by creating five academic centers as new locations in Norwood, Dayton and Piqua joined Hamilton and Middletown.
The steady growth of student populations, combined with strong local support for higher education and communities' desires to have full-service campuses, led to the opening of Miami Middletown in 1966 (the first regional campus in Ohio to open), followed by Miami Hamilton in 1968. The construction of the permanent campuses was made possible by a unique combination of federal and state funding, plus a substantial amount of local donor support. 
Miami had been doing outreach work with Ohio State in the Dayton area, and this led to the creation of Wright State University in 1967 as a separate institution replacing Miami's academic centers in Dayton and Piqua. As it became part of the state system of higher education, the University of Cincinnati assumed responsibility for the people originally served by Miami's Norwood center.
Demand for online learning
E-Campus has been an innovator in online learning since 1999. The Miami Regional E-Campus office is the hub for all online and hybrid courses and programs at the Regionals. The staff works with faculty to create interactive and rich online and hybrid learning experiences that provide students with a more flexible Miami learning environment. Using Quality Matters as a guide to our online experiences, the E-Campus team has collaborated with subject-matter experts to develop 100 percent online delivery for one master's degree, five bachelor's degrees, two associate degrees and more than 200 courses.
Expanding our reach
In 2013 Miami Regionals established the English Language Center, which immerses students in an intensive academic program focused on developing the whole student, instilling the value of community through service, unique cultural experiences and much more.
In January 2009, Miami opened its Voice of America Learning Center, built on the site of a former VOA relay station in West Chester and immediately adjacent to I-75. Designed for undergraduate and graduate education, VOA became the home of the Commerce Department and the new Commerce Innovation Hub in 2019, which includes an Ohio Small Business Development Center. Graduate programs include the nationally ranked Farmer School of Business professional MBA program, plus 10 graduate programs for area educators through Miami's College of Education, Health and Society.