Miami Regionals are regional, community-based campuses of Miami University, a highly-regarded public university with a national reputation. With affordable tuition and a flexible class schedule, Miami Regionals offers a world-renowned liberal arts foundation with state-of-the-art applied learning. Regional locations include Miami Hamilton, Miami Middletown, and the Voice of America Learning Center (VOALC) in West Chester.
Convenience Counts
Apply to Miami's regional commuter campuses and enjoy:
- a Miami University degree
- affordable tuition
- flexible class schedules, including a growing number of courses taught entirely online
- nearby, free parking
- on-site childcare

Start Here, Finish Here...or in Oxford
Many of our students earn their bachelor's degrees taking classes entirely at the regional locations. Others begin on the regional campuses and, after meeting required criteria to relocate, complete their degree on the Oxford campus.

Learn about the growing number of bachelor degrees that may be completed exclusively at Miami Regionals on Miami University's General Bulletin website.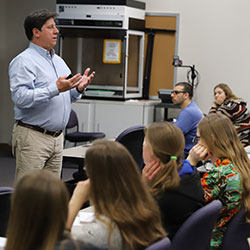 Support for Student Success
Miami's regional locations were designed with YOU in mind. Academic support inside and out of the classroom includes, quality faculty instruction, free academic tutoring and advising, small class sizes, career services and professional development AND cooperative education programs.
PLUS a vibrant student life with a variety of clubs, competitive athletics, opportunities for service-learning, and access to cultural programs ensures you have a well-rounded student experience.
Open Enrollment Policy
Miami's regional campuses maintain an open admission policy, which means first-time college students are automatically accepted with a high school diploma or GED, at any age. Students who are not first-time college students will be evaluated for admission based on their cumulative GPA at their previous institution(s).
Sign up for a campus visit, request information or apply now!