Dr. David J. Berg Named University Distinguished Professor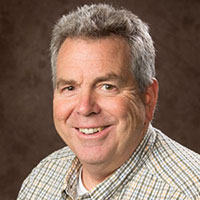 The Miami University Board of Trustees approved the recommendations from the President and Provost that Dr. David J. Berg be awarded the appointment of University Distinguished Professor effective with the 2021-2022 Academic Year. The title of University Distinguished Professor is conferred upon those faculty members whose achievements unequivocally merit the recognition. The selection process involves a rigorous appraisal, including requests of nationally and internationally known scholars in the appropriate discipline outside Miami University to place the nominee among other distinguished scholars of national and international reputation. University Distinguished Professors receive an annual stipend for conducting research and other professional activities.
Dr. Berg's research interests focus on the evolution and conservation of biodiversity. He incorporates undergraduates, graduate students, and postdoctoral fellows into investigations of the forces responsible for creating and maintaining the genetic and community diversity of invertebrates in freshwater ecosystems of the Chihuahuan Desert of west Texas and southeastern New Mexico, and freshwater mussels throughout North America. To fund these research efforts, Dr. Berg has secured over $4 million in extramural grants while at Miami University; funding agencies include the National Science Foundation (NSF), U.S. Fish & Wildlife Service (USFWS), New Mexico Department of Game & Fish, World Wildlife Fund, and The Nature Conservancy. Dr. Berg has authored 58 peer-reviewed publications with five more manuscripts currently in review. His papers have appeared in such high-impact journals as Global Change Biology, Molecular Ecology, and Global Ecology and Biogeography.  Undergraduate students have been authors on 20 of these. Dr. Berg's research team has made 177 presentations at professional meetings. Consistent with Miami University's commitment to student research, 109 presentations have been made by undergraduate or graduate researchers.
Active in national and international professional organizations, Dr. Berg has organized two workshops on conservation genetics which were targeted at agency scientists working in conservation and held at the USFWS's National Conservation Training Center. Dr. Berg has served as a scientific expert for the Texas Hornshell Species Status Assessment (SSA), which was conducted by the USFWS to determine whether this imperiled mussel should be listed under the Endangered Species Act, and he was an invited speaker for a symposium on the SSA process at the combined meeting of The Wildlife Society and the American Fisheries Society. He has been a member of the New Mexico Department of Game & Fish's Texas Hornshell Recovery Plan Advisory Committee and he has reviewed several other SSAs and Endangered Species Recovery Plans. Dr. Berg served as a consultant to the Pennsylvania Department of Environmental Protection as the agency developed a protocol for sampling mussels from the Alleghany River, one of the few large rivers with an intact mussel fauna. He has served as a member of NSF panels that evaluate research proposals and he also has been a reviewer for proposals to NSF; Sea Grant programs in Minnesota, Michigan, Illinois/Indiana, and New York; and the states of Louisiana, Texas, and Kentucky. In addition, Dr. Berg serves as one of the Editors of the peer-reviewed journal Freshwater Mollusk Biology and Conservation.
Dr. Berg utilizes a strategy in his teaching and advising that has both practical implications and a philosophical basis, with the latter shaping the former. Dr. Berg's courses are inquiry-driven and interactive, stressing analysis, problem-solving, and writing. He is committed to maintaining a high degree of academic rigor in his courses. In both foundation and capstone courses, Dr. Berg relies on a multidisciplinary approach that enables students to see the roles of various fields in solving environmental problems and promoting sustainability. Dr. Berg incorporates primary literature to help advanced students develop the analytical skills they will need in graduate school and beyond.
In addition to his coursework, Dr. Berg has devoted considerable time to mentoring students in scientific research. While at Miami, he has supervised the research efforts of more than 100 undergraduates and he has mentored 22 graduate students and postdocs. Undergraduates who have worked in his lab have gone on to pursue graduate degrees at a wide variety of universities, while graduate students and postdocs have taken academic positions at national and international institutions. Many former students are now employed as scientists in agencies or conservation organizations such as the US Fish & Wildlife Service, the US Forest Service, the Smithsonian Institution, the Western Pennsylvania Conservancy, the Shedd Aquarium, and the Cincinnati Zoo & Botanical Garden.

 

While at Miami, Dr. Berg has been recognized as a University Distinguished Scholar and has received the College of Liberal Arts Faculty Excellence in Scholarship Award, the Hamilton Campus Faculty Excellence in Service Award, the Distinguished Service Award from the Hefner Museum of Natural History, and the Hamilton Campus Faculty Excellence in Scholarship Award. He also has received the Faculty Excellence Award for Research from the Southwestern Ohio Council of Higher Education and he was nominated for the Miami University Alumni Association Effective Educator Award.