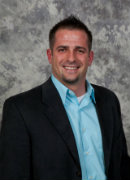 Billy Back played for both our basketball and baseball teams here at Miami Hamilton. During his time at Miami University Hamilton he was chosen for the 1st team All-ORCC team 3 out of his 4 years. He had a cumulative batting average of .363 with 230 hits over his four seasons playing with the Harriers. He was also skilled at stealing bases, succeeding 87 times out of his 97 attempts.
His contribution as a team player was even more impressive. The baseball team from 2000-2004 dominated the ORCC winning the regular season and the State tournament all four years. For many on that team one of the greatest highlights had to have been the game they played May 9, 2001. It was against a certain Miami RedHawks team in Oxford. Billy's coach Darryl Grissom got a call from Oxford asking if the Harriers could play the RedHawks. Darryl accepted and the Harriers ended up beating the RedHawks by a score of 9-1. Keep in mind this was not a bad recruiting year for the RedHawks; five players on the RedHawks team went on to be drafted (including that game's pitcher, Chad Reineke, by the Cincinnati Reds).
As Coach Grissom says this game was the "cornerstone of the Miami Hamilton program and put us on the map." Billy was a big part of this victory over the RedHawks as he led the Harrier offensive charge going 3 for 4, with 2 runs and a double. Three days later, the Harriers won their 2nd consecutive ORCC title.