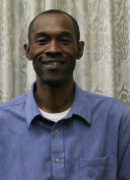 Gabe Folmar played basketball for Miami Hamilton from 1998 to 2001 which was one most successful periods in Hamilton Basketball History. During his first two years on the team, they went undefeated in the ORCC with a 38-0 record. They also only had 5 out-of-conference losses those two years, all of which came from teams that had scholarship players making up their rosters.
In the 98/99 and 99/00 season they won not only the regular season titles, but also the state tournaments. Kevin Lakes, Gabe's coach, said that Gabe (and Brad Reckart, who was inducted last year) really carried the team on their backs when it came to winning the last championship. This isn't surprising considering that Gabe points total was regularly in the mid- to high- 20's, and occasionally in the mid-30's. But that wasn't all he contributed. Gabe had over 10 double doubles, meaning he had double digit scoring and rebounding, while at Miami Hamilton.
His contribution to the team was well recognized. Among other honors he was named to the ORCC State All-Tournament team in 1999-2000, the 2000 Pikeville College Thanksgiving Classic All-Tournament Team, and was the 2001 M.A.C. Outstanding Athlete.
Gabe also showed the same determination off the court, by returning to school and receiving his Bachelor's degree in sociology in 2009. Since graduation he has been working for Hamilton City schools as a substitute teacher. He has one son named Shaquille.