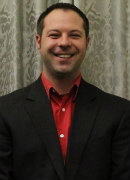 Ryan Maher played baseball at Miami Hamilton from 2001–2004. During that time he set a high standard for pitching, including tying the Single Season record for most all-time wins in 2002 (10), and coming in 4th all-time in innings pitched for a season with 81.1. But his achievements do not stop there. Over his career at Miami Hamilton he is 2nd all-time in innings pitched with 160, 1st in wins all-time with 18, and tied for second in all-time saves with 4. Ryan also has the honor of being the one to take the mound for Harriers against Miami Middletown for the dedication day game of Foundation Field—which of course they won.
All this success probably came as little surprise to Coach Grissom. He knew Ryan had talent way before he came to Miami and even before he played 3 years of varsity at Fairfield High School. He was his coach beginning when Ryan was 13 and playing Morgenroth baseball. Talk about dedication to recruiting! Under Coach Grissom Ryan and his team mates brought home the ORCC tournament Championship every year he played and the Regular season championship 3 out 4 years.
That love of fun and baseball, and we would like to think dedication to the Hamilton campus, may be one of the reasons that Ryan continued to help out the team as coach even after he had earned 2 degrees and while earning a third. Ryan currently lives in Columbus and has been a financial planner at Fidelity Investments for the past 5 years.