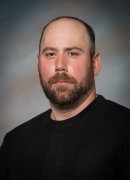 Mike Marksbury was a member of our baseball team. He caught the attention of coaches and even professional baseball scouts even before he started his first spring season at Hamilton. Mike pitched a 92 mph fastball in a tournament down at Morehead State—and that fastball inspired 6 pro teams to call Coach Grissom. He had mostly played 3rd base at Norwood High School, but when Mike came to Miami Hamilton he and the coaching staff made the decision to focus on his pitching.
As the real spring season started for the Harriers Mike showed his pitching skills early in the season by regularly pitching one- or two-hit shut-outs. This continued throughout his career here including when he pitched a five inning no-hitter against Ohio University-Chillicothe in April of 2002. These performances illustrated the great two seasons that Mike would have with the Harriers. The 2001 team would go on to be undefeated in their conference.
Mike was chosen as 1st team All-ORCC for his consistent performance. His skill as a pitcher helped solidify a great Harrier team. Even though he was part of the team only two years, he holds the records for career hits allowed (51) and strikeouts (205), and he ranks 2nd with a career 2.91 ERA. He holds the single-season record for hits allowed in 2002 with 22. He is also in the record books with top 5 season performances for earned runs, hits allowed, strikeouts, runs, and earned run average.
His contribution as a team player was even more impressive. The baseball team from 2000-2002 dominated the ORCC winning the regular season and the State tournament both years. For many on that team one of the greatest highlights had to have been the game they played May 9, 2001 ... It was against a certain Miami RedHawks team in Oxford. Mike's coach Darryl Grissom got a call from Oxford asking if the Harriers could play the RedHawks. Darryl accepted and the Harriers ended up beating the RedHawks by a score of 9-1. As Coach Grissom says, this game was the "cornerstone of the Miami Hamilton program and put us on the map."
In 2001, Mike was drafted by the Colorado Rockies in the 2001 Major League Baseball June Amateur Draft. He played five seasons in the minor leagues with most of his time spent with the Florence Freedom and the Rockford Riverhawks.