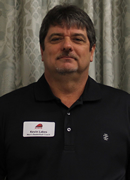 Kevin Lakes, a veteran basketball coach, spent two of his many years of coaching elevating Miami Hamilton men's basketball team to new heights. Compiling a 76-16 record in three years, Kevin was no stranger to success. Despite this impressive record, his inter-conference dominance is his most impressive accomplishment. A 50-2 ORCC record, paired with three straight conference titles, and two consecutive ORCC state titles are a testament to his achievements in the conference. 
In addition to his success at Miami University Hamilton, Kevin has received many local, regional, and statewide recognition for his coaching accomplishments. Along with his induction into the Butler County and 
New Miami Hall of Fames, he has been named the Southwest Ohio and the Ohio Associated Press Division 4 coach of the year.
Kevin is married with three children. Currently he is a teacher at New Miami Middle School, as well as the Lady Vikings Varsity Basketball coach.