2008 Miami University Middletown Athletic Hall of Fame Inductees
Kymn Flick Bennett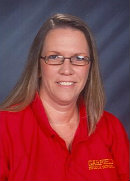 Kymn (Flick) Bennett was an outstanding two sport athlete at Miami University Middletown from 1984-89. She played four years on the volleyball team earning first team all-ORCC honors in 1987. Kim helped lead the volleyball team to its first State Championship in 1987 and Conference Championships in 1986 and 1987.
Kymn also played three years on the women's basketball team. She was selected Honorable Mention All-ORCC Basketball in 1985-86 and 1987-88 and was a member of the 1987-88 State Championship team. Kymn was the recipient of the Lynn Darbyshire Warrior Award in 1987 and was the C. Eugene Bennett Scholar Athlete of the Year in 1987-88.
Kymn is in her 19th year of teaching and currently teaches science at Garfield Middle School in Hamilton. Kymn and her husband of 15 years, John, have a 13-year-old daughter, Alexis.
---
Heather Imfeld Conger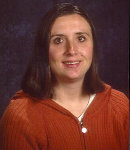 Heather (Imfeld) Conger played basketball for Miami University Middletown from 1995-2000. She is the women's all-time leading scorer with 1,590 points. Heather also holds the record for free throws made in a season (155) and in a career (467). She is the women's 2nd all-time career rebounder with 716. Heather earned All-ORCC honors all four years – three times 2nd team and 1st team once.
Heather was also an outstanding student, graduating Summa Cum Laude with a 3.996 GPA. She was the recipient of the Lynn Darbyshire Warrior Award in 1998 and was the
C. Eugene Bennett Scholar Athlete of the Year three times; 1995-96, 1997-98 and 1999-2000.
Heather is in her 7th year as a 6th grade math teacher with Carlisle Local Schools. Heather resides in Carlisle with her husband, Mike and their son Drew (6 months).
---
Don Faris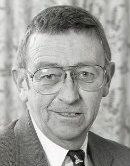 Don Faris was a founding member of the faculty at the Middletown campus, beginning his 36 years of service in 1966. Don coached the Miami University Middletown men's and women's tennis teams for
15 years.
Under his guidance, the women's teams won 9 ORCC championships and 4 state titles. The men also claimed 9 ORCC championships and 6 state titles. Don coached numerous student athletes who also earned individual ORCC and State honors.
He retired as a professor in 2002 and unexpectedly passed away February 8, 2006. He is survived by his wife Kay and nine children: Don, Mary, John, Ann, David, Terylle, Leigh, Caroline and Aaron.
---
John Langhorne

John Langhorne played on one of Miami University Middletown's first golf teams in 1971. He was team leader in scoring average and remained an outstanding golfer on MUM teams during the 1970s and the early '80s. Between 1972 and '74, John left school to serve in the military. Returning to the Middletown campus in 1975, he led the team in scoring average and won the OSU Lima Hawthorne Hills Invitational.
Raising a family and working full-time again took John away from college for several more years. Returning to Miami a second time in the spring of 1981, John helped the golf team to win the MUM Invitational and finish second in the OSU Lima Invitational. His hard work and dedication to both academics and the game allowed John to complete his degree in Marketing and lead the golf team to their first ever ORCC Championship in the spring of 1982.
In 1997 John co-founded and remains an active CEO of Allied Reliability, Inc. Under John's leadership, Allied has quickly grown to become the largest engineering, consulting and service firm focusing on preventive and predictive maintenance. Today, Allied serves over 200 manufacturing plants and facilities in North America, Latin America and Europe.
John resides in Bluffton, SC with his wife Sherry and is the proud father of Jason, Christopher, Matthew and Adam and grandfather of Ella and Ty.
---
Kevin Svarda

Kevin Svarda was an All-ORCC guard for Miami University Middletown men's basketball for three years, 1992-95. Kevin is the all-time career assist leader with 383. He helped lead his teams to ORCC Championships in 1994 and 1995 and the first men's basketball State Championship in 23 years in 1995. Kevin was captain all three years, winning the Lynn Darbyshire Warrior Award in 1993.
Kevin was also a leader off the court. He was elected the student body vice president in 1993-94 and the president in 1994-95.
Kevin is a District Sales Coordinator with AFLAC and resides in Franklin with his wife, Susan, and their son, Luke.