2009 Miami University Middletown Athletic Hall of Fame Inductees
Janet Turner Fennel

Janet (Turner) Fennel was an outstanding student athlete at MUM, starring in three sports from 1985-88. Janet was a three time first team all-ORCC selection in basketball and was voted the MVP for 1986-87 season. She helped lead the MUM women's basketball team to the Regional Campus State Championship in 1987 and 1988. Janet scored 1,147 points in her career, while averaging five rebounds per game along with four assists. She also was a standout tennis player and competed on the volleyball team for one year.
Janet graduated with an Associate Degree in Nursing and later earned a B.S. in Health Care Administration from St. Joseph's College. She lives in Madison Township with her son Cole (17). Janet is the Director of Clinical Services for Nurses Care Inc. and also coaches eighth grade girls basketball at Madison.
---
Dave Hortman

Dave Hortman was a First Team All-ORCC forward for MUM men's basketball team for two seasons: 1979-80 and 1980-81. Dave was voted the Most Valuable Player of the ORCC in 1980-81. During the 1980-81 season, Dave set the MUM record for points in a season with 686 and for field goals made with 283. Both of those records still stand today. Dave helped lead his team to the championship game of the Ohio Regional Campus State Tournament in each of his two seasons. He was voted to the all-tournament team both years and was selected the Most Valuable Player of the tournament in 1981. Dave scored 1,171 points in his career, 22.1 per game, and averaged over eight rebounds per game.
Dave resides in Lebanon with his wife Shonna, who was a standout volleyball player at MUM. They have a son Cody, 23, and daughters Caleigh, 22, and Chelsea, 18.
---
Paul McMillan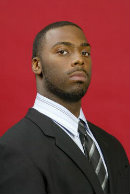 Paul McMillan is the only basketball player in MUM's history to receive an NCAA Division I scholarship. Paul was the MVP of the ORCC in 2000-01 when he helped lead the men to a 24-5 record and an ORCC
Championship. He actually averaged a double/double as he led the league in both scoring (24.5 ppg) and rebounding (12.3 ppg). Paul served as a student assistant coach at MUM in 2001-02 as he completed his Associate Degree. He then transferred to Loyola University-Chicago where he earned Newcomer of the
Year honors in 2002-03 leading the Horizon League in rebounding. The following year he was voted First Team all-conference. Paul finished his career at Loyola averaging 16 points and eight rebounds per game.
Paul also works for the Governor's office through the Cincinnati Public School District and resides in Cincinnati with his wife Amy. He and Amy are the proud parents of Shearia (14), Isaiah (11), Miracle (7), Paul IV (4) and Yma' (2).
---
Jennifer Whitley Updyke

Jennifer (Whitley) Updyke averaged 23.6 points a game in 1991-92 and 21.8 per game in her career for the MUM women's basketball team. Both of those marks still stand as records today. Jennifer was a first team all-ORCC for the MUM women's basketball team for two seasons 1991-92 and 1992-93. She was voted the Most Valuable Player of the ORCC in 1991-92.
Jennifer graduated from Miami with a B.S. in Education. She resides in Lebanon with her husband of 12 years, Chip, and their daughter Kristen (9) and son Chaz (7). Jennifer was inducted into the Lebanon High School Hall of Fame in 2007.