2013 Miami University Middletown Athletic Hall of Fame Inductees
Richard Bush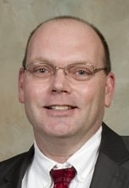 Richard Bush, 1985-89, was a four-year member of the men's basketball team. Rich earned all-conference recognition in 1985-86, 1986-87 and 1988-89. He helped lead the Miami University Middletown men to the ORCC Championship in 1988-89. For his career, Rich scored 1,512 points and pulled down 720 rebounds. He averaged 15.6 points per game and 7.4 rebounds per game. Rich also played on the 1989 MUM baseball team.
Richard resides in Middletown with wife PJ and daughters Kaylee, 17, and Kelli, 14. Rich has worked for the Middletown Police Department for 24 years. Currently a detective, he has been a member of the SWAT team, has handled a K-9 unit and has been sniper trained.
---
Jeff Neeley

Jeff Neeley, 1998-99, was a member of the golf team and led MUM to Ohio Regional Campus Conference Championships in 1998 and 1999. As a freshman in 1998, Jeff won the Miami University Hamilton and Ohio University Chillicothe Tournaments. In 1999, he won the Ohio University Zanesville and Ohio State University Lima Tournaments. Jeff was the Golfer of the Year in the ORCC in 1998 and 1999 and he was the ORC State Tournament Medalist both years. Jeff was a recipient of the Lynn Darbyshire "Warrior Award" in 1999.
Jeff earned his Bachelor of Science Degree in Sports Management from Miami in 2003. He currently resides in Middletown with wife Mandy and sons Cameron, 3, and Charlie, 2. Jeff is employed by Synergy Health and won the City of Middletown Men's Golf Championship last year.
---
Durke Ripley

Durke Ripley, 1997-99, was a three-year member of the baseball team. He played catcher all three years and is the all-time leader in career home runs for Miami Middletown with 13. He is third in career doubles (25). Durke is the single season leader in doubles (18) and second in single season hits (57) and average (.460). Durke helped lead the 1999 team to a 23-13 record that included a perfect 12-0 in the ORCC and an Ohio Regional Conference State Championship. Durke was voted First Team All-Conference in 1999 and Second Team in 1998.
Durke resides in Springfield with wife Jami, daughter Sophia, 4, and son Brooks, 18 months. Durke is an operations manager for Atlas Advisors in Columbus.