Jamie Kingsland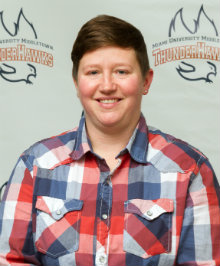 Jamie Kingsland, 1995-1999, was a four-year member of the women's basketball team.  Jamie was selected 1st team all-ORCC in '96-'97, '97-'98, and '98-'99.  She was also Honorable Mention ORCC in '95-'96.  During her 95-game career, she scored 1,295 points and dished out 476 assists.  Jamie averaged 13.6 PPG, 5.7 RPG, and 5 APG for her career. Jamie also played on the 1995-1996 women's volleyball team. 
Jamie received her B.S. in Education from Miami in 2000.  She also earned a Master's Degree in Curriculum and Instruction from Ohio Dominican University.  James is a special education teacher with Columbus City Schools and is also a Special Olympics basketball and track and field coach.  She resides in Commercial Point, Ohio with her spouse and five children.
---
Mike Moore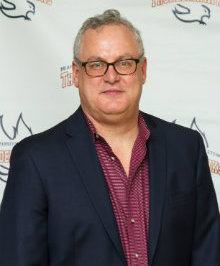 Mike Moore, 1985-1987, was a two-year member of the men's basketball team.  Mike was selected 2nd team all ORCC and team MVP in '85-'86 and honorable mention ORCC in '86-'87.  During the '85-'86 season, he helped lead the team to a conference championship by scoring 20.3 PPG, while shooting 54% from the field and 82% from the FT line.  Mike previously held the Bennett Rec. Center records for most points in a game by a MUM player with 41.  During the '86-'87 season, he helped lead the team to a 19-7 record and an ORC state tournament runner-up.  He averaged 16.2 PPG, while shooting 51% from the field and 78% from the line.  For his career, Mike scored 948 points for an 18.2 per game average.  He also finished with 398 made FGs, 182 assists, and 81% from the free throw line.  Mike won the Warrior Award in 1987.  Mike returned to MUM in 1993 for an internship with Lynn Darbyshire and served as assistant men's basketball coach.  Mike helped guide the team to an 18-7 record, and an ORCC championship and an ORC state tournament runner-up. 
Mike earned a B.A. degree from Miami University in 1989, an M.S. degree from the United Sports Academy in 1994, and M. Ed. from Delta State University in 1995.  Mike is currently employed at DSI Systems where he is the Sr. Vice President of Operations.  He and his wife reside in Grove City, Ohio and have two children.
---
Ron Smith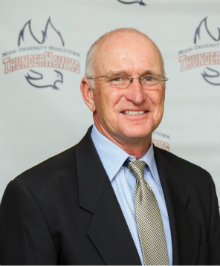 Ron Smith, 1981-1988, was the Head Men's Basketball Coach for seven seasons.  Ron compiled an overall record of 116-59.  During his tenure, Ron led his teams to three ORCC championships (including back to back titles in '83-'84 and '84-'85).  After leaving MUM he was the head basketball coahc at Middletown High School from 1989-1994.  He was also named GMC coach of the year in 1989.  Ron returned to his alma mater, Furman University , where he served as the head basketball coach from 1994-2016.  He is Furman's all-time winningest baseball coach with 580 victories.  Ron led Furman to a Southern Conference tournament championship and an NCAA tournament appearance in 2005.  During his 23 seasons at Furman, all of Ron's players graduated. 
Ron earned a B.A. degree in political science/education from Furman University in 1979 and a Master's Degree in Educational Leadership from Miami University in 1987.  Ron was a standout baseball and basketball player at Furman.  He was a three-year starter at shortstop in baseball and a four-year starter at point guard in basketball.  Ron was drafted by the Philadelphia Phillies and advanced to the AAA level.  Upon retiring from playing baseball, he coached one season for the Phillies organization at the minor-league level.  A vative of Elkhart, IN, Ron was named to the Indiana Basketball Hall of Fame (IBHOF) Silver Anniversary Team in 1999 and was inducted into the IBHOF in 2014.  Ron is married and has four children.
---
Matt DeHart
Matt DeHart, 2000-2001, was a two-year member of the golf team.  Matt was 1st team all ORCC in 2000 and 2001.  He was a two-time ORCC medalist and helped lead his team to consecutive conference and state championships in '01 and '02.  Matt continued his collegiate career at Shawnee State University in Portsmouth, Ohio.  While at Shawnee State, he was selected to the all-American Mideast Conference (AMC) team in '03-'04.  Matt was an NAIA national qualifier and was named the AMC player of the year in '04.  His average over 61 rounds ranks second all-time at Shawnee State.  Matt was also the Middletown City Champion in '01 and '02.
Matt earned a B.S. in Business Management from Shawnee State University in 2004.  He is currently a Project Services Supervisor for Fluor-BWXT in Portsmouth, Ohio.  Matt and his wife have three children.