Catherine Herr Mulligan Scholarship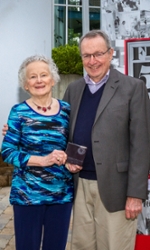 In 2017, during the 50th anniversary of the Middletown campus, and in honor of Cathie's distinguished career and commitment to the community and our students, several of her friends and family began to fund a scholarship endowment in her name. The Catherine Herr Mulligan Scholarship will support students majoring in a Mathematics-related or Education-related field at Miami Regionals.

We are close to reaching our goal of fully funding this endowment, so please give to #MoveInMiami today in honor of Cathie and everything she has done for our community and our campus!