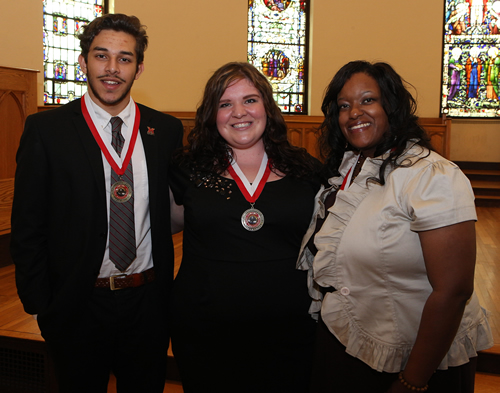 Three students at Miami University's regional campuses received the Miami University President's Distinguished Service Award, presented in Oxford last month. Only 21 students from all of Miami's campuses received this award this year.
Abbi Hoerst, a 2014 speech communications major from Middletown, received the award for her exemplary contributions as a student employee and campus leader.
Jennifer Pugh, a 2014 health information technology major from Middletown, was honored for service with distinction in Miami University Middletown's Student Government and as an outstanding student employee, role model and mentor.
Shan Qureshi, a 2014 zoology major from Liberty Township, received the award for his service to the Miami University Hamilton Student Government Association and his significant contribution to the Project Civility initiative at Miami Hamilton and Miami Oxford.
This award is presented each year to students whose service as a university employee, through campus life, community service, or intellectual and cultural leadership has been truly extraordinary.