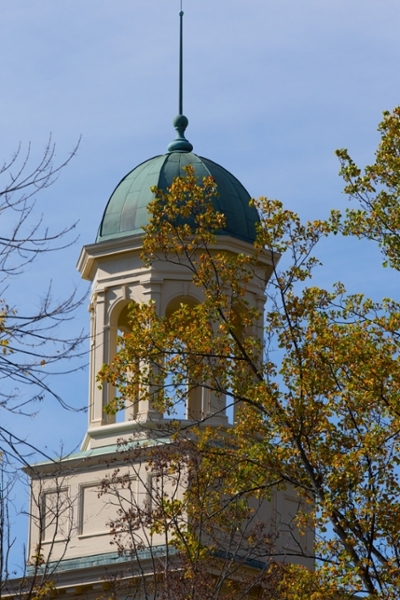 In 1999, Miami University secured a 10 year federal grant to implement prevention, education, and enforcement strategies in collaboration with community stakeholders. Successes during this time period included hiring full-time staff for the Office of Health Education (now the Office of Student Wellness), hiring a full-time substance abuse counselor for the Student Counseling Center, revising the Student Code of Conduct regarding alcohol violations, prohibiting on campus marketing and promotion by alcohol distributors, and banning all alcohol deliveries on campus. However, until Miami University President Garland's Task Force on Alcohol Abuse Prevention was introduced in 2006, these efforts lacked a comprehensive and coordinated approach.
The Garland Initiative provided leadership on the issues of high risk drinking, and provided a framework for implementation. The Garland Initiative also formalized campus and community partnerships by recognizing the Student and Community Relations Committee, which worked closely with the Coalition for a Healthy Community-Oxford, an entity created when Miami received its federal grant. This grant also supported activities through the Office of Health Education such as social marketing campaigns, After Dark (alcohol free programming offered on campus on Friday evenings), peer education programming, leadership on the Coalition for a Healthy Community-Oxford, and dedicated staff. Other recommendations established through the Garland Initiative were the second-year residency requirement, the development of a Campus Assistance Program, ongoing alcohol education programming for first year students, and the adoption of the BASICS (Brief Alcohol Screening and Intervention for College Students) assessment in Student Counseling Services.
The grant expired in 2009 and the university was unable to sustain the level of funding needed for these activities. Staff in the Office of Health Education was eliminated, and funding for many University and community efforts, including After Dark programming, was reduced. In addition, this loss of funding resulted in several recommendations from the Garland Initiative not being implemented; these include:
Send a consistent message to the Miami University community by prohibiting the marketing, sale, or consumption of alcohol at all student centered events (e.g., all athletic events, all concerts, etc.).
Increase the percentage of undergraduate classes scheduled for early mornings and Fridays to at least 30% for each academic division by Fall 2008; and support related initiatives with the Council of Academic Deans (COAD) to promote stronger academic engagement of students throughout the week.
Continue to support and assess After Dark as an alternative activity with improved programming activities.
Pilot for a two year period expanded hours of the Recreational Sports Center – remaining open until at least 2 a.m. on Thursday, Friday and Saturday nights – with relevant programming to be determined in consultation with students.
Provide ongoing alcohol education and training to front line personnel (e.g., Campus Police, Residence Life, and Office of Ethics and Conflict Resolution)
Improve admissions staff knowledge about the healthy attitudes and behaviors for appropriate use of alcohol at Miami University and request this knowledge be disseminated to high school guidance counselors, potential students, and parents.
Upgrade of the Resident Assistant position to at least junior standing, with increased responsibilities (including bell desk duties) and enhanced compensation by Fall 2007.
Establish alcohol and drug recovery housing on campus
Empower Judicial Affairs to link Student Code of Conduct violations to possible suspension of parking privileges, loss of registration position within an academic class, and suspension of opportunity to study abroad.
Provide permanent financial resources for all staff positions supporting the alcohol education/intervention efforts (i.e., these should be continuing university positions rather than grant supported positions).
Consult with and assist student organizations with the development of a plan for approving or "certifying" local bar and club owners for hosting organizational events.
Develop strategies for increasing adult role model interactions and mentoring for first-year students.
Create a holding facility with professional care for students dangerously intoxicated.
Provide training on alcohol education, intervention, and treatment on a regular basis to all relevant stakeholder groups including, but not limited to the President's Executive Council, the Board of Trustees, admission and orientation staff, and other faculty and staff.
Require a one-credit hour Personal Health course for all second year students by Fall 2008.
Encourage and support development by the Office of Finance and Business Services of a plan for the University to systematically "buy back" or purchase residential housing in the Mile Square with enhanced incentives for residential ownership.
In 2014, President Hodge create the Alcohol Task Force and charged it with engaging a wide array of campus and community stakeholders to (i) better understand the extant ecological context, including the current impact of high risk alcohol use on the community, (ii) evaluate the potential efficacy of various interventions, as well as the costs and tradeoffs associated with the interventions, and (iii) develop a strategic plan for reducing the propensity of and mitigating the costs associated with high risk alcohol consumption.
The Alcohol Task Force engaged in an information gathering process through the Fall 2014 and Winter 2015 terms that included an environmental scan, a review of national and Miami University data and research, and focus groups with key campus/community stakeholders. From this review, some unique local environmental and cultural factors related to alcohol use were identified; the need for more and better data became evident; and it was observed that while key resources exist that can impact this problem, there is a need for greater coordination and more effective utilization of these resources across campus and within the larger community. 
The Task Force presented a final report (PDF) that recognizes the need for both a strong campus-community partnership and a long run perspective and commitment to the issue of high risk alcohol consumption. The strategic framework of this plan focuses on positively reshaping the attitudes, behaviors and consequences that are associated with high risk consumption.
Central to this strategic framework is the creation of a permanent Alcohol Coordinating Committee (ACC).