Josie Pucel, Chair
Josie Pucel is a first generation college student from Hartsgrove, OH. She's a senior public administration and environmental science double major. Josie spends her time serving as a Head Student Engagement and Leadership (SEAL) Ambassador and the Chair for the Armstrong Student Center Board.
---
Adam Weiss
Adam Weiss is a Political Science and Urban & Regional Planning Major with a minor in Philosophy and Law. He joined the board in the Fall of 2019 and I has greatly enjoyed my time working with the director, as well as fellow student leaders. In his free time, Adam is a member of the Sigma Alpha Mu social fraternity and enjoys spending time with my friends.
---
Aidan McKeon
Aidan McKeon, the Student Body Vice President at Miami University, is a senior with majors in arts management and history and a minor in Spanish. Outside of his VP and academic work, he loves to sing and play piano, take long hikes in Oxford with friends, and listen to music and podcasts. 
---
Amitoj Kaur
Amitoj Kaur is a junior Emerging Tech for Business and Design + Political Science double major. She serves as a Student Trustee, and Secretary for the Armstrong Student Center Board. She has a passion for inclusivity, design, and Miami University. On campus you can see her working in the Commuter Center, eating buffalo mac and cheese at RedZone, or hanging out with friends at Cafe Lux! She feels very lucky and blessed to be serving on the Board and serves as the Communications Chair. 
---
Andrew Branson
Andrew is co-majoring in biology/pre-medical studies and has a minor in Neuroscience. Andrew
is a member of Phi Delta Epsilon, a pre-medical professional fraternity. Andrew is also an
ambassador for the College of Arts and Sciences as well as a member of the National Society of
Collegiate Scholars, the National Society of Leadership and Success and is an Evans Scholar
where he serves as the Health and Wellness Chair. Andrew has been an Emergency Medical
Technician for the last three years. In Andrew's free time he enjoys volunteering around the
community, teaching Basic Life Support classes, playing golf and spending time with his family
and friends.
---
Becca Pallant
---
Eliza Burgess
---
Kyra Nicholson
---
Maricela Lopez
Maricela Lopez is a senior public health and history major with a minor in Latin American Studies. She is from Cincinnati, Ohio. She is also involved in Model Arab League and The Robert E. Strippel Memorial Fund. This will be her second year on the Armstrong Student Center Board and the she serves as the Chair of the Student Engagement and Leadership (SEAL) Committee.
---
Nyah Smith
---
Rosie Schuermann
---
Shams Al-Khafaji
A senior Political Science major with minors in Arabic and Middle Eastern & Islamic Studies from Monroe, Ohio. Passionate about gender and sexuality studies, Middle Eastern politics, and inequality. Involved in organizations such as Middle Eastern Students Association, Diversity Affairs Council, Spectrum, and Model Arab League. Shams is the Finance Chair for the Armstrong Student Center Board.
---
Spencer Schrudder
---
Trey Petrella
---
Dr. Katie Wilson, Advisor
---
 Previous Chairs

Nicholas Miller '14 (2013-2014) Inaugural Chair

Jim Bennett '15 (2014-2015)

Chris Curme '16 (2015-2016)

Alex Kendall '17 (2016-2017)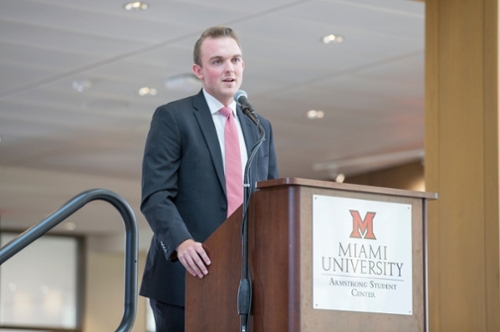 Jackson Garvey '18 (2017-2018)
Charles Kennick '19 (2018-2019)

Megan Cremeans '20 (2019-2020)

Jessica von Zastrow'20 (2019-2020)