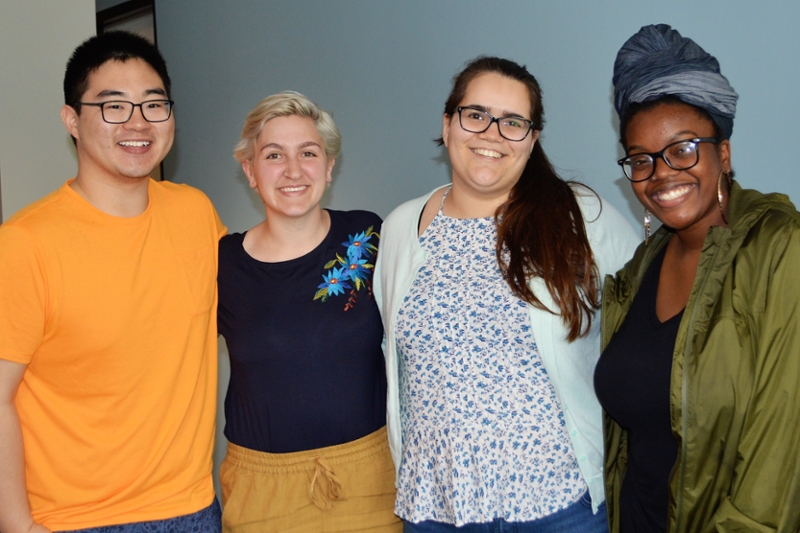 The mission of the Bernard B. Rinella, Jr. Learning Center is to help students reach their individual academic goals by empowering them with the skills needed to be independent and successful learners and to provide academic support through various programs and services. The Rinella Learning Center (RLC) is comprised of 4 functional areas: Academic Support Services, Scholastic Enhancement Program, Collaborative Learning Initiatives and RLC Testing Center. The office and work are enhanced by the wide-range of experience, expertise and perspectives that our graduate assistants (GAs) bring with them to the RLC. The center is committed to supporting GAs' academic endeavors and professional development through:
A comprehensive GA training session the week before classes begin
Weekly one-on-one planning and supervision meetings with supervisors
Promoting GA autonomy by giving them primary responsibility for teaching, supervision, academic coaching, training and assessment
Understanding that the number one priority for our GAs must be their own academic work
Goals for Rinella Learning Center Graduate Assistants:
Develop better teaching, training and facilitation skills.
Develop supervisory and administrative skills.
Gain a better understanding of student development in the arena of academics.
Develop basic intervention and academic counseling skills.
Develop working relationships with Learning Specialists and other Student Affairs professionals.
Basic Position Qualifications: RLC GA applicants must meet all University requirements for the graduate school; strong organizational skills, computer skills and the ability to work effectively with a diverse undergraduate student population.
Preferred Position Qualifications: Post-college work experience; academic discipline expertise (i.e., Math, Economics, Accounting, etc.); tutoring, peer advising or academic counseling experience; teaching and facilitation experience.
Application Procedure:    
There are currently no open GA positions. Please do not send applications in for the 2018-2019 year.
The instructions below are intended for the 2019-2020 year.
Download and print an application form or obtain a physical copy from 306 Shriver Center.
Complete the application form and submit all of the following materials:

Completion of Graduate Assistantship Applicant Information Form
Resume
Cover Letter of Formal Application for the Graduate Assistantship

Briefly describe previous experiences of positions that you feel help qualify you for a graduate assistantship in the Learning Center. Specify in your letter the position(s) for which you are applying and why you would like to work in that area.

Two (2) Letters of Recommendation

Please keep in mind the job description and requirements for a RLC assistantship when soliciting recommendations, as these letters will provide the office with specifics about you and your background, which will be available from no other source. Information contained should be as germane as possible concerning your potential to perform the responsibilities that a RLC position would entail. General letters of recommendation are better than none, but letters containing specifics appropriate to the RLC assistantship are of more value. (If you have letters of recommendation or transcripts on file with another Miami University office/department, and you want them sent to RLC, please make arrangements to have the materials forwarded).

Graduate/Undergraduate Transcripts

Unofficial (student) copies may accompany your initial application, but must be replaced with official transcripts should you be selected as a final candidate.

Interviews for 2019-2020 Academic year appointments should be scheduled beginning March 2019. The Learning Center will notify you if you have been selected for an interview.
We hope to make hiring decisions by May 2019 unless circumstances force a later decision.
All applications will be maintained on file in the event of a declined position. The application process will not be reopened unless no other original qualified candidates accept.
Application materials should be sent to:

Anita Lee
Miami University
Rinella Learning Center
701 E. Spring St.; Shriver Room 306
Oxford, Ohio 45056

Scanned/electronic materials may be submitted to leear@MiamiOH.edu. Please keep in mind that if you should choose to submit your application digitally, all required materials should be sent in this fashion. 

If you have any questions, please phone Anita Lee at (513) 529-1375.
The RLC GA Positions are one-year appointments that may be renewed. Additional information can be obtained at 306 Shriver Center or by calling Anita Lee at 513-529-1375.