Recruiting Diverse Populations
As evidenced in our Diversity and Inclusion Statement, Miami believes that a diverse academic community is our institution's greatest strength, enhancing the living, learning and working environment for all. Given Miami's commitment to excellence in undergraduate teaching and learning, diversity and inclusion are core values to be treasured and protected. Decades of research shows that every unit and individual on campus benefits from an environment where people from a wide variety of backgrounds learn from one another, share ideas, and work collaboratively to ask questions, create knowledge and find solutions. Miami President Greg Crawford outlined the benefits in a recent Op-Ed, "4 Ways Universities Can Take The Lead On Diversity."
What have we done so far? 
Here are our current data, as of fall 2017:
Faculty: On the Oxford campus, 20.1% are ethnically diverse and 44.2% are women. On the regional campuses, the numbers are similar - 19.6% ethnically diverse and 45.6% women.
Students: On the Oxford campus, 13.7% of students (undergraduate and graduate) are domestic minority students, and 14.1% are international students; 52.5% are women. On all campuses, 15.5% are domestic minority students and 9.4% are international students; 68.3% are women.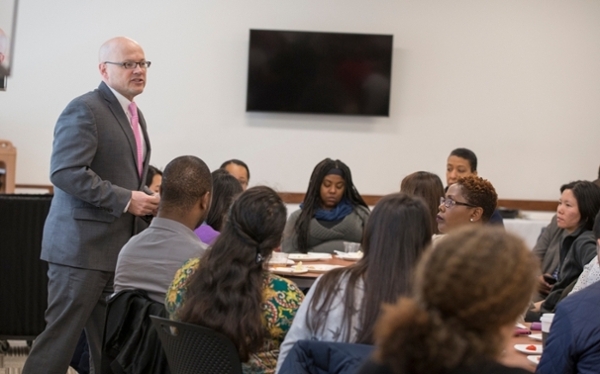 2018 diverse faculty and staff luncheon We are committed to faculty search and appointment procedures that bring a diverse pool of qualified candidates to Miami for faculty and staff positions. Our search committees must be diverse, and the Office of Equity and Equal Opportunity and the Office of Institutional Diversity each review the recruitment plan, the applicant data collection process and the search process. 
In 2019, faculty and staff members who embrace diversity and inclusion in their positions and across campus were honored with the inaugural Diversity and Inclusion Awards at an April 3 ceremony.
It is illegal to set quotas for students, faculty or staff based on race and ethnicity. The university works hard to recruit a diverse class to Miami each fall, including targeted outreach to high schools with a large percentage of students from traditionally underrepresented populations. We bring those student groups to campus each year to tell them about the value of a Miami education and the lifetime benefits it can provide. 
A specific recruitment example includes the Bridges program, an overnight visit experience for high-achieving seniors from historically underrepresented populations. We also have a partnership with Cincinnati Public Schools that resulted in five first-generation minority students confirming at Miami for the fall of 2018.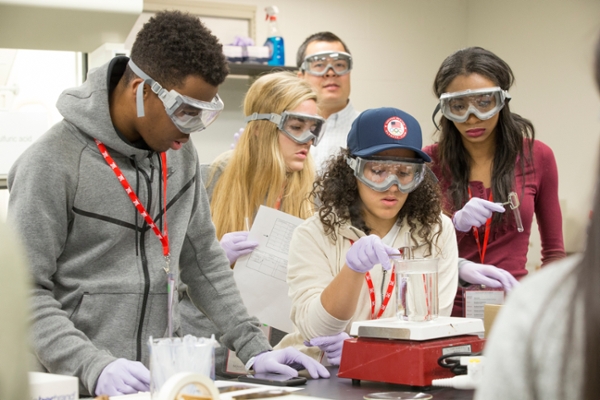 Students in the Bridges program visiting classesThese efforts proved successful with the Class of 2023, the largest and most diverse class in Miami history. It includes the largest number of domestic students of color in school history (732, a 3.1% increase from last year).
Looking ahead
We plan to expand the current Cincinnati Public Schools partnership, which had previously only recruited male students, to identify, mentor and recruit talented female students starting in 2018-19. This expansion will lead to an increase in the number of participants to as many as 15 students per year (up from 5 in 2017-18). We also are working on developing a similar partnership with Dayton Public Schools, in conjunction with other area universities. We continue to increase our visits to high schools that have produced graduates who have increased diversity at Miami. In 2017-18, we visited about 90% of these high schools.

Members of faculty search committees receive training every year on diversity and inclusion, along with high-level staff searches. We are developing a similar process to cement diversity as a core value in all staff searches.  

We realize the importance of need-based scholarships to broaden access to a Miami education, and scholarships will be a major priority of a future comprehensive campaign.