COVID-19 Update, Summer, 2022
McGuffey House and Museum is open for tours during our regular hours, Thursday, Friday and Saturday, 1-5 p.m. Face coverings are not required when visiting the museum. Staff will wear masks if requested.
Call 513-529-8381 or email gordonsc@miamioh.edu for any assistance. We look forward to your visit.
Museum News
Congratulations to the Class of 2022
McGuffey Museum congratulates our graduating student assistants. Alexandria Gregory, B. A. English Literature and History, with a minor in Museums and Society, Miami 2021, will receive her M. A. in History, Class of 2022. Katie Staffiera will receive her B. A. in Middle Childhood Education and Spanish double major, Class of 2022. Both Alex and Katie have worked as student assistants at the museum since 2019. We will miss their passion, hard work and congeniality.
Alex Gregory with the Sundial and MacCracken Hall in the background | Katie Staffiera on the side porch of the McGuffey House.
Picnic at the Doty Farm
---
On May 11, over 80 docents, members and friends of Oxford Museum Association and McGuffey House and Museum gathered in fellowship at the Doty Farm for a Picnic on the Lawn. Professor Emeritus Allan Winkler led guests in folk songs while others enjoyed rekindling acquaintances following two years of Covid restrictions. McGuffey student workers Alex Gregory, Miami MA '22 and Katie Staffiera, Miami BA '22 were recognized along with Maribelle, John Clover's 1924 Ford Model T.
---
New Tenants
---
A mother robin has built her nest above the side porch door. Note her reflection in the first photo and her head in the second photo, taken from inside the museum.
Congratulations to Diana Royer
Congratulations to Diana Royer for her 30 years of teaching at Miami. Dr. Royer is a long-time docent at the museum and currently is professor of English, Language, Literature and Writing at Miami's Hamilton campus. (Group photo courtesy of Jeff Sabo)
Ready for Spring
McGuffey House and Museum thanks Miami's Alpha Phi Omega chapter for their help with spring garden cleanup. Left to right: APO members Nolen Kimball, Jillian Inks and Ben Marks.
Homes of Old Oxford
If you have an interest in old houses, and Oxford in particular, there is good news. Smith Library of Regional History has released Homes of Old Oxford: An Album of Photographs by Frank Snyder and Others. This handsome pictorial essay profiles 75 houses built from ca. 1820 to 1930. Conceived by Irene Lindsay, the project was completed by Valerie Edwards Elliott, who, for over thirty years, was manager of the Smith Library of Regional History. The book can be purchased for $10 from the Smith Library of Regional History, S. Locust Street, Oxford, Ohio. As hours of operation vary, placing a call to 513-523-3035 prior to purchase is advised.
McGuffey House and Museum Salutes Bob Wicks and Welcomes John "Jack" Green.
After serving as director of the Miami University Art Museum for 20 years and Professor of Art History and Museum Studies at Miami for 38 years, Bob Wicks has well earned his retirement. During Bob's remarkable tenure as director, Miami's Art Museum significantly expanded the depth of its collections, broadened its outreach and made a commitment to cultural collaboration and social justice.Perhaps most notable among Bob's many achievements was establishing an endowment of the director's position through the generosity of Jeffrey Horrell '75 and Rodney Rose.
Read More
On August 1, Dr. John (Jack) D. M. Green assumed the position as the Jeffrey Horrell '75 and Rodney Rose Director and Chief Curator. Jack comes to Miami from Amman, Jordan, where he worked at the American Center of Research. Previously, Jack worked at the British Museum in London, the Oriental Institute Museum at the University of Chicago, and the Corning Museum of Glass, Corning, NY. His research interests include archaeology, art history, photography, and cultural heritage of the Ancient Middle East and Mediterranean.
McGuffey House Gets a Facelift
As the McGuffey House approaches its 200th birthday (2033), it should come as no surprise that a house of, ahem, "advanced age," warrants special care, especially those exterior portions of the house that employ frame construction. Miami's Carpenter Shop staff designed and installed new composite fiberglass columns to mirror nearly exactly the profile of the original columns.
Read More
The front porch of the McGuffey House features wood Tuscan columns likely added during the mid-1920s when the Roudebush family purchased the property. Over the years the front porch columns, made of curved vertical staves, or boards, began to deteriorate, especially at the base. Contributing to the decay of the wooden columns was water wicking upward into the columns where they were in contact with the poured concrete porch floor. Because concrete sweats and holds moisture, it was less than an ideal material to be in direct contact with wood.The new columns are made of a sturdy composite fiberglass material. Miami's Carpenter Shop staff removed the old columns and installed new composite fiberglass columns. The new columns, designed by staff in the Carpenter Shop, mirror nearly exactly the profile of the original columns. Ideally, it would have been preferable to install new wood columns, but a decision was made to introduce synthetic materials that in the long run will have a longer life expectancy while maintaining the aesthetic integrity of the house.
---
The BEEPS Garden welcomes visitors to the Miami campus. Established in memory of Becca Eldemire, the garden features several native plants, including St. John's Wort, Monarda, blackberry and Echinacea purpurea, along with Paw Paw and Persimmon trees. There is a bench for relaxation and reflection.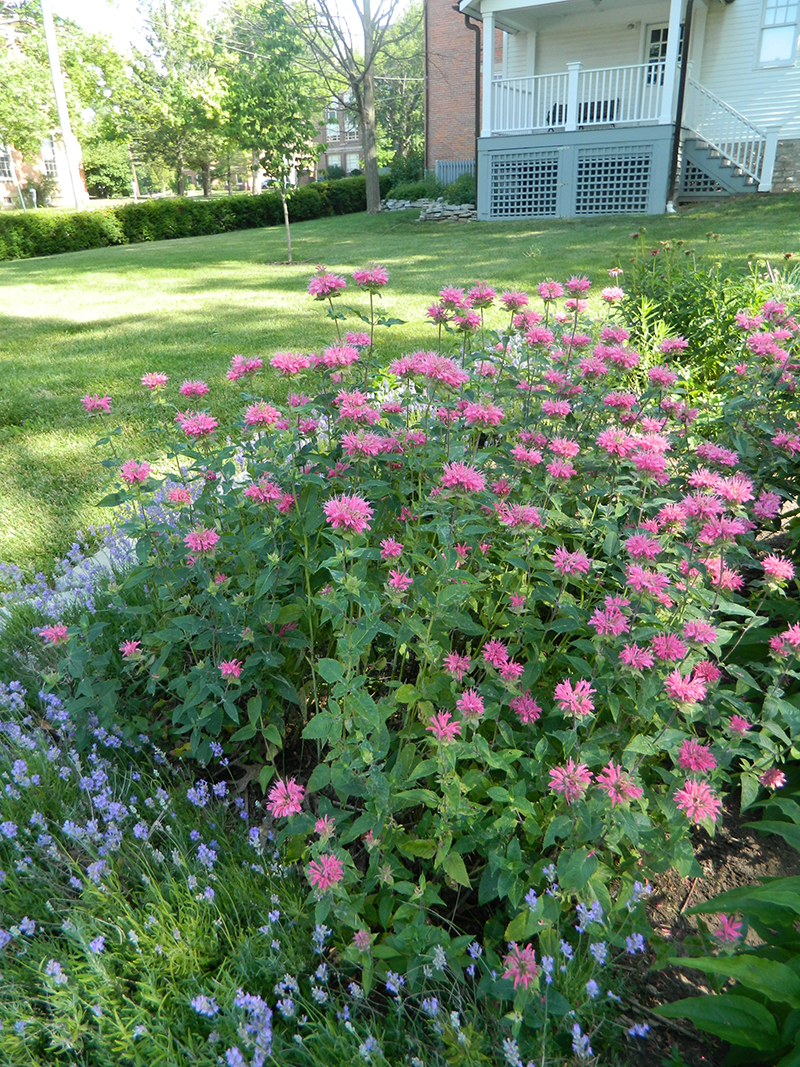 Monarda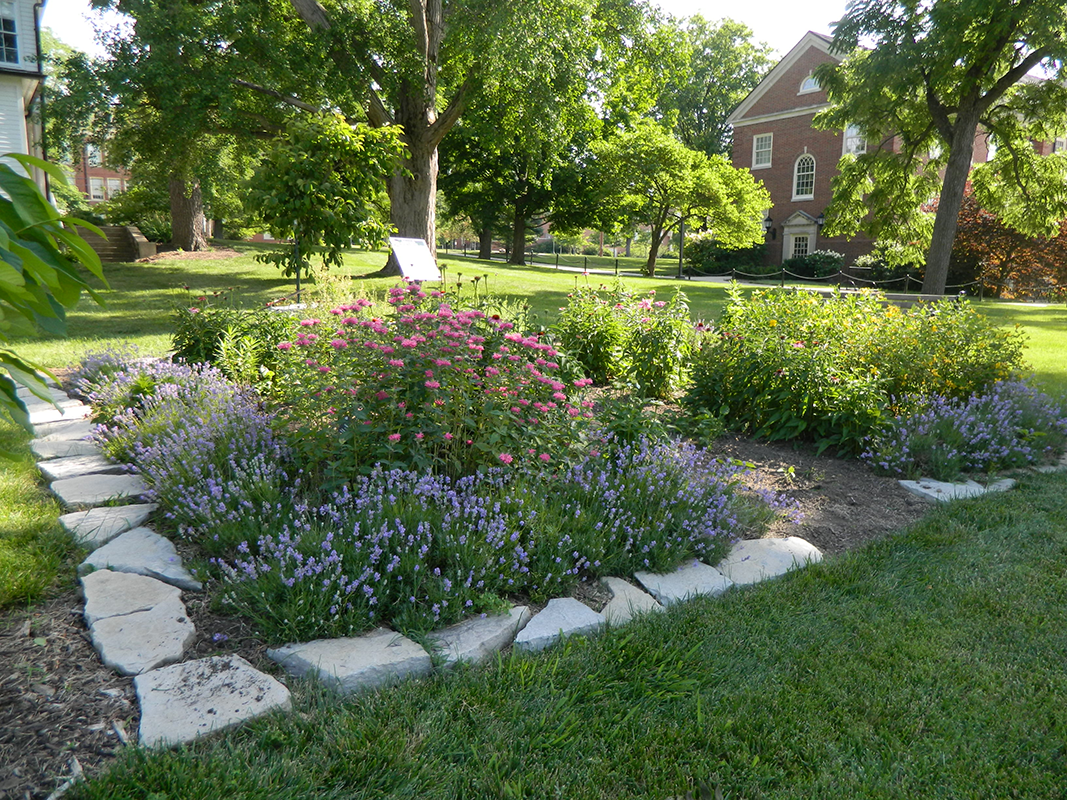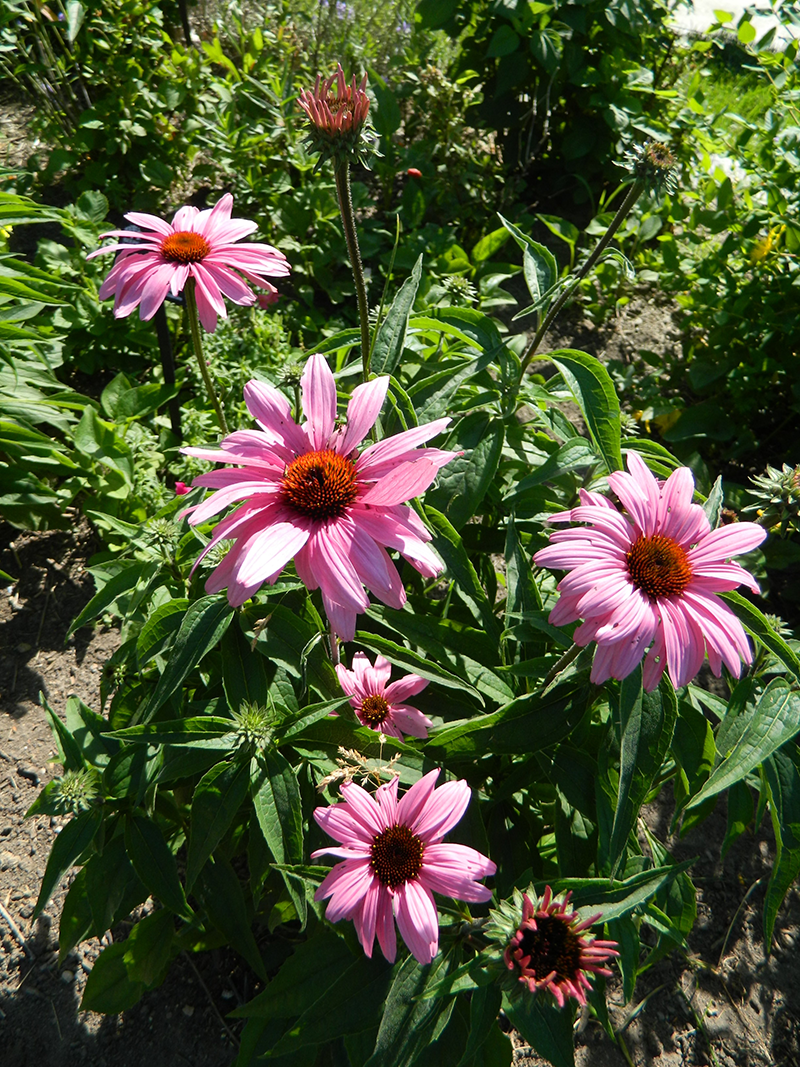 Echinacea purpurea
---
Collection Curiosities
Boot Jack
Note: A fascinating aspect of everyday household objects is how they frequently incorporated contemporary fashion with function. This column shares one of McGuffey House and Museum's many collection curiosities.
It is winter 1833. Oxford's weather is rainy and raw. Professor McGuffey enters through the front door of his new house on Spring Street after a long day teaching and preparing class lectures in Old Main. Careful not to track in mud from the unpaved walks and street, not to mention the ire of Harriet McGuffey, William Holmes McGuffey pauses over a simple yet invaluable household object. It is a bug-like artifact by the fire place known simply as a boot jack. Produced by numerous local foundries during the 19th century, boot jacks were used to easily remove boots hands free. Read more about the boot jack »
From our collections
Unidentified Portraits
? John Insco Williams (1813-1873)
These portraits depict two unknown individuals, believed to have been residents of Richmond, Indiana, during the early 1830s. The female subject, seated in a Queen Anne chair, is distinguished by her Apollo hairstyle, diamond earrings and black dress. The male subject, presumably her husband but possibly a brother, wears a black wool coat, cravat and tie pin. Both subjects may have been painted by John Insco Williams (1813-1873) an itinerant painter in eastern Indiana from 1832-1835.
Information on the unidentified couple is welcome! Contact Steve Gordon
Bishop Sideboard
Mahogany, 1790–1815
This sideboard belonged to the first president of Miami University, Robert Hamilton Bishop. Brought to Oxford by the Bishops in 1824, it stood in the entry hall of the Bishop home until the 1930s.
In 1991, Dr. Jonathan S. Bishop donated the sideboard to Miami University and the McGuffey Museum.
Peter Bruner's top hat and hatbox
Overcoming years of slavery, voluntary service in the Union Army, and decades of manual labor, celebrated Oxford citizen Peter Bruner's life is a story worth telling and re-telling. The Museum collection includes his top hat and hat box.
Octagonal table
It is thought that McGuffey wrote the first four books in the series in this house, very possibly on this table.
1840s pie safe
Poplar with pierced tin panels, 1840–1850
Cupboards of this type were used for food storage. The pierced tin panels allowed air circulation without letting rodents and large insects foul the foodstuffs.