The new Club Heritage to feature music faculty and renowned jazz artists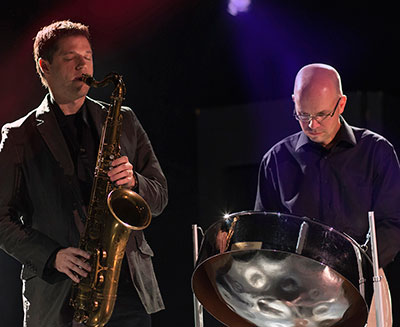 Club Heritage Series with Jeremy Long and Chris Tanner
photo by Jeff Sabo
The Department of Music will sponsor a series of jazz performances in 2015-16 featuring students, faculty and distinguished guests.
Club Heritage Series
The newest venture for jazz is the Club Heritage Series, featuring two Miami faculty, Jeremy Long (saxophone) and Chris Tanner (steel pan). Both will perform in the Shriver Center Heritage Room (Oxford campus) with their quartets, comprised of local jazz notables. The Club Heritage performances will create a jazz club atmosphere in the heart of Oxford. The concerts are free and open to the public, and a cash bar will be available.
According to Tanner, who serves as Associate Chair of the Department, the Club Heritage series represents a new commitment to jazz at Miami. "We want to create a place where friends can meet, relax, and listen to great music." Tanner emphasizes that hearing live music, especially in a small venue such as Club Heritage, will be an unparalleled experience.
The first Club Heritage series event will be held on Saturday, November 14 at 7:30 p.m. The performance features Jeremy Long, saxophonist, performing with renowned jazz artists Steven Snyder, organ; Rusty Burge, vibes; and Tony Franklin, drums. The group will perform a mix of original jazz compositions and reimagined standards from the Great American Songbook.
The next Club Heritage event will feature the Chris Tanner Quartet, performing in Miami's Heritage room in the Shriver Center on February 24, 2016 at 7:30 p.m. Members of the quartet include Chris Tanner, steel pan; Rusty Burge, vibes; Michael Sharfe, bass, and John Taylor, drums. Admission is free.
Upcoming Jazz Performances
Miami University Jazz Ensemble
The Miami University Jazz Ensemble, directed by Jeremy Long, presents a free concert on Wednesday, November 18 at 7:30 p.m. in Hall Auditorium. The concert will include performances by combos, featuring the music of multi-Grammy winning artist, Pat Metheny.
The Jazz Ensemble will also perform a spring concert at Miami on Wednesday, February 3, 2016.
Oxford Chamber Series with Aaron Diehl
In conjunction with Miami's Performing Arts Series, the Department will host pianist Aaron Diehl at the Oxford Community Arts Center on Monday, April 25, 2016 at 7:30 P.M. Diehl is one of the most exciting and sought after jazz artists in the world today. Tickets are available though the Miami University Box Office.