His/Her/Hirstory Symposium addresses key election issues related to women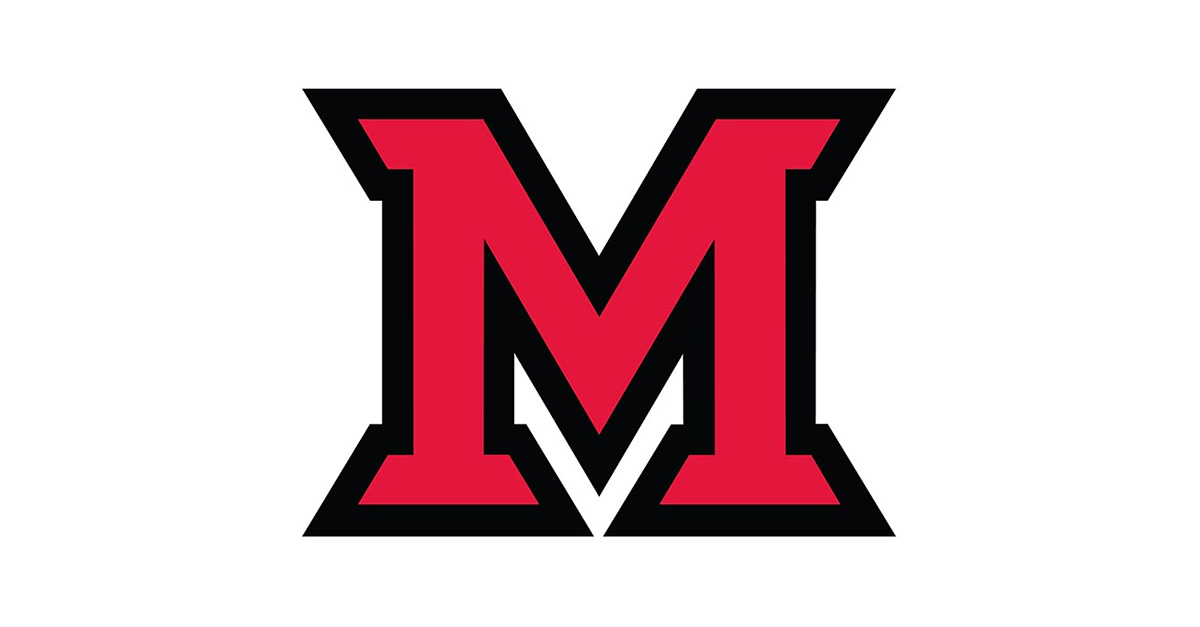 Nov 21, 2016
Written by Bonnie Meibers, CAS communications intern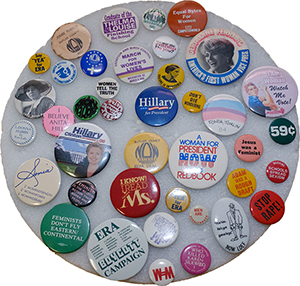 A sampling of historical, political, feminist, and women's rights buttons
On Election Day 2016, as many Americans were turning out to the polls, participants in the His/Her/Hirstory Symposium discussed various projects related to women, the presidential election, and other hot topics—after they voted, of course!
Eight graduate and 17 undergraduate students, individually focused on everything from women's studies to pre-med, from finance to disabilities studies, presented a number of timely and important projects. The symposium kicked off at 1 pm on the third floor of King Library and was brought to a close at 8:30 pm.
The event was planned and hosted by associate professor in Women's, Gender, and Sexuality Studies (WGS) Ann Fuehrer, Miami's digital scholarship librarian Jody Perkins, and students Holly Sefton (sociology and social justice studies), Jane Winsett (women's, gender, & sexuality studies and international studies), and Jessi Wright (professional writing and English literature).
"Students can play an important role as public intellectuals," said Fuehrer. "They brought an intersectional lens to understanding the historic nature of the 2016 presidential election, the ways in which we all are impacted by media rhetoric, and by voters' action for change."
Highlights of Student Presentations
Presentations were given by students from across the university. To illustrate just a sampling, first-year student Jill Frye's presentation on women and healthcare. Frye, who is majoring in WGS and pre-medical studies, examined how the current healthcare system has helped women, particularly the effects of the Affordable Care Act. While she found that healthcare costs had gone up in general, Frye also found that gendered pricing in healthcare has decreased.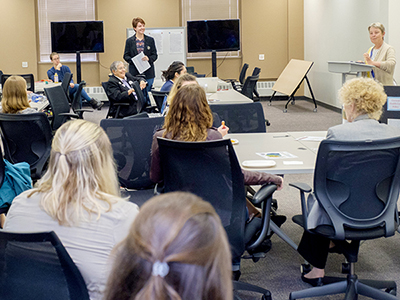 Jill Frye and Ann Fuehrer (standing, left to right) make a point during the 2016 His/Her/Hirstory Symposium.
Frye removed the two presidential candidates' names from their healthcare policies and asked students to take a vote on which healthcare plan they preferred. 81.3% of her respondents were for 'Candidate X's' plan over 'Candidate Y's' plan. As it was later revealed, 'Candidate X' was Hillary Clinton and 'Candidate Y' was Donald Trump.
"I know the current candidates are focusing on millennials, trying to get the millennial vote, so I wanted to see what people my age thought of this," Frye said.
Senior political science major and WGS minor Deanna Krokos discussed the failures and successes of the sex education in the public school system. She focused on improving the discourse on sex education and not adding to the 'toxicity'. Krokos also explored the way that sex education is formed through the political process.
Krokos explained the origins of "abstinence-only" and "comprehensive" sex education, adding that the current structure of sex education creates an educational gap. This gap, she said, forces many students to self-teach or learn about sex education from their peers.
"When you're getting your information from a source that is outside of recognized educational sources, you don't know that it's medically accurate," Krokos said.
Educational leadership doctoral student and assistant director of Residential Life Colleen Bunn presented her studies on the way female presidential and vice presidential candidates have been presented in the media. Failure, anger, and the feminist killjoy are the 3 categories that women political figures are often put into.
Bunn's presentation looked at how past candidates Hillary Clinton and Sarah Palin were portrayed in the media based on their behavior and appearances. Her study focused on the 2008 presidential election, but she did touch on the 2016 election that was still unfolding that day.
"If I was trying to compare 2008 to 2016, there almost isn't a comparison because both of the candidates of 2008 were solid political figures, whereas the candidates in 2016, one is a solid political figure and one is not," Bunn said. "And so the way that the media reacts to them is very different."
The symposium encouraged audience response and reflection. It also presented live streaming of the election coverage so that those in attendance could watch the results roll in.
"The excellent interdisciplinary student projects that were presented at this event highlighted the importance and value of women's, gender, and sexuality studies," said associate professor Roxanne Ornelas, who coordinates WGS. "The students demonstrated that the future is very bright for our program."